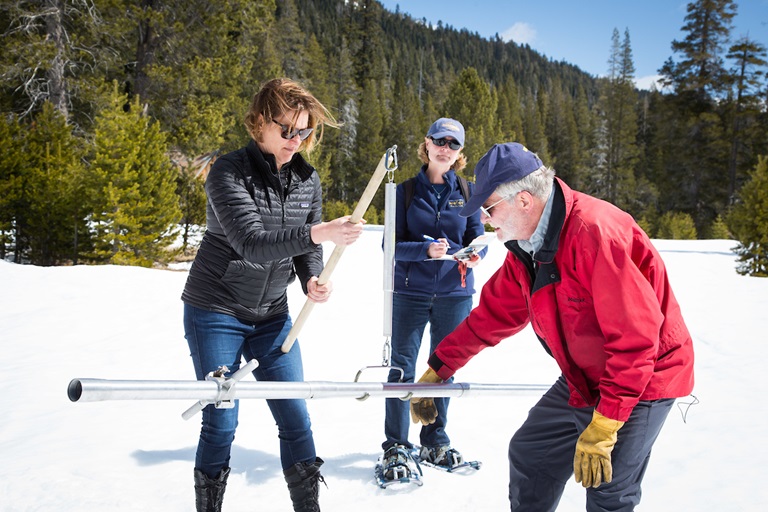 Without a series of storms, California will end the year dry, causing concern among water officials who think the state may be entering yet another period of prolonged drought. 
On Tuesday the California Department of Water Resources conducted its statewide water survey. The Sierra snowpack is currently at 54% of its April 1 average, the date when the Sierra snow is typically at its peak.
"While we can't predict how much precipitation California will receive for the rest of this year, it's safe to say without a series of storms we will end this year dry."

– Sean de Guzman of the water department
Despite a snowy end to January, February failed to deliver any major storms and the forecast for early March doesn't look much better.
"As California closes out the fifth consecutive dry month of our water year, absent a series of strong storms in March or April we are going to end with a critically dry year on the heels of last year's dry conditions."

– Karla Nemeth, director of the water department
Worst cases scenario, De Guzman said that this water year could end up like 2014, when California was in the middle of a prolonged five-year drought that devastated agriculture and preceded the two worst fire seasons in the state's history.
The US Drought Monitor lists 99% of California as 'abnormally dry conditions', 84% of the state in drought, and worryingly at least 30% in extreme drought.
The most positive news of the survey was that the Phillips Station near South Lake Tahoe has a more robust snowpack than the rest of the state. With about 56 inches, Phillips Station boasts a snowpack that is 86% of average.
Normally, as winter moves into spring, reservoirs should be at, or approaching, their capacity. Lake Shasta currently sits at 66% and Lake Oroville is at 55% capacity, and Lake Tahoe is more than 2 feet below where it was at this time last year and three feet below 2019.