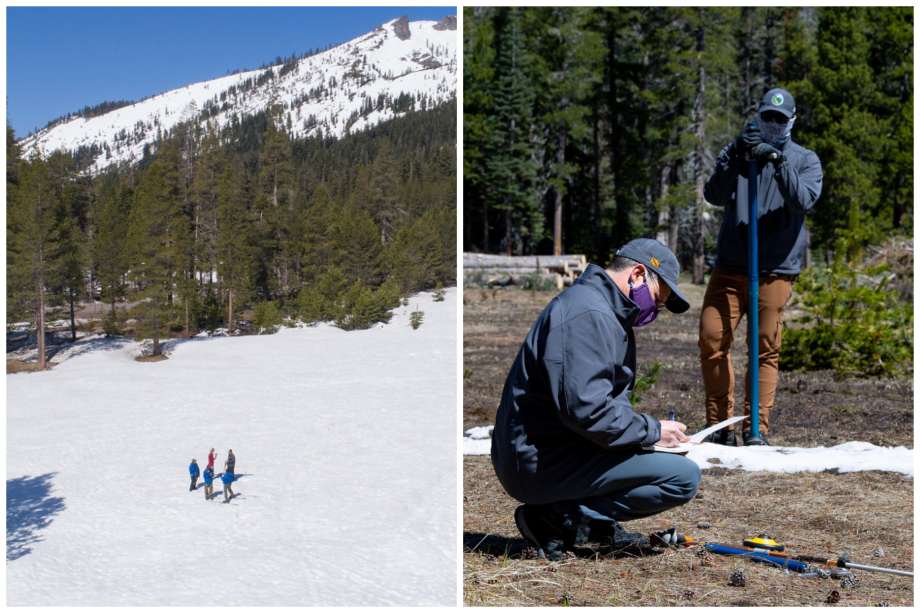 The final snowpack measurement of the year in California was taken yesterday, confirming what officials feared: it has been a dry winter. The Department of Water Resources (DWR) measured 1.5 inches of snow with a snow water equivalent (SWE) of 0.5 inches which is three percent of average for May 1, at the Phillips Station in the meadow at the corner of US50 and Sierra-at-Tahoe Road. Last year, the snowpack was 188% of normal.
The Philips measurement was an outlier though, the statewide snowpack's water equivalent is 8.4 inches or 37 percent of the May average. The measurements will help hydrologists forecast spring and summer snowmelt runoff into rivers and reservoirs.
"March and April storms brought needed snow to the Sierras, with the snowpack reaching its peak on April 9, however, those gains were not nearly enough to offset a very dry January and February. The last two weeks have seen increased temperatures leading to a rapid reduction of the snowpack. Snowmelt runoff into the reservoirs is forecasted to be below average."

– Sean de Guzman, chief of DWR's Snow Survey and Water Supply Forecast Section.
DWR spokesman Chris Orrock says that although the region experienced a handful of big snowstorms in March and April, they weren't enough to make up for a dry January and one of the driest Februaries ever recorded.
"This year we're probably going to have one of the 10 worst snowpacks in California history."

– Chris Orrock
The US Drought Monitor also said this week that 41 percent of California is in drought, including "extreme drought" conditions covering about 5 percent of California in the northwest corner of the state.
While the Sierra snowpack typically accounts for 30 percent of the state's annual supply, California is benefiting from the strong rains of last year. The major reservoirs are in good condition for the dry summer months ahead. Although not officially in drought, a recent study said California and the West are currently suffering a mega-drought dating back to 2000 that ranks among the worst in over a thousand years.
DWR notes that the state's six largest reservoirs are holding between 83 to 126 percent of their historical averages at this point in the year.