It is no secret that the winter of 2022/23 will go down in history as one of the best ever. 18 resorts throughout the western United States set snowfall records, many of them in California.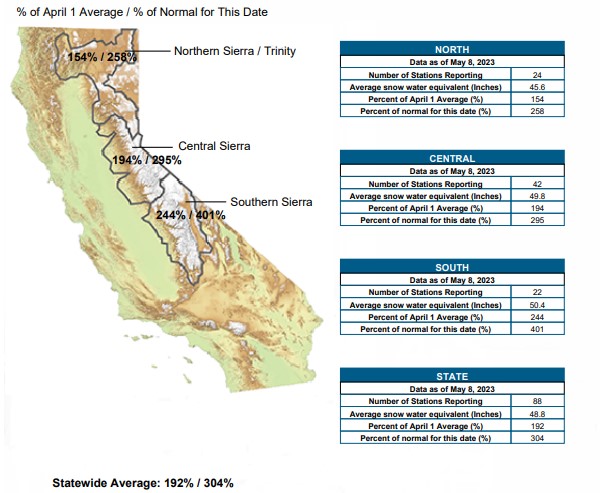 The banner year continues to leave a lasting impression as the current snow water content as of May 8 for the entire state of California is at 304% of normal. Most impressive is the Southern Sierra which is currently at 401% of normal. The Northern Sierra/Trinity area is at 258%, while the Central Sierra is at 295%.
Additionally, snowpack across the entire West is healthy. Oregon, Utah, Nevada, and southern Idaho are all over 150% snow water equivalent compared to the average.
The deep spring snowpack is a huge aid in helping the state recover from drought. The eventual melting and runoff will fill reservoirs and rivers as well as help rejuvenate forests and vegetation. Hopefully, it can be used responsibly for hydropower, irrigation, and drinking water.