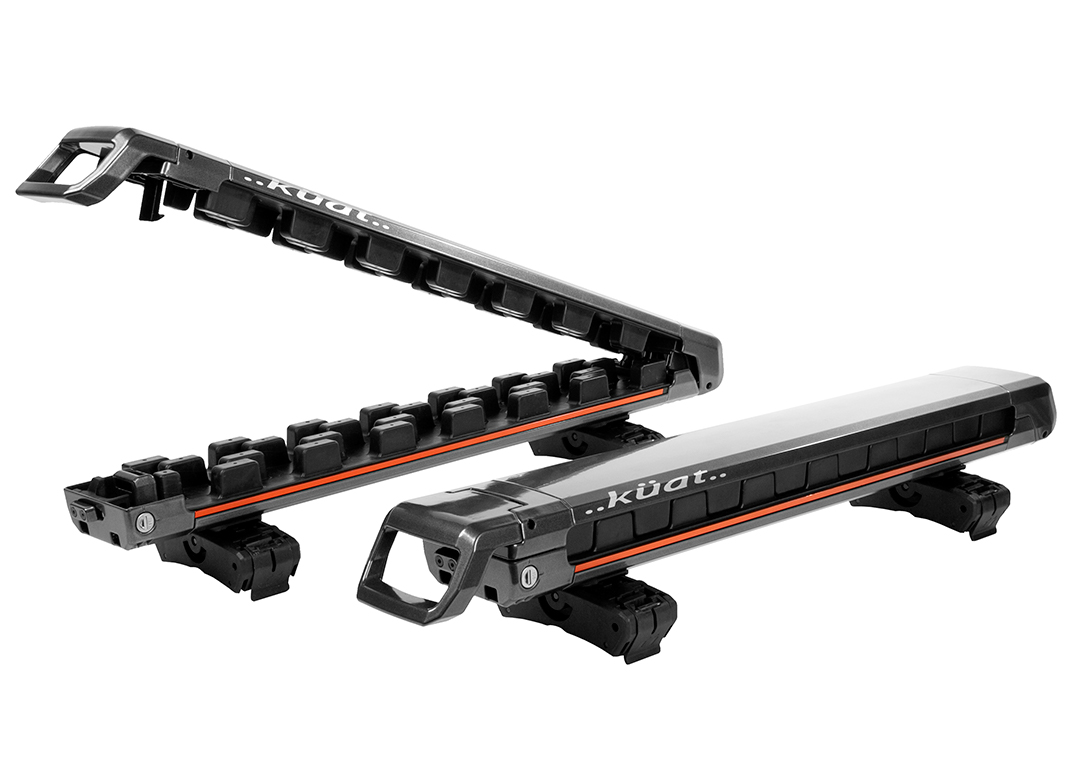 *SnowBrains carries some affiliate marketing links, which means we earn commission on sales of some products when users click through a link from the site. Our editorial content is NOT influenced by affiliate partnerships.
It was the middle of summer when I received an email asking if I was open to testing and writing an honest review of some new ski racks once the snow had fallen here in Lake Tahoe. It was 85 degrees, and skiing was far from my mind, but messing around with a rack in the icy cold made my fingers hurt. For the past few seasons, I had been climbing onto the roof of my truck to deal with frozen key locks and racks that wouldn't close in the fresh snow; at this point, I was willing to try anything new to transport my crew's skis and snowboards to the hill. I had seen Kuat racks around Tahoe for years but only carrying bikes, my neighbors have three different racks from them, and at this point, I wasn't even sure if they knew how to build a system for skis. Two weeks later, the box containing the Kuat Grip 6 rack was in my basement tucked away, only to be forgotten.
Fast forward to mid-November, when the temperature was dropping, the forecast was starting to show snowflakes, and I had yet to open the box. Leave it to me to install the ski racks the night before the year's first proper snowstorm when the temperature is low enough to give me frostbite. "Real smart, Alex," I thought to myself. I opened the box of the all-new Kuat Grip 6 system, a six ski carrier, to find not much, just two stylish bars with the feet ready for attachment. With the directions for installation still in its wrapper, I headed outside with my toolbox and thick gloves prepared to battle the cold with screwdrivers and Allen wrenches. Battle we did, for about five minutes. In all my years of using rack systems from some of the top providers, never have I had such an easy time during installation. Four simple feet using Kuat's proprietary Flip Mount System locked around my factory bars with a simple flip and lock, I was now installed and ready to cruise.

The following morning I woke up to a couple of feet of perfectly layered snow that turned my car and driveway a familiar coat of white. Test number one is how these racks work in the fresh snow. The short answer is, hell yes! With simple parts and a burley design, the Grip 6 opened and closed like a dream, even in the cold and snow. Hearing the bars lock into place reminded me of the sound I get from my 20 din Marker race bindings when I step in; you know nothing is about to move around. And that is precisely what happened; absolutely nothing moved in transit. The rubber Kuat wraps itself around each pair of skis using its GripLock system, creating an environment that reduces all slippage and sliding while on the road. I can even attest to how well the rubber works when the racks are fully open; after dropping off my buddy following our first powder day of the season, I drove the four miles home without remembering to close the racks, only to find my skis exactly where I had left them. Deep sigh of relief!
Test number two, will the locking system become impossible to use when it's cold and icy? We've all been here before, it's -2 degrees outside, and you can't get your key into the locks to open the racks. Until the day we create voice-controlled locking systems, this is an issue we'll never get away from completely; it's just the nature of, well, nature. Kuat has done everything it can to mitigate this problem with an oversized key and large, easy-to-access locks directly in the front of the system. With the cold tearing at my fingers, I could scrape away any ice and unlock the bars without much of an issue. Once I almost debated cutting an old rack in half in a resort parking lot to get our skis off for a powder day. I can report today with near certainty the systems Kuat has built for its ski racks will never leave your skis and snowboards locked out on a powder day.
"While Kuat could have followed suit of other ski racks on the market, they decided to throw out the old drawing plans and come up with something that is truly innovative for carrying skis and snowboards"

– Active Gear Review
My oversized, lifted Toyota 4Runner isn't the prettiest car on the road, so I'm glad the racks don't make me look any worse; in fact, they did add a bit of class. Kuat uses a metal outer shell and premium gloss metallic powder coat on all three color options that shine the way you want. If I head into the city or out to dinner, the glances to my roof will be all positive. These racks carry a slick, sleek, low-profile modern design that compliments your vehicle. Bonus points for being quiet while you drive!
After two weeks of using these racks, I've been thoroughly impressed by how easy and stress-free this rack system has been for me. The slide-out design making the loading and unloading easy is just the cherry on top. From Toyota to Tesla, the slide-out feature of the Kuat Grip 6 will make for easy loading and unloading in any condition. You need one finger to unlock the sliding bars and extend the rack out over your doors, making for easy access. Granted, I'm using 79-inch crossbars, so my Grip 6 rack is already extended well over the door. Still, I can see how useful this will be for anyone mounting directly to a factory crossbar where the rack will sit centered on the vehicle.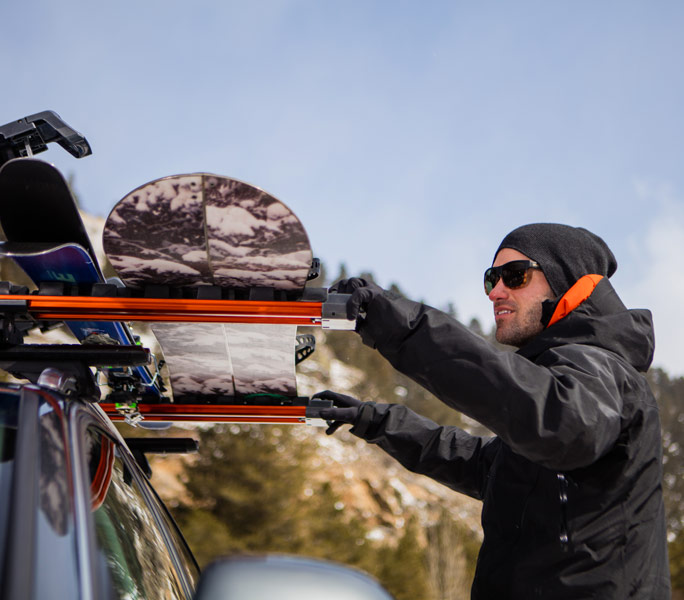 Now time for me to get on with the fine print. Kuat offers multiple models of ski racks, all currently available with their industry-leading Lifetime Warranty; not going to complain about that. The company is owned and operated right here in the United States by athletes who use the gear and are environmentally friendly. Kuat has joined forces with US National Forest Foundation to plant trees around the states and care for our fragile ecosystems.
If you're already a customer whose mountain bike is strapped to a Kuat all summer, I recommend getting on board with their newest winter items. It's been just under a month of using the Kuat Grip 6 system, and I am thoroughly impressed with what this bike rack company has done to change the game of ski and snowboard carrier systems. If you've never had products from Kuat before, feel confident that you're putting your money into a brand that cares about quality over everything, and you'll be happy you did.