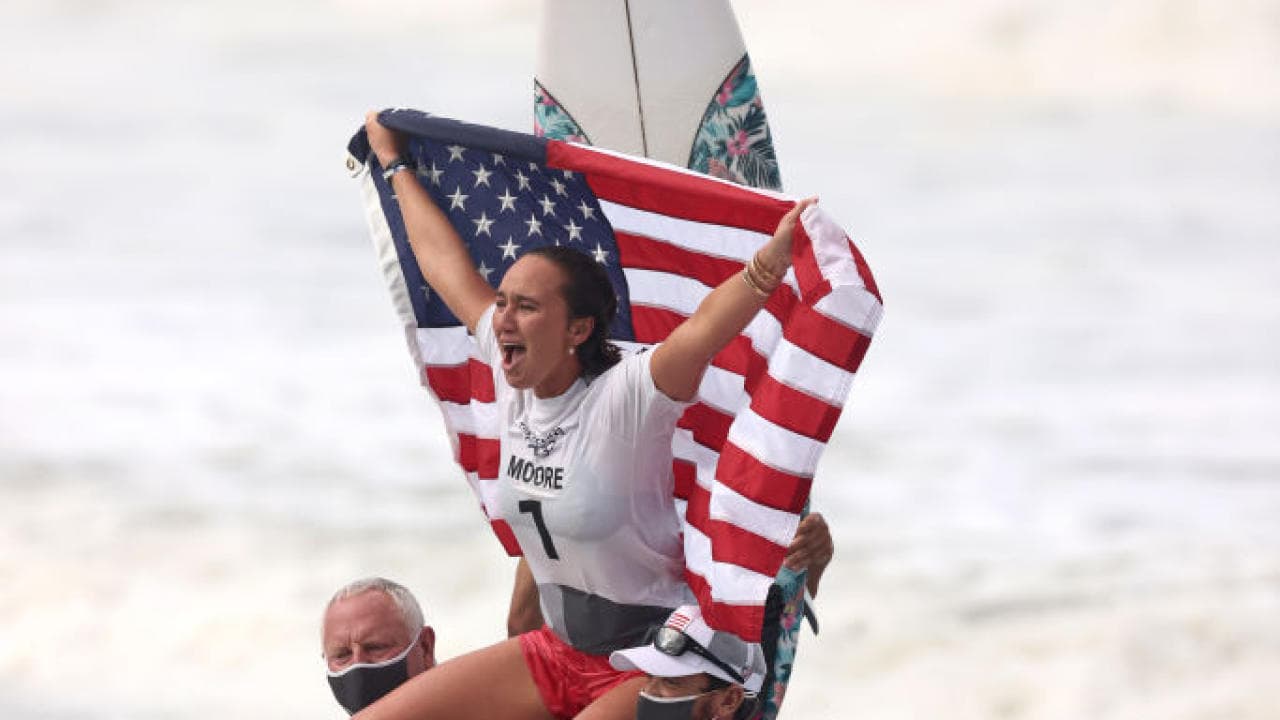 In a historic moment for the Olympic Games, Team USA's Carissa Moore wins the first-ever Olympic gold in women's surfing, reports Olympics.com.
Moore's scoring waves of 7.33 and 7.60 exceeded Buitendag's total score of 8.46, relegating the South African to the silver.
Surfing's long-awaited debut at the Olympic Games Tokyo 2020 came to a thrilling conclusion after three days of surfing in challenging conditions. After two days of flat waves at Tsurigasaki Beach, the surfing finals were brought forward a day due to the threat of Tropical Storm Nepartak. But the approaching storm created surf worthy of a final day of competition with some of the world's best surfers.
In the head-to-head battle to become surfing's first-ever women's Olympic champion, Buitendag caught eight waves versus Moore's six. Reigning world champion Moore, 28, scored first with a total of 0.5 and 3.17 to open her account. Buitendag responded with a score of 0.3. After some back and forth between the pair, Moore finished with a total score of 14.93.
Unfortunately for Buitendag, she could not catch a wave good enough for a big score. The South African ended the competition on 8.46.
Moore was the favorite entering the competition and beat Brazil's Silvana Lima and Japan's TSUZIKI Amuro to get to the final.
"It's quite heavy (the medal). I'm very proud and honored. It's been a crazy couple of days, a little bit of a rollercoaster of emotions just trying to figure out the break, find my rhythm, learning how to trust myself without my family here. I feel super blessed, super fortunate. It's been an incredible experience."

– Carissa Moore
The gold medal is not Moore's only accolade. In Hawaii, the Honolulu native has a day named after her. Carissa Moore Day is January 4 in honor of the surfing star.
In the men's final, Brazil's Italo Ferreira overcame a broken board on his first wave to beat Japan's Kanoa Igarashi with a two-wave score of 15.14 to Igarashi's 6.60. Australian Owen Wright won the men's bronze by two-tenths of a point over Brazil's Gabriel Medina in the most competitive heat of the final day.