Skiing in the Spring months is already a treat for all. Warmer temperatures, more sunshine, and great snow – what more could anyone ask for?
Today, March 17th, skiers are getting to tear up the slopes dressed head to toe in green, drinking green beer and Irish whiskey at apres ski. On St. Patrick's Day, we all come together to celebrate Irish culture, and St. Patrick, who is believed to have passed on March 17th, 461 A.D and who was one of the main advocates for Catholicism in Ireland. 
St. Patrick helped establish a strong understanding and appreciation for religion in Irish country. By teaching Irish people about the Holy Trinity using a four-leaf clover, he helped his country gain faith in something bigger than themselves. He accomplished so much and helped so many different people in Ireland that he was deemed a patron saint in the country.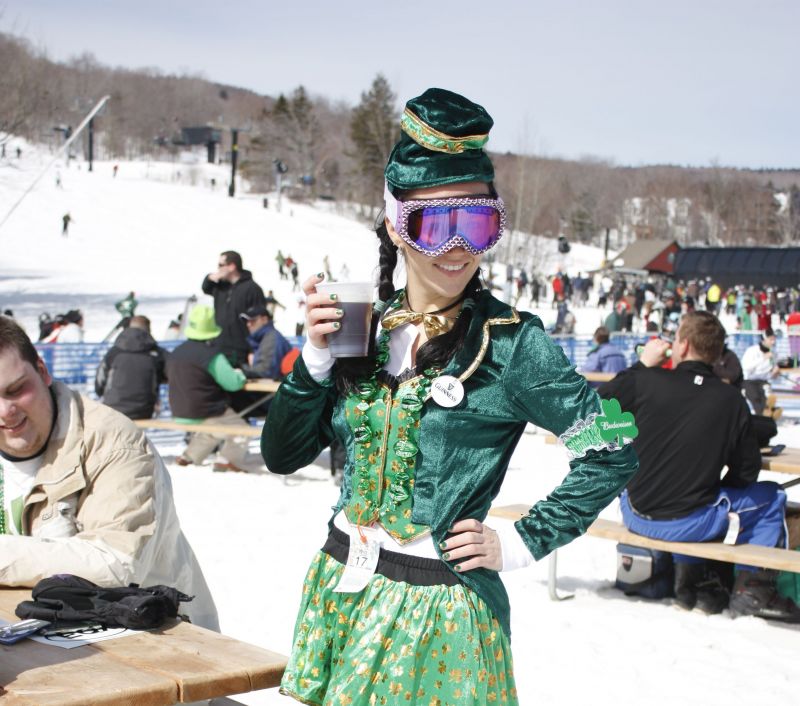 The first St. Patrick's Day celebration ever recorded happened in the 10th century, according to Fox43News. The Irish people alive at the time hosted a large feast to honor St. Patrick and his work for the country. 
Today, people show their appreciation for St. Patrick and his mother country by proudly wearing green, keeping four-leaf clovers close to our hearts, wearing excessive amounts of beads, and feasting on famous Irish dishes at our favorite pubs. You'll see a few more leprechauns on the slopes today than normal! 
Many ski towns are also holding celebrations for the holiday. In Vail, CO, the town will be hosting an annual parade, insane pub crawls, trivia nights, and live Irish music today and into the weekend. Salt Lake City, UT, is also hosting a parade that will go through the city. There will also be amazing deals at many Irish pubs in the Salt Lake City area over the next few days. Even if the ski resort you're at is not having a parade, any Irish pub will be an out-of-this-world experience for St. Patrick's Day. 
Elevate your spring skiing experience by joining in on the St. Patrick's Day fun! Since the global COVID-19 pandemic, many celebrations have been unable to occur. 2022 is the first St. Patrick's Day since the worldwide lockdown that celebrations will be back in full force. Trust me, you won't want to miss it!