Following on the heels of Cerro Catedral and Cerro Castor, Cerro Chapelco ski station in Argentina revealed yesterday that they too are planning to open, on August 1st. Cerro Chapelco has been named the best resort in Argentina for the last two years at the World Ski Awards and is nominated again for this year's award.
The governor of the province of Neuquén indicated at a meeting that as soon as the emergency committee authorizes it, winter activity will be permitted in the area. The province is home to Cerro Chapelco, Cerro Bayo, and Caviahue ski areas.
There is no exact information regarding how the opening will happen, and what conditions and restrictions will be enforced just yet, but the resorts will be open for local and microregional tourism. It could also be that Chapelco will not open every day, and won't open the whole mountain.
Some of the restrictions put in place for the upcoming opening of Cerro Catedral, that could be expected at Chapelco, are:
Only sports activity (skiing and snowboarding) would be enabled
No mountain stops or base opening (This applies to all stops in and out of the concession area until August 1)
There would be no ticket sales and neither online at all, so it would be for the use of those who have already purchased their season pass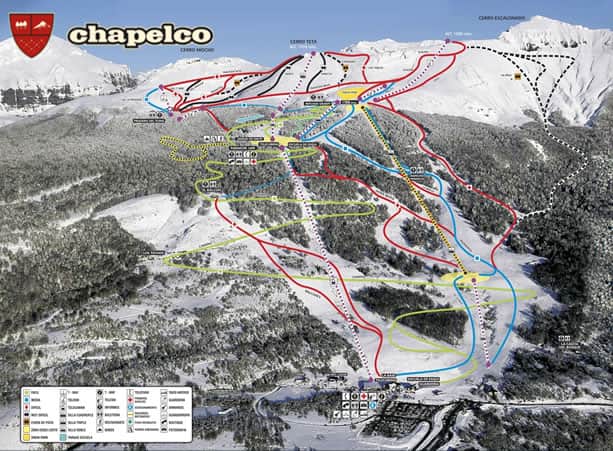 Earlier this week Cerro Castor, Argentina became the first South American resort to announce they will open, although they named 1st August as their opening day. Catedral was the second to announce their opening day, a week earlier than Castor on July 21st.
As mountain resorts in the Andes sit empty, Ullr is punishing locals further by dumping record-breaking early season snowfall totals. Over 14-feet of snow has fallen on some areas, never-before-seen early season totals.
SnowBrains has spent our past 11 summers skiing at Cerro Catedral in Argentina and we are currently not planning on making the journey this season due to coronavirus.
Chapelco, or Cerro Chapelco, is a mountain and massif in Neuquén Province, south-western Argentina. The ski station of the same name is located 19 kilometers (12 mi) from the resort town of San Martín de Los Andes.
Designed by Federico Graeff and established in 1946, Chapelco became an increasingly popular tourist destination after 1970. The station maintains a ski and snowboard school with 200 instructors for all ages as well as numerous lodges, the most important of which is the Graeff Lodge; eight restaurants; a ski and snowboard rental and repair center; boutiques and cybercafés; and emergency and other basic services. The station is accessible via National Route 234 from San Martín de Los Andes and via a two-hour flight from Jorge Newbery Airport in Buenos Aires to the Aviador Carlos Campos Airport.
Chapelco hosted Snowboardcross events for the 2008-09 and 2009-10 FIS Snowboard World Cup.