In 1964 the Cockaigne's ski lodge was originally built for the World's Fair in New York City before being moved two years later (1966) to its home in Cherry Creek, New York. Ski operations continued until 2011 when a devastating fire burned down the famous lodge and the resort closed soon thereafter. In 2017 the property was repurchased, and then in the winter of 2020, the resort reopened for skiing.
Infused with a hometown spirit, part-owner and now CEO, Rex Butcher has created a whole new vision for the Cockaigne Resort.  Butcher, who's originally from South Dayton and grew up skiing at the resort, wants to bring back the nostalgic feeling that embraces fun and family.  Something that he feels was lost ever since the lodge burned down.  When asked about his vision he proudly shares, "It's about the community revival, that community renewal, that community pride that we're going to create and bring back. That's what it's about."
Turning those visions into a reality, Butcher plans to recreate Cockaigne into a year-round resort and thus dropped "ski" from its name. Before the fire, the resort was only open in the winter for skiing, but with his new vision, Butcher along with two other co-owners want to offer a sustainable business model with year-round activities.
Marketing officer, Julie Anderson sees Cockaigne as a family-friendly destination with services for all ages. She adds, "That's going to be a focus for us. We're going to really accommodate all different members of the family."
This translates into some truly incredible changes like a brand new 10,000 sq. ft. Main Lodge with an indoor/outdoor restaurant and bar and occupancy for 300. They also added a 3,000 sq. ft. multi-purpose stage, better known as Your All-American Recreational Destination (YAARD), and attached it to the Main Lodge. YAARD is capable of hosting concerts and large events like the annual Brewgrass Festival. Other Resort amenities include:
Horseback riding
Camping
RV Circle C parking
Western Axe throwing
Classic car shows and cruises
Motorized racing
In addition to its year-round activities calendar, the Cockaigne "Ski Resort" proudly holds the title of highest annual snowfall in Western New York (145" annual). Cockaigne's new lodge sits at an elevation of 1,592 ft. offering 430 feet of vertical gain including 4 lifts that service 15 trails over 100 acres of skiable terrain.
Other "ski resort" upgrades include an added 5,600 ft. of new snowmaking capacity to their existing system and a new snow tubing hill and terrain park.  They also developed an absolutely amazing snowmobile adventure park with banked turns, berms, and other features, unless you are the more adventurous type. In that case, Cockaigne snowmobile trails also connect with Chautauqua County's 400-mile network of trails in Boutwell Hill State Forest.
Butcher and his other co-owners appear deeply appreciative of their local community and the chance to revitalize Cockaigne Resort. It comes through in all that they do. They even sought out and hired local labor forces to help with the construction, excavating plumbing, and electrical installation of the new structures.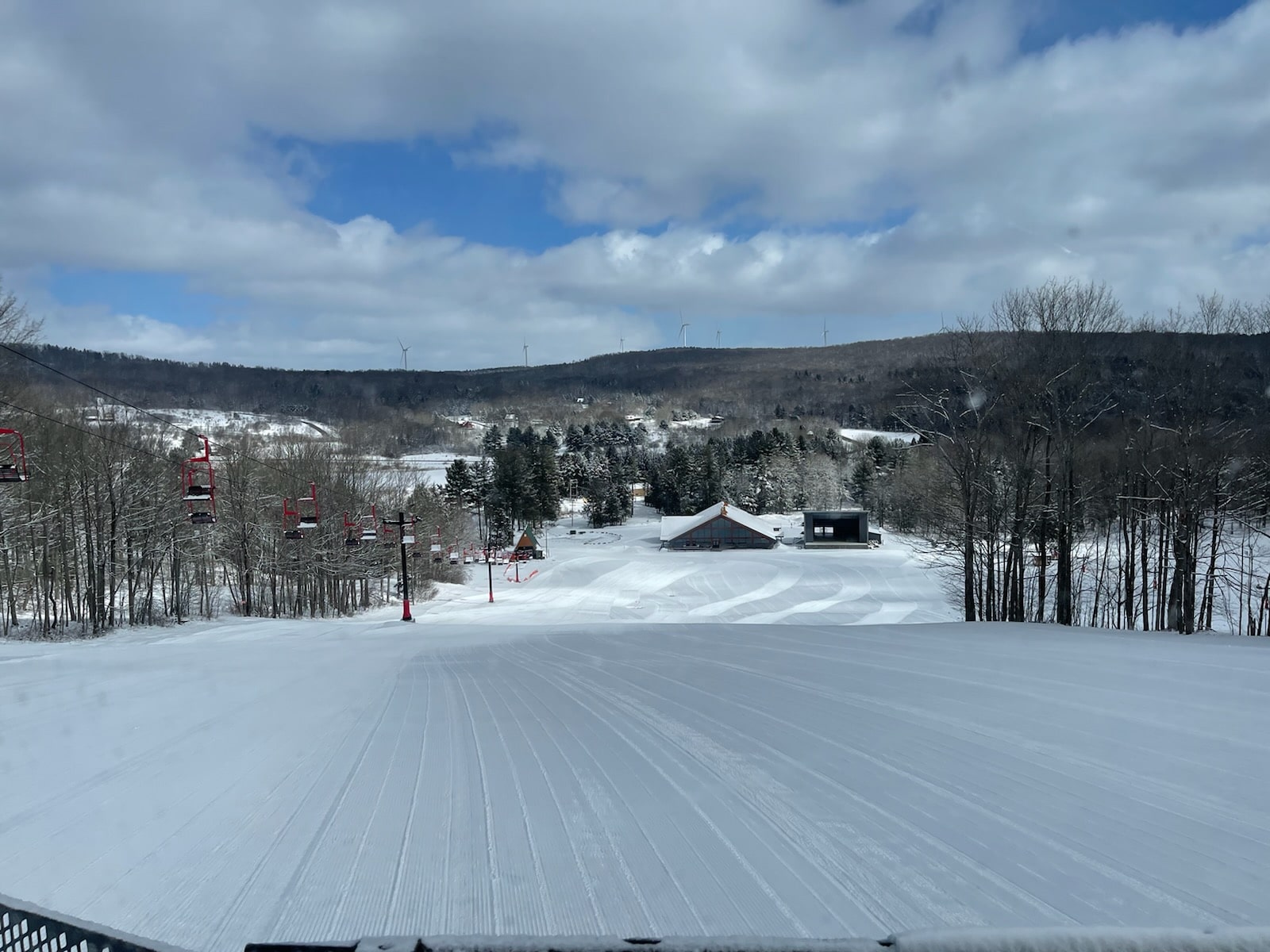 All and all it seems like the Cockaigne Resort is taking its comeback seriously.  If they only live up to half of their mission statement, I still think we are in for a real treat!
"Cockaigne is something for everyone, including the all-seasons activities for passionate people. Members of the Cockaigne Family are tasked to provide each customer with an enjoyable, memorable, and unforgettable experience. It is our duty to provide a sustainable, family-oriented, environmentally sound destination where people feel welcome, and at home."