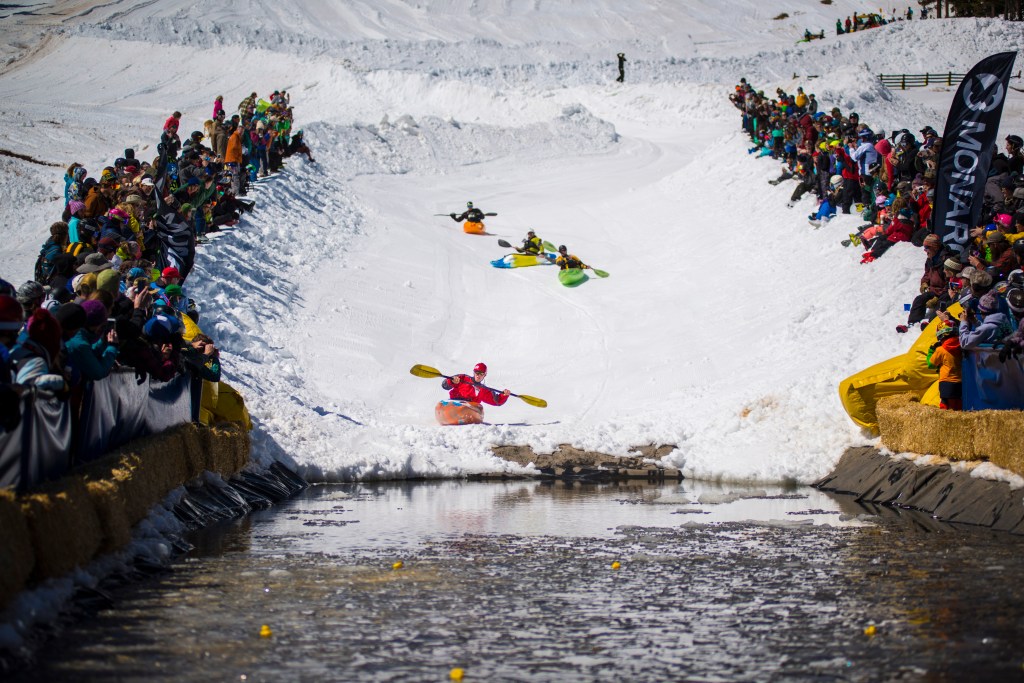 Colorado ski culture has some spectacular ski resort traditions. While these traditions might not happen this year due to COVID-19 (let's hope they do), they are some of the best events each winter. If you have not experienced some of these, they are something to add to your bucket list. Let's look at some awesome traditions in the mile-high state.
Kayaks on Snow – Monarch Mountain
Monarch Mountain, like Steamboat, has a one of a kind event that happens every season. Kayaks on Snow is a race that involves boaters racing down a course complete with turns and banks finishing in an icy pond. An absurd idea that has created an amazing event. It gets hectic on the racecourse but it is so cool to see boaters maneuver their way down-solid water instead of its liquid counterpart. A great way to welcome in spring and have a fun time on the mountain.
Cowboy Downhill – Steamboat Springs
One of the most unique competitions in all of the U.S. is the Cowboy Downhill at Steamboat Springs Ski Resort. Started in 1974, the event consists of Pro-Rodeo Stars from all around the globe competing against each other in some great competitions on skis. It combines skiing and rodeo events together for some funny and amazing moments.
The first event is the dual slalom in which two participants race against each other between ski flags prior to hitting a jump. After the jump participants must lasso a person, saddle a horse, and sprint across the finish line. The final event, the stampede, is a race that pits all competitors against each other at once. They race down the hill and must face a single jump to get to the finish line. It's a chaotic but amazing scene!
The event also provides live music and is a great way to spend some time with the family or relax in early November each year at Steamboat. If you want to participate you have to meet some requirements to prove you are a real rodeo star.
Requirements to enter:
Registered in National Western Stock Show & Rodeo in Denver
Member of the ProRodeo Cowboys Association, or Professional Bull Riders
Must wear chaps and cowboy hat while competing
Gaper Day – Arapahoe Basin
Gaper day falls on April Fools day every season at A-Basin.  You might say that there are people from almost all resorts that part-take, but A-basin goes above and beyond. The resort-wide tradition consists of locals dressing as gapers or classic tourist. Everything from old-school bright onesies to jorts make their appearance on mass. It's a day full of goofiness, drinking, and socializing with friends. The famous beach transforms into a massive tailgate, making one of the best atmospheres in all of skiing. Expect the unexpected on gaper day at Arapahoe Basin.
SlopeSoakers – Copper Mountain
We all love the yearly spring pond skim events. Loads of mountains have their own twist on the classic spring event, but none of them are quite like the one at Copper Mountain. SlopeSoakers is where pond skimming meets freestyle skiing. Every year, Copper's park crew builds a slopestyle-like course complete with jibs, rails, jumps, and various ponds to navigate on the way down. Participants skim ponds, do tricks, wear some amazing costumes and everyone has a great time.
Enduro – A-Basin
If you want to win the Enduro at A-basin you better come prepared because it's a marathon. Teams of two ski for ten hours lapping the Palivicinni chair in a race to have the most laps. There is also an Enduro Light event where teams of two ski around the entire mountain. The event helps raise money through a live and silent auction for charities and non-profit organizations. Live music, great food, lots of skiing, and an overall awesome event.
Al Johnson Memorial Telemark Race – Crested Butte
Every year at Crested Butte Mountain Resort there is an amazing Telemark Race. Consisting of a 600 vertical foot skin followed by a race down the north face of the mountain on….you guessed it, Telemark skis. The event honors Al Johnson, a man in the late 1800s who used telemark skis to climb passes as a way to deliver mail to Crested Butte, a true legend of the area. While the event used to focus on speed, nowadays many come out in costumes and compete just for a good time.
Events like these are what make the skiing community so amazing. They bring out the goofiness and remind us all that skiing is more than just a great way to get outdoors. While some of these, maybe all of them, won't happen this year they will continue in time!
Like all lists, I couldn't fit every Colorado ski tradition here. There are so many amazing events in Colorado that the list would feel endless. If I missed your favorite Colorado ski tradition let me know in the comments! Stay weird Colorado!