With 32 resorts boasting the highest average elevations in North America, Colorado is typically referred to as the United States' skiing capital. In fact, its unofficial nickname is Ski Country USA. So how did the state get to this point? This article focuses on a very brief summary of the Colorado ski industry's rise to stardom over several decades.
1800s
The origins of skiing in Colorado can be traced back as far as the early 1800s. At this time, Colorado was a bustling mining center. Men, often bringing along families, settled high in the mountains in hopes of striking it big. However, the same environment that presented such prosperous economic opportunity was also extremely harsh. In Colorado, "winter," or months where there are cold temperatures, snowfall, and significant snowpack, typically last from October until June. This made winter travel between towns treacherous and dangerous. There are dozens of instances where miners attempted to make it up and over towering mountain passes but got stuck in deep drifts of snow, unable to escape to safe harbor.
The miners quickly realized a solution: they needed more surface area to avoid sinking in. Thus, as they were worldwide, skis were introduced as a mode of winter transportation. The first to use the skis during Colorado winters were mailmen who strapped 11 foot long planks of wood to their feet, which enabled them to pass between towns during the winter months safely. Soon enough, the skis made it to the masses. While skis were initially used as a mode of transportation, the miners quickly fell in love with the same feeling of cascading down slopes that we are all enamored with today.
Before long, skiing was quickly gaining momentum as a recreational activity. Children skied on small slopes before school, and miners would race between towns in the mining off-season (one of those races, the "Grand Traverse" still runs annually from Crested Butte to Aspen) every winter.
1900s
As the mining boom began to fade in the late 19th century, the love for skiing did not. The sport continued gaining momentum as a recreational activity until Colorado residents got together and figured out that they could get more skiing by hiking less; thus, lift-assisted skiing was born. The first rope tow was installed in 1937 on Berthoud Pass near Winter Park. This triggered an explosion in ski development. Dozens of small resorts were popping up across the state, and thousands were hitting the slopes each year.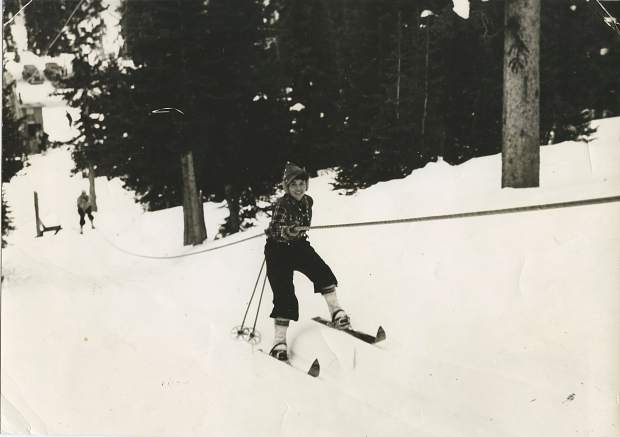 However, tragedy struck in the 1940s with World War II, and for nearly a decade, recreational activities across the country were practically put on pause. People were still skiing in Colorado; however, the industry was not experiencing nearly the same growth that it was pre-war.
However, during the war, a crucial element in the Colorado ski industry was developed. The 10th Mountain Division of the US military was trained in the Colorado Rockies for mountainous combat in Europe, including transport via skis. After the war, the 10th Mountain Division soldiers longed for the mountain lifestyle they had fallen in love with. Many of the soldiers went on to found ski areas all over the state. Former 10th Mountain Division members started over 60 ski resorts.
After the war, the Colorado ski industry exploded. Resorts were being founded right and left, and the installation of the first chairlift in 1947 in Aspen ushered in a new age of skiing. Chairlifts offered effortless laps and could carry far more skiers per hour than rope tows. Colorado was attracting major ski competitions, as well. In 1950 Aspen hosted the World Alpine Ski Championships, which marked a new era for the industry.
A critical criterion that Colorado resorts lacked to gain international ski resort destination status was the crucial infrastructure. The resorts lacked hotels, restaurants, and other amenities. However, that all changed in the 1960s and 1970s, as more "modern" amenities like on-mountain dining, etc., flooded the resorts and elevated their status to international recognition.
Present-day
Since the 1960s, the Colorado ski industry has experienced near-constant growth with no signs of slowing down. Colorado's evolution from humble beginnings as a mining destination to an international skiing destination took just about 150 years, which is an incredibly fast transition! The 32 active resorts draw 13-million visitors and have evolved into a whopping $5-billion industry.