The small-town, close-to-home resorts are the best places to learn and where memories are kept in your heart forever. Crotched Mountain in Bennington, NH, is exactly that. It's where I had my first date with my now husband, my first powder day, and my first girls' shred day. The summit is a whopping 2,066' with 1,000' vertical feet of riding and five total lifts. On this small mountain, you can still find glades, small powder stashes (if you know where to look), and terrain parks. Overall the mountain is 28% novice, 40% intermediate, and 32% expert on about 100 total acres.
The mountain was first opened under the resort name Onset in 1963 and relied fully on natural snowfall. Because it's located in Southern New Hampshire, there is not usually a lot of snow that hangs around throughout the season, making the first few years less successful. Snowmaking was introduced in the early '70s, and today Crotched Mountain boasts 100% snowmaking with an energy-efficient focus. They use fan guns which allows them to avoid using fossil fuels and about 60% of the electricity used is from a local renewable source.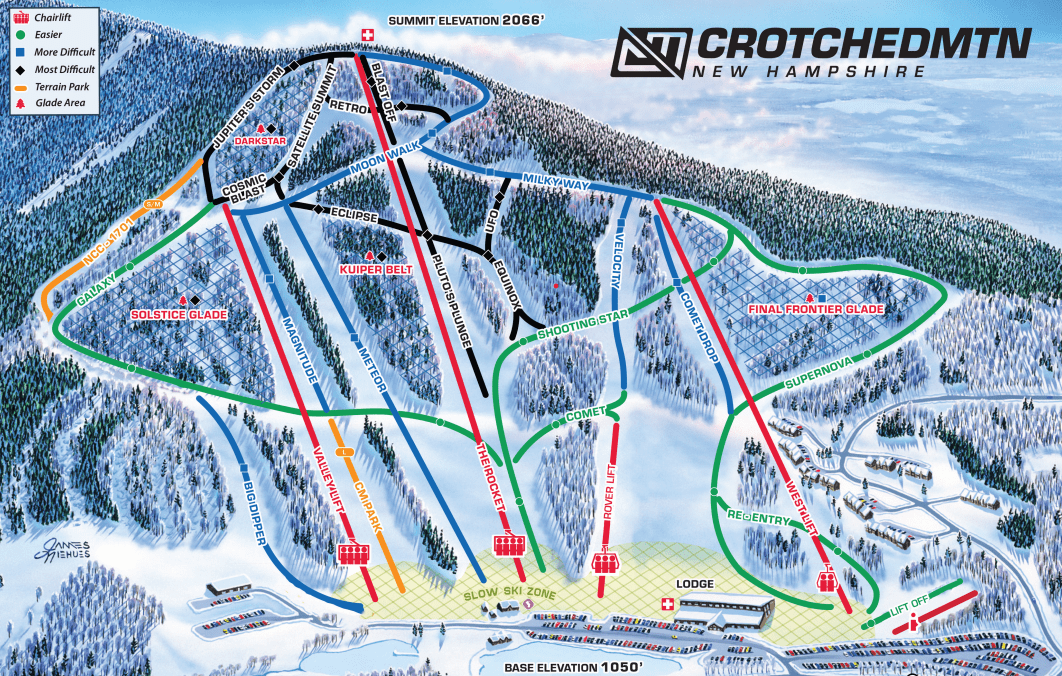 What sets Crotched Mountain apart from other local resorts is that 100% of its terrain has night skiing. Midnight Madness is offered on select weekend nights and runs from 9 pm – 12pm. Normal night skiing is offered every Tuesday – Saturday until 9pm.  They offer discounted lift tickets during this time and always have a fire going outside to warm up your hands. Teenagers and young adults primarily use this time to practice in the terrain parks and enjoy the mountain after school or work. My husband and I were a couple of Midnight Madness-goers when we were younger.
If you're lucky, you can hit Crotched on a powder day, enjoying a meager 6-12" from a decent storm. And if you're extremely lucky, the clouds will clear and you will have a bluebird day. As you continue to ride into the evening, you can watch the sunset from the summit.
Today, Crotched Mountain is a part of Vail Resorts and utilizes the Epic Pass. You can get a lift ticket for as little as $58 ahead of time, and up to $96 during peak times at the window. They also offer an after 3 pm only season pass.
Either way you look at it, Crotched Mountain has shred-able terrain for everyone, beginners and more advanced riders alike. It's the best place in Southern New Hampshire to get together with friends and family, and hit the trails for a great day, or night, on the mountain. Don't forget to visit in the fall for those gorgeous views!