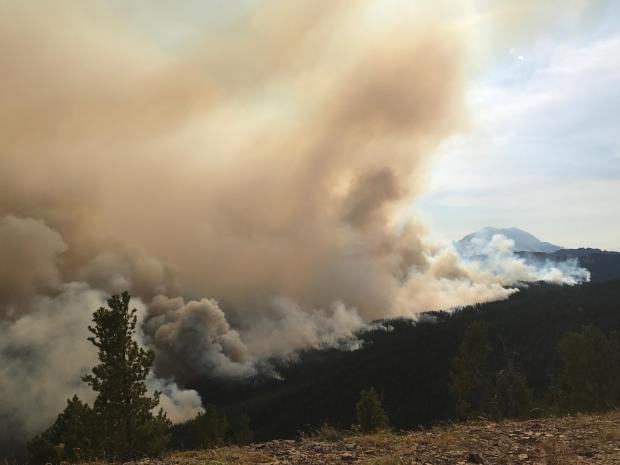 Crystal Mountain Ski Resort in Washington is currently closed due to smoke and poor air quality.  The resort area is currently under a Level 3 evacuation (leave the area now, last warning). The fire has not reached the ski lifts or any buildings at this time, but the resort has reported that it is within the ski area boundary between Bullion Basin and Norse Peak.
"The fire has crossed into the ski area and is burning between East Peak and Norse Peak. Everyone has been evacuated. Fire crews have pulled out for the night due to risk of fire closing off the road. Firefighters will re-evaluate the situation in the morning. It has not reached any buildings or ski lifts at this time. The wind is blowing out of the southeast and the fire is still on the move. It's out of our hands at this point, hoping for the best. Stay tuned for updates." – Crystal Mountain, yesterday
"The section of fire that broke out above the cabins is an extension of the Norse Peak fire that is separate from the extension that caused us to withdraw from Crystal. The Crystal extension has currently lessened its intensity, and we are currently back at Crystal assessing whether to continue structure protection operations. There does not appear to be any structure damage thus far, but we will do a complete assessment at daylight, and monitor the fire above the cabins." – Paul Sowers, Crystal Mountain Fire Chief, today
Current Closures:
Crystal Mountain Ski Resort
28 trails are closed including the PCT
7 campgrounds
Forest Service Roads within the closure boundary
Parts of the Pacific Crest Trail (PCT) are also closed.
"The Pacific Crest Trail is closed for 23.5 miles from Chinook Pass on Highway 410 (mile 2321) to Government Meadow (mile 2344.5) due to the Norse Peak Fire." According to the Pacific Crest Trail Association
The fire started during lightening storms on August 10 & 11. The fire doubled in size on August 28 due to a weather event called a thermal trough causing hot temperatures and dry conditions.
The Norse Peak Fire has burned 19,382 acres and is 8% contained.
Current Closures for Trails, Campgrounds and Roads
Norse Peak and American Closure
Incident: Norse Peak Fire Wildfire
Released: 2 days ago
To provide for public and firefighter safety, the Okanogan-Wenatchee National Forests has closed an area near the Norse Peak and American Fires. See the attached notice and map for the specific boundaries.
Trails:
Several trails, campgrounds, group camp sites, roads, and trailheads are also closed, as follow:
– #2000 Pacific Crest Trail
– #956 Union Creek Trail
– #953 Crow Lake Way Trail
– #954 Fife's Ridge Trail
– #951A Cougar Valley Trail
– #953A Sheepherder Lake Trail
– #999 Pleasant Valley Trail
– #957 Kettle Creek Trail
– #958B Pleasant Valley Lake Trail
– #958 American Ridge Trail
– #958C Goat Peak Trail
– #972 Goose Prairie Trail
– #959 Goat Creek Trail
– #968 Dewey Lake
– #969 Mesatchee Creek
– #951 Ravens Roose
– #945A Lousianna Saddle Trail
– #967 Bear Gap Trail
– #967A Fog City
– #987 Cement Basin Trail
– #9870A Cement Basin Lake Trail
– #945 Middle Fork Trail
– #946 South Fork
– #952 West Crow Creek
– #955 Indian Flat
– #962 Sand Creek Trail
– #963A Sand Creek Trail
– #963B Yellow Jacket Trail
Roads:
– FSR 1900 and associated spur roads to the south and southwest (within the closed area as described)
Campgrounds:
– Dispersed camping within closed area described above
– Pleasant Valley Campground
– Lodgepole Campground
– Crow Creek Campground
– Hells Crossing Campground
– Salmon Cove Group Site
– Union Creek Trailhead
– Crow Lake Way Trailhead (Fife's Peak Overlook).
Norse Peak Fire 
Incident: Norse Peak Fire Wildfire
Released: 11 hrs. ago
Date Started: Aug. 11, 2017
Cause: Lightning
Total acres: 19,382
Containment: 8%
Structures Destroyed: 0 Injuries to date: 0
Total Personnel: 339
Fire Resources: 6 crews, 28 engines, 2 helicopters, 3 bulldozers, 7 water tenders
Summary
Thirteen fires were ignited by lightning on August 10th and 11th, in the vicinity of the William O. Douglas and Norse Peak Wilderness Areas on the Naches Ranger District of the Okanogan-Wenatchee National Forest. The fires are burning in steep rocky terrain, with difficult access. Two of the fires have reached significant size and remain active: the Norse Peak Fire (burning north of State Route 410 (SR410) near Union Creek) and the American Fire (burning between SR410 and Bumping Lake). These fires are all being managed collectively as "Norse Peak." Resources are being shared between the fires. Until August 28th, fire growth had been moderate. A weather event called a thermal trough moved over the fire on Monday August 28th, and combined with very hot and dry conditions, the Union Creek Fire and Fire #367 merged with the Norse Peak Fire. While the American Fire had moderate growth that day, the fires north of Highway 410 nearly doubled in size that day, growing north and east in the Norse Peak Wilderness.
The fire continued its growing trend for several days as the Florida Red Interagency Incident Management Team took command of the fires on Sept. 1.
Starting Sept. 2, an inversion helped slow fire growth.
On the western border of the fire area, crews worked to brush out and remove hazard trees along the 462 Road for use as a holding line as well as monitor the fire's southern progression in the Gold Hill/Union Creek area to make sure it remains north of State Route 410. Personnel also have removed hazard trees and light fuels along the northern side of the 410 corridor in advance of the fire's arrival.
Firefighters are working to thin fuels along the 1900 Road today as an eastern holding line.

Bumping River Road remains open as do the cabins and facilities within Goose Prairie and the Bumping Lake area. Kaner Flats and Little Naches campgrounds and the Little Natches Summer Home tract along the 1900 Road also are open at this. Both the Bumping River Road area and facilities along 1900 are under Level 1 Evacuation Notices.

A large area of the Naches Ranger District in the Okanogan-Wenatchee National Forest in the vicinity of these fires is closed to public access. The Pleasant Valley Campground, Lodgepole Campground, and Salmon Cove Group Site are closed.Full closure listings can be found at https://www.fs.usda.gov/alerts/okawen/alerts-notices/?aid=42481
SR410 is closed from Chinook Pass (mp 69) to Bumping River Road (mp 88.5) and will remain so through Sept. 4 in the interest of firefighter safety because of increased fire operations in that area. Travel alerts are posted on the Washington State Department of Transportation (WSDOT) website http://www.wsdot.com/traffic/trafficalerts/ . Travelers should seek alternative routes.