Crystal Mountain, WA will reopen for skiing and riding on Monday, June 1st, 2020.
It's not uncommon for Crystal to be open in June.
Crystal sees the 6th most annual snowfall of any ski resort in the USA at 486″ per year.
You'll need a reservation and a mask.
Full details below.
Ski Resorts Open in North America:
Timberline Lodge, OR 
Arapahoe Basin, CO
Mt. Bachelor was briefly open for passholders only in early May.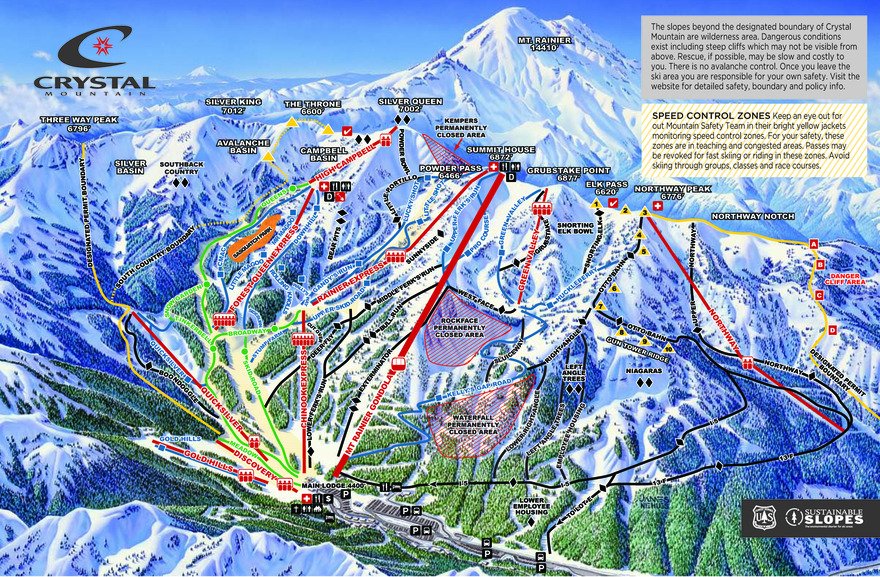 Crystal Mountain Press Release:
CRYSTAL MOUNTAIN WILL REOPEN FOR SPRING SKIING ON JUNE 1 
 
For Immediate Release 
May 27, 2020 
 
CRYSTAL MOUNTAIN, WA – Crystal Mountain will reopen for gondola and lift-serviced skiing and snowboarding with limited capacity starting June 1, 2020.  Reservations will be required for all visitors, including Ikon Pass holders.  A limited number of reservations will be available each day starting at 2:00 p.m. PT on May 30 for June 1. Crystal Mountain plans to operate the Mt. Rainier Gondola and Green Valley Express chairlift daily from June 1 until June 14, conditions permitting.   
"As an operator of a ski area, I've remained committed to providing a return to the mountains for our skiers and riders when the time was right," said Frank DeBerry, President of Crystal Mountain.  "We're lucky the snow hung in there with us and we're excited to welcome our winter guests back for some skiing and riding before we turn our attention to summer," he added.  
Since closing on March 15 due to Covid-19, Crystal Mountain officials have been making changes and preparing for a return to the mountains. This includes enhanced cleaning protocols, physical distancing measures, PPE usage, and other policies across all aspects of operations. Everyone must follow these new guidelines for the safety of resort employees, guests and the community. Now more than ever, the team at Crystal is asking for the public to work together and take personal responsibility and act with care and cooperation in order to make this a positive experience for everyone.
Crystal Mountain staff will be following all State guidance for social distancing and sanitary measures.  Guests are strongly encouraged to wear a face covering and will be required to maintain 6 feet of physical distance from others. Participants will be allowed to ride the gondola and chairlift only with members of the same household.  
Reservations will be available for a limited number of skiers and riders each day. There will be a checkpoint to verify daily reservations and anyone without a reservation will be turned away. Those needing lift tickets can purchase a ticket online for $59 after confirming their reservation.  2019/2020 and 2020/2021 Ikon Pass holders or anyone with an unused ticket from the 2019/2020 winter season will not need to purchase a ticket but must bring their pass and unused ticket for use of any lift. Foot passengers will not be allowed during this time, scenic gondola operations will begin on June 19. 
Details about health and safety related protocols can be found here: 
https://www.crystalmountainresort.com/covid-19-resources/covid-19-safety 
 
Spring skiing reservations, ticketing and other details can be found here: 
https://www.crystalmountainresort.com/things-to-do/spring-skiing