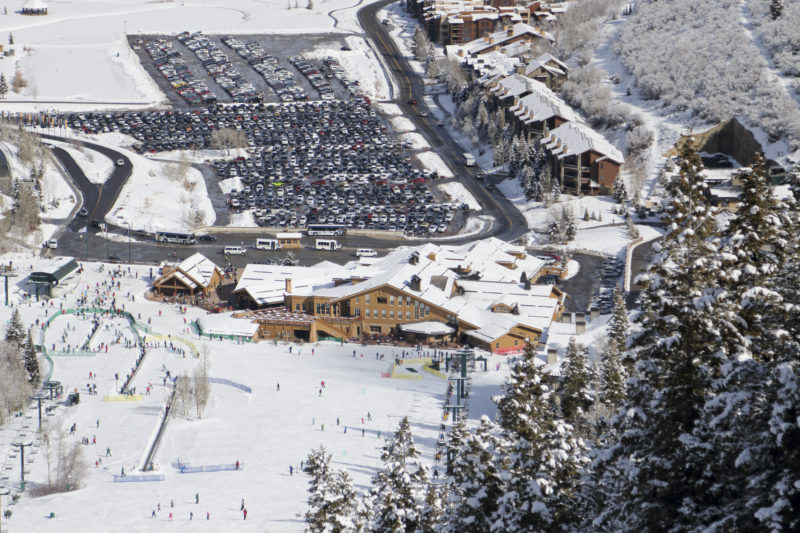 Deer Valley Resort's Snow Park Lodge and base area are getting a complete makeover. According to Alterra, Deer Valley's parent company, a three-phase construction project to improve the base area will provide additional accommodations and skier services, new contemporary food and beverage and après options, and an additional ski beach and upgraded mountain transportation network. Snow Park "will feature architecture and design inspired by the mountains," with a natural setting set to flow through the new plaza, offering an array of activities and scenic views.
"A new expansive ski beach will offer a place for more guests to watch skiers and take in the sunset as they enjoy a beautiful Deer Valley après scene," Alterra wrote in a press release.
Deer Valley Resort wants to start the first phase of this construction in April 2022. The Park Record called this an "aggressive timeline" for such a high-level project, which the resort publically discussed on Wednesday, July 28, with the Park City Planning Commission. At the meeting, Deer Valley presented an estimated timeline for the project, which the Planning Commission would approve by December 2021. A later application for a building permit would then be submitted in January by the resort to the commission.
The proposed timeline would have phase one's construction starting in April 2022—right after Deer Valley closes for the season. The timeline estimates the first phase to be completed by December of 2022, right in time for the 2022-23 ski season. However, the Park Record reports that the Planning Commission can sometimes take months or, with difficult projects like these, years to consider major developments—so, when exactly construction for phase one will get going still isn't 100 percent. The project is scheduled to be discussed further by the Planning Commission at a meeting in August.
Alterra Announces $207-Million Upgrades at Resorts | Squaw Valley Alpine Meadows, CA Base-to-Base Gondola Confirmedhttps://t.co/b8c9EYUIuC pic.twitter.com/Apbd1hzuu8

— SnowBrains (@SnowBrains) April 12, 2021