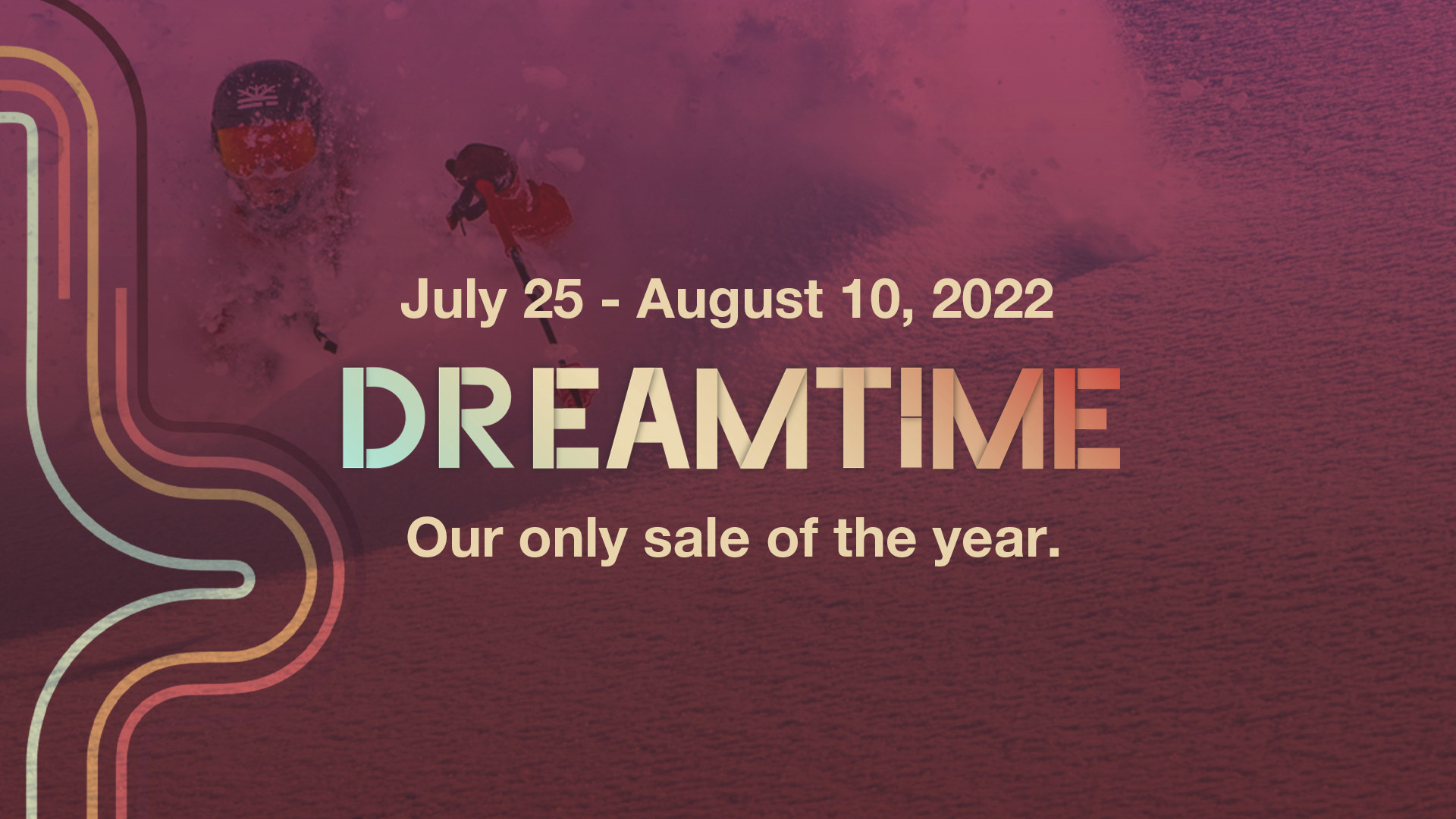 DPS Skis has kicked off its annual Dreamtime event today (July 25) until August 10, ushering in its next generation of equipment along with its only sale of the year. Here's your guide for all-things-Dreamtime.
Starting off with some of DPS' new limited-edition products. DPS' Powderworks skis are released in limited quantities once a year during Dreamtime and their unique constructions represent DPS's most advanced research and development efforts.
The Powderworks 100 RPC ($1,549) is a mid-fat charger built for all-mountain conditions. With a 19m turn radius and 100mm waist, the PW 100 RPC can perform efficiently on hardpack and groomed snow. The short turn radius means this ski will be energetic and playful in all sorts of terrain, giving that pop and spring that skiers live for. With a 132/100/115mm shape in the 184cm length, the Powderworks 100 RPC will still provide plenty of float in deeper snow. And weighing in at 2020g in the 184cm shape, this ski will fly through crud and chop like it's nothing! I'd be interested to learn how this ski performs on hard snow compared to the Foundation 106, which I had the pleasure of skiing on two seasons ago and absolutely loved. The Powderworks 100 RPC is available in 171, 179, 184, and 189cm lengths.
Next is the Powderworks Tour 110 C2 ($1,549), a touring ski engineered using the latest Pagoda Tour construction. This ski is built for "limitless human-powered laps" and for "fast, charging turns down big backcountry faces." I personally have experienced DPS' Pagoda lineup and can attest to its performance at a truly incredible weight.
Similar to the Powderworks skis, DPS' Special Edition skis are released once a year, exclusively during Dreamtime. The Special Edition Pagoda ($1,549) will be available in two colors and shapes at 100 and 112mm underfoot. These skis are constructed using a new Algal Sidewall Technology, which features 63-percent bio-based content sourced from microalgae. It provides a unique combination of both a vertically and horizontally layered core that quiets inconsistencies and elevates the electricity of carbon. It's super neat to see DPS continue to push the envelope on ski engineering and performance while also adopting sustainable practices! The Special Edition Pagoda is available in 158, 168, 178, 184, and 189cm lengths.
In addition to the Special Edition and Powderworks skis, DPS also unveils its winter lineup for the upcoming season during Dreamtime. Revamped for the 2022-2023 season is the Pagoda Tour ($1,549), a personal favorite ski of mine. The Pagoda Tour is now made using DPS's new Third Rail Technology, an additional sidewall material that is incorporated into the core of the ski within the key vibration nodes, improving the integration between the core and sidewall. Third Rail Technology makes this new generation of Pagoda Tour skis damper, more durable, more stable, and more environmentally friendly than previous iterations. The new Pagoda Tour is available in underfoot widths of 90, 94, 100, 106, and 112mm and at various lengths, depending on the width.
DPS also introduces the Pagoda Lotus 117 ($1,549, on sale for $1,349) for the upcoming season, touted as a do-it-all deep powder ski built for a range of soft snow conditions. The Pagoda construction and fairly low weight mean that this ski is ideal for both resort and backcountry settings. The Pagoda Lotus 117 is available in 171, 178, 185, and 191cm lengths.
Finally, DPS unveiled a new Travel collection, featuring a duffel, backpack, and rolling ski bag. 
DPS' Dreamtime event lasts from July 25 to August 10. Its Special Edition skis, in-line 2022-23 collections, and limited-run skis will be reduced by $200-250 through the end of the event. All accessories, including apparel, gear, and PHANTOM Glide, are reduced by 15 percent during Dreamtime, the only off-price window of the year for DPS. The DPS R14 ($799.95) and DPS R10 ($749.95) tech bindings will also be available with a free binding mount with a ski purchase. Shop DPS' new products and big deals on its website before Dreamtime ends!