Eaglecrest Ski Area, AK, is excited to announce the Pulse Gondola is officially in transit. General Manager Dave Scanlan has been busy in Austria overseeing the loading of Eaglecrest's new gondola. The packing and shipping process was broken down into two weeks of work. Each week consisted of loading 10-11 containers.
The first week, the team loaded 11 shipping containers full of towers, cabins, and sheave wheels and sent them off on trucks to port in Belgium. This last week the team finished loading the rest of the gondola cabins, the two bull wheels, and several motor room pieces. Each bull wheel weighed in at 6.2 tons and was originally designed to come apart into two halves, making the shipping process of these monster parts a little easier. The second shipment consisted of ten containers and one flatbed trailer for the bull wheels. That's a total of 22 truckloads of parts and equipment.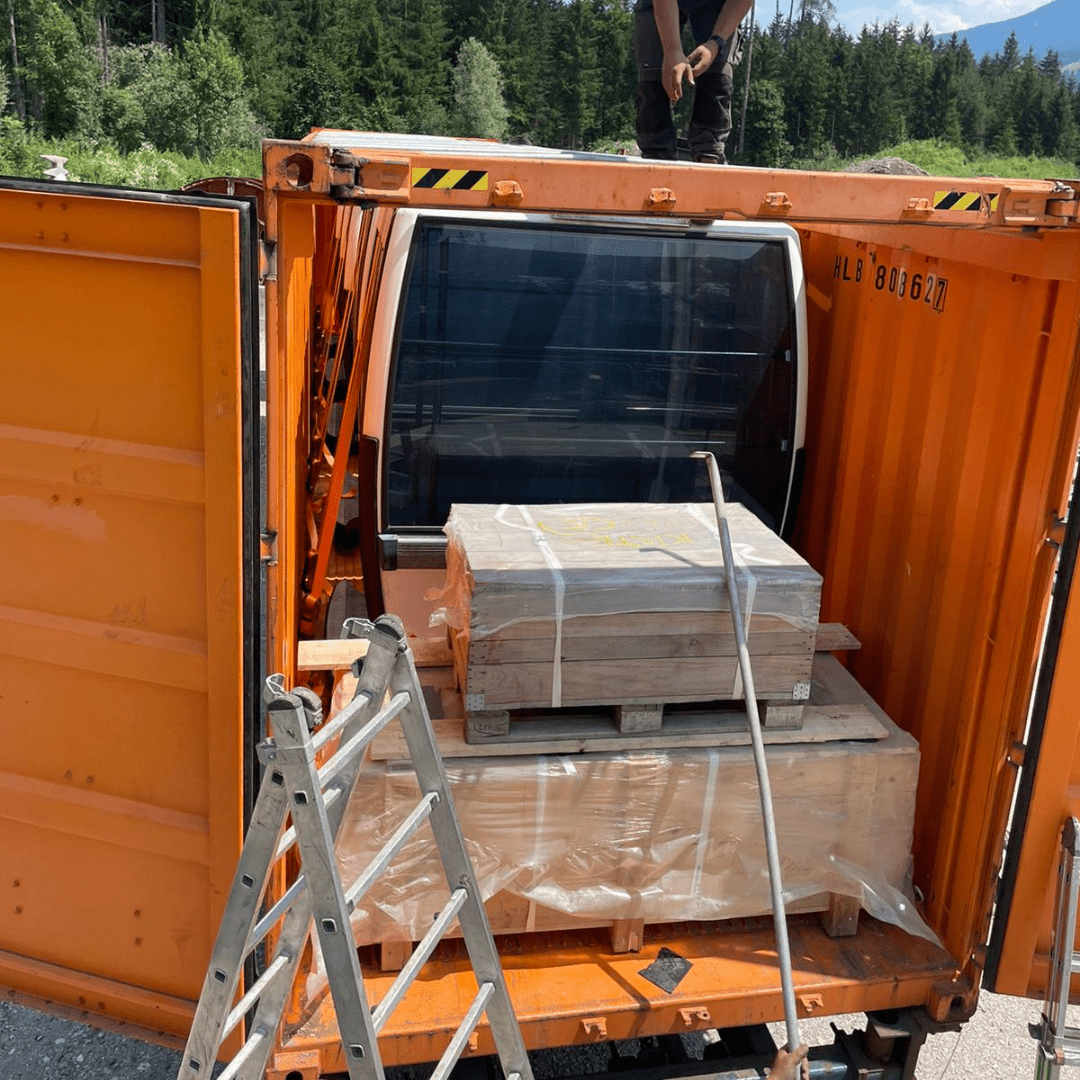 Here's the entire transportation breakdown: the shipping trucks made the two-day trip from Austria to Antwerp, Belgium, where they'll begin the sea voyage towards the lower 48. Once they hit the US, ships will offload in Virginia, where the containers will be moved to rail transportation. Then it'll take about 15-20 days for them to hit the West Coast. The bull wheels will travel by truck from Virginia to Washington. Once everything is in Seattle, the gondola will make its final leg of the journey up through the inside passage to Juneau.
You can track the Sea Voyage as it's set to ship by July 21st from Antwerp (it's like the Santa tracker, only in gondola form and in July). There are still 7-8 weeks of travel time ahead for the Pulse Gondola. We can expect the arrival sometime around the first week of September.
If you haven't had a chance yet, check out the Gondola Webinar, held in February 2022.
Eaglecrest, owned and operated by the City & Borough of Juneau, has a ten-year average snowfall of 320" annually.
Eaglecrest is one of Alaska's best-kept secrets with big mountain terrain, 1620′ vertical drop, 640+ acres, impressive backcountry access, untracked powder, and hardly a lift line. It's a locals-only mountain located on Douglas Island, only a 15-minute drive from downtown Juneau, with panoramic ocean views from the summit. Adult Season Passes can be purchased for as little as $576 in the preseason, and lift tickets are only $68.
Learn more about Eaglecrest Ski Area at skieaglecrest.com.