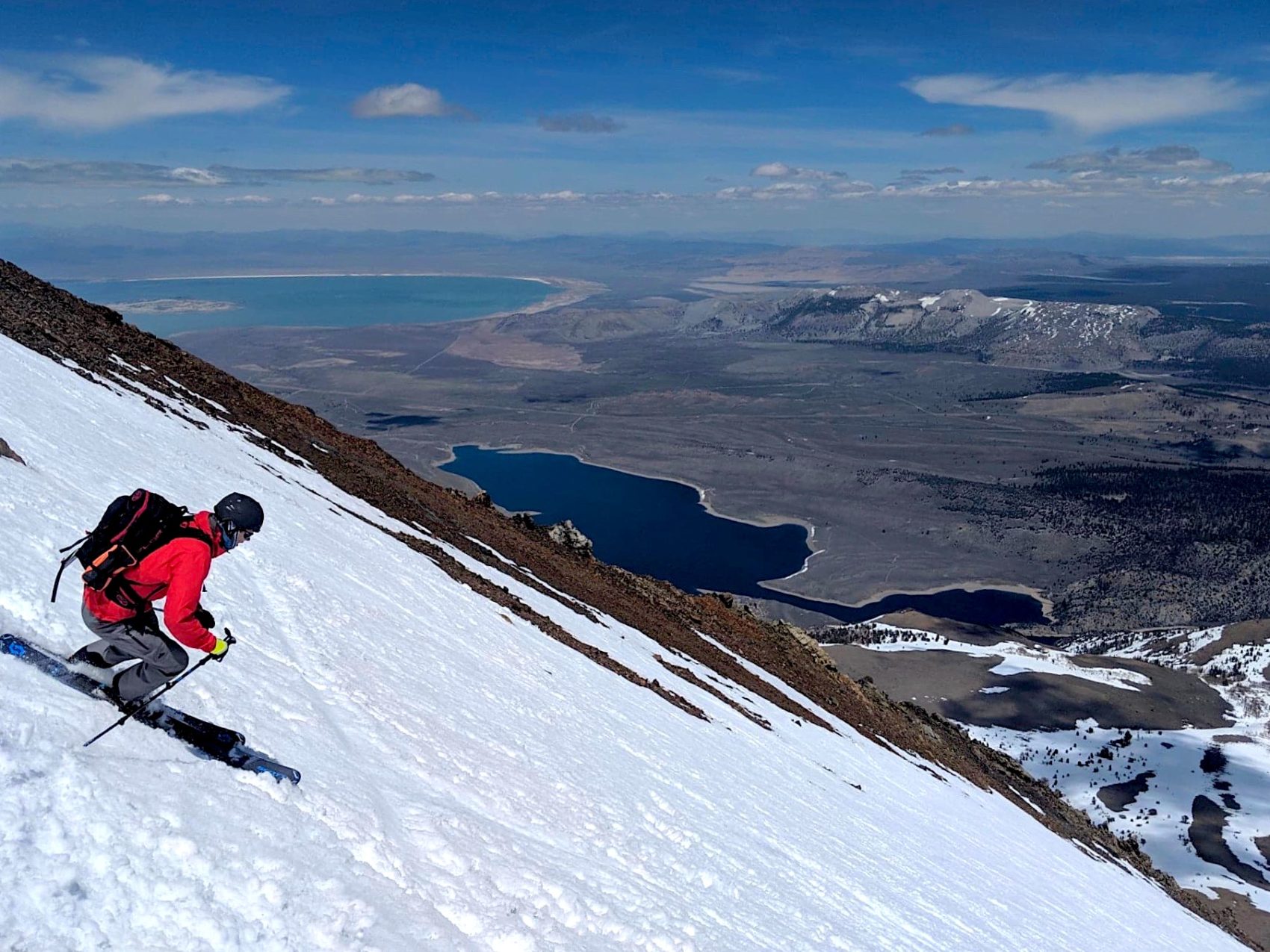 Report from May 8th, 2019
Yesterday morning, we got up for an extremely alpine start at 8:15am and started walking up 12,657′ Mt. Wood from the Silver Lake campground near June Lake, CA.
We walked on dirt on a trail for about 30 minutes before switching to a snow-filled gully.
We skipped from snow patch to snow patch for a bit before getting onto the apron of Mt. Wood.
We traversed the large apron until we were below the summit couloir.
We were late and the snow was already soft.
The boot pack up the large summit couloir (more of a gully) was sloppy and slippery and rotten at times.
We eventually made it to the summit after 4 hours and 30 minutes of skinning and booting and the views were stellar.
We ate and drank and chilled out for a bit before heading down.
We were all a bit worried that the snow was going to be too soft and slushy for a good time.
The first 50-vertical-feet was bad…
Weird textured snow, deep slush, and isothermic funk…
Then, after those first 50-vert, the snow was great.
Slushy, soft, squishy, responsive snow.
I skied the summit couloir from top to bottom without stopping and it was a blast.
After the couloir, we traversed over and skied another 60 turns down to the snow patch hopping zone.
Skiing 5,500-vertical-feet in the hot May sun felt good.
Soon thereafter we were in flip-flops, shorts, and T-shirts strolling down the trail to the car.
After a quick dip in June Lake we felt refreshed and grabbed tacos from the Ohanas taco truck and drank beers in the June Lake Brewing Company.
After the apres ski sesh, we headed north back to Tahoe and grabbed burgers at Minden Meats that were incredible.
A fiery sunset over the east shore of Lake Tahoe guided us home to Squaw Valley.
If you're interested in skiing the California Backcountry, please contact Alpenglow Expeditions for a guide and all the local knowledge.
PHOTOS: