Report from June 15th, 2018
Brought to you by Scott Sports
Skis Used:  Scott Super Guide 105
Yesterday morning, Greggy and I headed back up to Tioga Pass, CA.
This was my 6th trip to Tioga Pass this month.
The skiing off Tioga Pass has simply been fantastic this month.
We'd set our sights on Ripper Chute off the Dana Plateau.
We skinned and booted up Ellery Bowl then crossed the long Plateau.
On top of Ellery Bowl, we watched the large cornice hanging over the corner partially break off and nearly hit some guys skinning up below with debris.
We saw that same cornice break again in the afternoon when we returned to Ellery Bowl.
We also saw a big cornice fall just west of Unknown Chute on Mt. Dana today.
Be extra careful around cornice in the Sierra Nevada at all times, but especially right now.
The amount of life up on the Plateau is impressive.
There must be 100,000 flowers up there right now along with marmots, pikas, ground squirrels, crickets, spiders, and more.
Ripper Chute was gorgeous.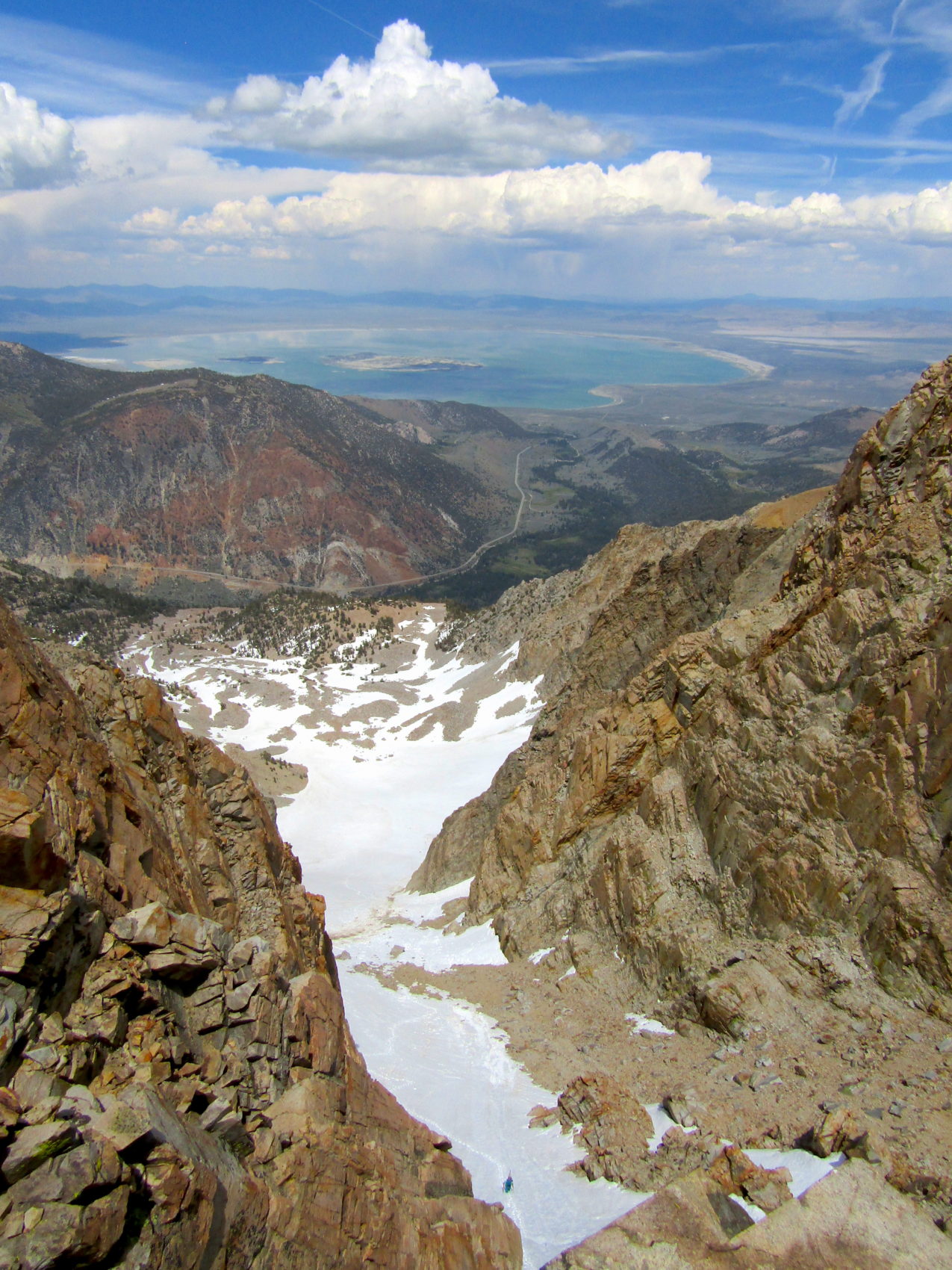 Big walls on each side, not too steep, smooth snow, and it appears it hasn't seen much traffic this year.
I skied down fast to beat my sluff down and was blown away by how fun the conditions were.
Soft, splashy snow.
At the bottom, we skied around a rocky spine to our right and entered the drainage below Cocaine Chute.
We climbed up Cocaine Chute and scooted back across the Dana Plateau to Ellery Bowl.
As mentioned before, we saw another large cornice failure off Ellery Bowl.
I worked west on the rim of Ellery Bowl to Banana Chute and the skiing in there was amazing.
The choke isn't too tight nor steep so you can blast right through and have a hoot.
I did try to get into Chute Out but that chute was guarded by steep snow and a cornice/rock combo that I wasn't able to climb down safely without ropes.
Yesterday was a spectacular day on Tioga Pass.
RECENT EASTERN SIERRA REPORTS:
June 13th: Eastern Sierra, CA Backcountry Report: Huge Cornice, Unknown Chute Off Mt. Dana Is Steep & Scary… | Tioga Pass
June 11th: Eastern Sierra, CA Backcountry Report: Mt. Dana's Solstice Couloir + Powerhouse Chutes | Tioga Pass
June 6th:  Eastern Sierra, CA Backcountry Report: Mt. Dana → Dana Couloir → Power House Chutes | Tioga Pass
June 5th: Eastern Sierra, CA Backcountry Report: Power House Chutes | Tioga Pass, CA
June 4th: Eastern Sierra, CA Backcountry Report: 12,500′ North Couloir of Mt. Emerson
June 2nd: Eastern Sierra, CA Backcountry Report: The Third Pillar Chute | Tioga Pass, CA
June 1st: Eastern Sierra, CA Backcountry Report: 1″ of Snow in 20-Minutes at 12,300′ in Zebra Chute
PHOTOS: