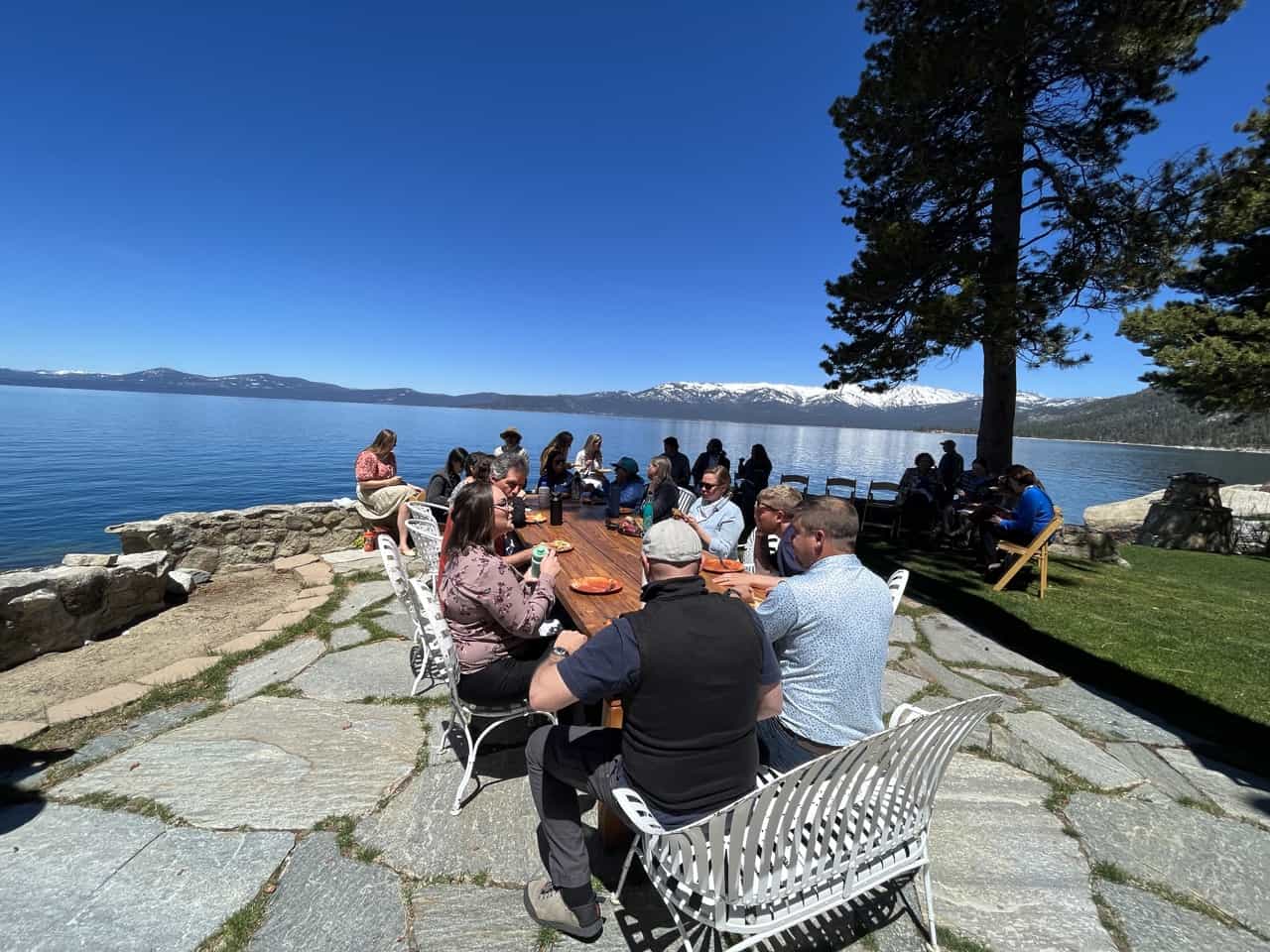 The Inaugural Lake Tahoe Litter Summit, hosted by the nonprofit organization Clean Up The Lake 501(c)3, successfully brought together over 50 of the Lake Tahoe region's leaders fighting litter in the basin. The summit was significant as it was an event that was the first of its kind and was aimed at addressing the issue of litter in the Lake Tahoe region.  This event took place on May 18th, 2023, and was held at the historic Thunderbird Lodge on the beautiful shores of Lake Tahoe.
After taking a deep dive into Lake Tahoe's litter problem and collecting over 25,000 lbs of litter from within its waters during the 72-mile cleanup of Lake Tahoe, Clean Up The Lake's staff & board of directors decided to take a next step towards litter mitigation and preventative efforts in the Tahoe basin.  The first step was bringing together key stakeholders battling the region's litter issues to share detailed data and results at a new environmental summit.
"I couldn't be any more excited to see our organization taking the results of Lake Tahoe's 72-mile cleanup and putting this data in the hands of government and regional leaders who can work with our team to create significant change," says Sadye Easler, Programs Director for Clean Up The Lake.  The nonprofit staff and their consulting scientist Dr. Zoe Harrold presented the fine details of their data analysis on the 25,000+ pounds of litter that was removed from the charity's SCUBA cleanup of Lake Tahoe last year.  
Attendees and panelists included federal, state & local government officials like the NV Division of State Lands, local environmental organizations, state parks, scientists, tourism officials, and concerned citizens.
"The first annual Lake Tahoe Litter Summit was a huge success. It was very encouraging to see so many important players at Lake Tahoe prioritize the litter issue and commit time and resources to this effort. The conversations and ideas coming out of the first Lake Tahoe Litter Summit lay the groundwork for the next steps to be taken right now."

– Jesse Patterson, Chief Strategy Officer for the League to Save Lake Tahoe
The Lake Tahoe Litter Summit included sneak peek screenings of an environmental feature documentary film titled 72 MILES, set to come out in early 2024, presentations of Clean Up The Lake's data analysis from litter removed from Lake Tahoe, additional presentations on litter mitigation efforts & concerns by Visit Lake Tahoe, TRPA, NV State Parks, Dr. Monica Arienzo who helped discover microplastics in Lake Tahoe in 2018, and The League to Save Lake Tahoe (also known as Keep Tahoe Blue).  The event also included breakout groups tackling discussions on plausible solutions for the most pressing topics, panelist discussions as a group, and the day ended with a network event hosted by both Thunderbird Lodge Lake Tahoe and the local brewery Alibi Brewing Company.
"It's one thing to perform large-scale clean-ups in Lake Tahoe and lakes around the world to fix the mistakes of our past, but it represents an even more significant step towards environmental change by using our newfound knowledge to come together and take action now to prevent these issues from happening again in the future."

– Colin West, Founder & CEO of Clean Up The Lake