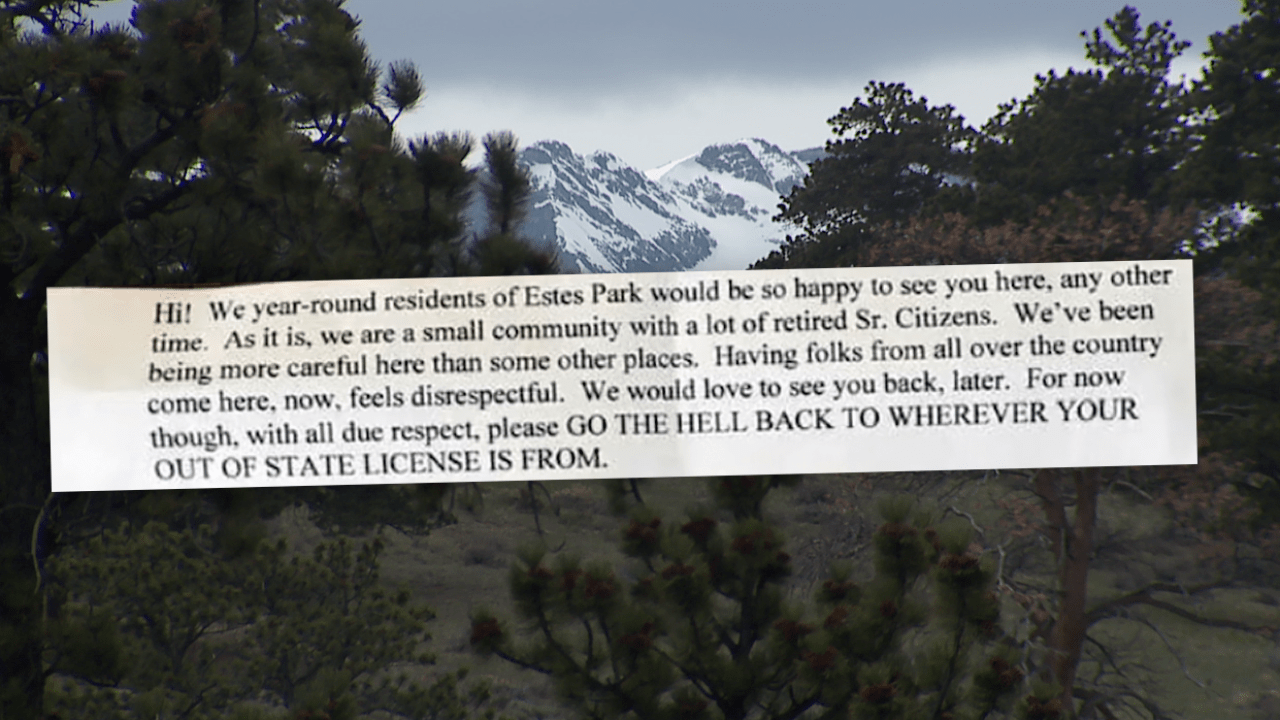 As travel restrictions across the country are relaxed, tourists are starting to visit popular attractions and parks again, which is great news for local businesses and the economy. But not everybody is happy about it. See exhibit A above as an example…
A resident, or residents, of Estes Park, is clearly not ready to welcome tourists back to their small vacation town high in the Colorado Rockies.
"GO THE HELL BACK TO WHEREVER YOUR OUT OF STATE LICENSE IS FROM"

– read notes left on cars in Estes Park
It is not a view shared by everybody in the town, some business owners are compensating shocked tourists. The owners of Elkins Distilling Company will give you a free beer if you've have had one of these notes left on your car.
"Our economy relies heavily on people coming to visit us and stay and spend money here in town."

– McShan Walker, a co-owner of the distillery
The town's police also came out against the notes and are searching for the culprit, saying their actions could lead to charges for tampering with private property and littering.
"Last weekend a very unkind, mass-produced note was placed on numerous vehicles with out-of-state plates in the Estes Valley. We're looking for the individual(s) who did this, because we'd like to remind them that tampering with private property and littering could lead to charges in Municipal Court."

– Police Statement
Estes Park is a statutory town in Larimer County, Colorado, United States. A popular summer resort and the location of the headquarters for Rocky Mountain National Park, Estes Park lies along the Big Thompson River. Estes Park had a population of 5,858 at the 2010 census. Landmarks include The Stanley Hotel (Stephen King's inspiration for The Overlook in his horror novel The Shining) and The Baldpate Inn. The town overlooks Lake Estes and Olympus Dam.
Larimer County, CO has had 600 confirmed coronavirus cases and 29 deaths.