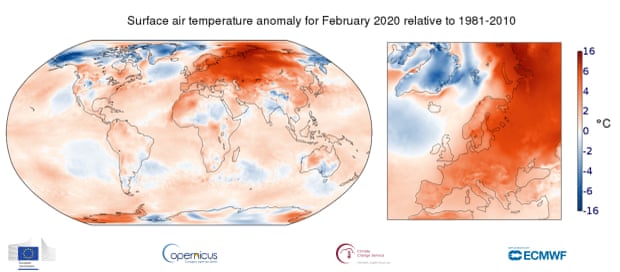 Scientists announced recently that this winter has been by far the hottest ever recorded in Europe, with the average temperature for December, January, and February a massive 1.4º higher than the previous record, set in 2015-16.
With data dating back to 1855, Europe's winter was also 3.4º hotter than the average from 1981-2010 writes the Guardian.
Ski resorts in Europe closed early due to lack of snow and some even resorted to transporting snow in by helicopter. Residents in Iceland and the Alps held mock funerals for glaciers lost to increasing temperatures.
"Whilst this winter was a truly extreme event in its own right, it is likely that these sorts of events have been made more extreme by the global warming trend," said Carlo Buontempo, director of C3S.
Scientists expect this trend to continue, and to increase the number of temperature extremes. Australia has just recorded its second-hottest summer on record, only a little cooler than the record set the year before, and in Antarctica, the temperature rose above 20C for the first time on record in February.
Globally, 2019 was the second hottest ever recorded for the planet's surface and both the past five years and the past decade were the hottest in 150 years.