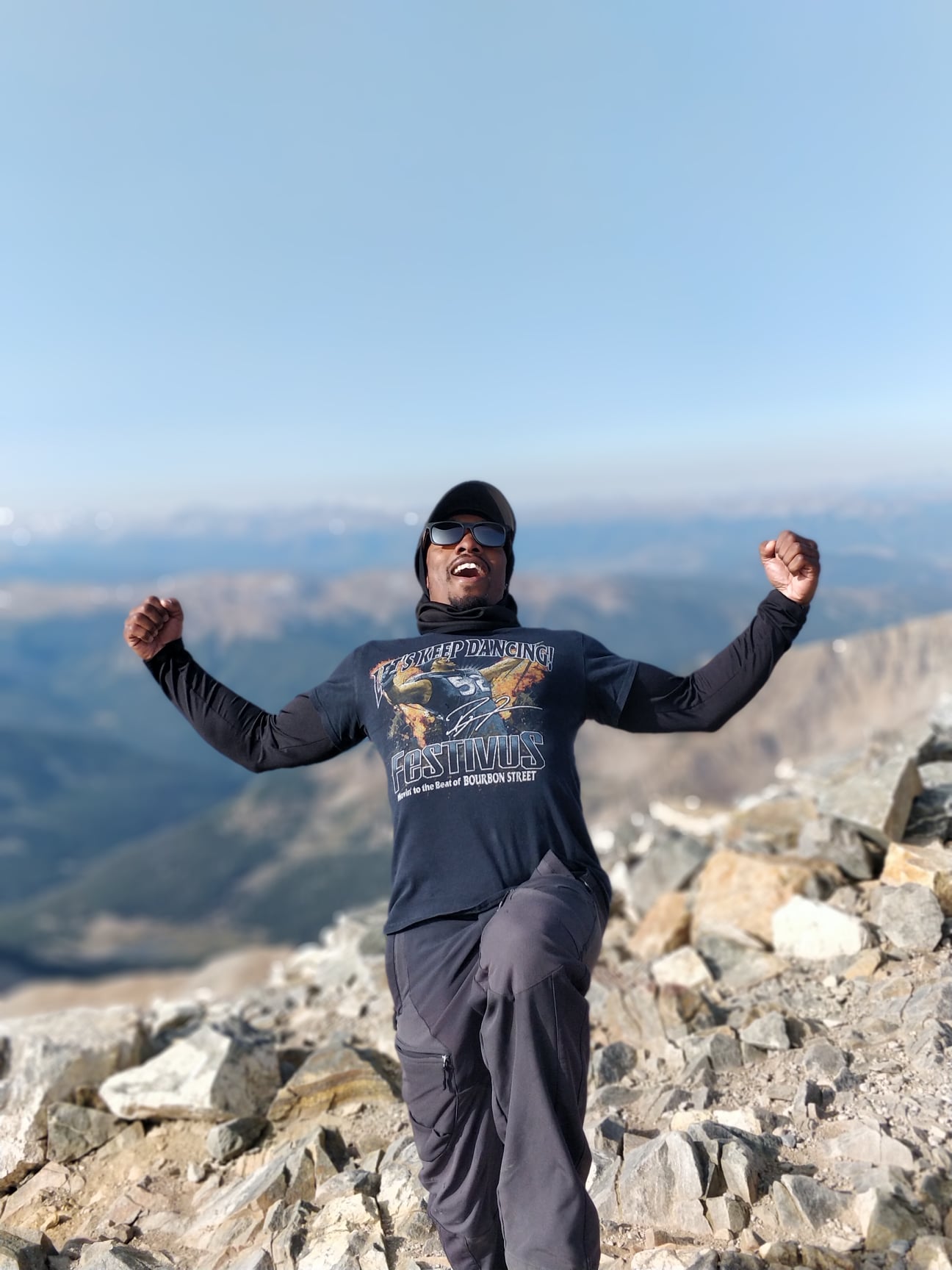 Evan Gill hopes to be the first African American to summit all 58 of Colorado's 14ers. A 14er is a mountain over 14,000 feet high. In 1995, an African American man named Michael Washington summited all 53 of the known 14ers in Colorado at the time. However, as mountain measuring techniques have improved, the number of verified 14ers in Colorado has increased to 58. Gill hopes to be the first African American to stand on all 58 summits.
Originally from Baltimore, MD, Gill is a devoted husband and father of two boys aged 11 and six. He is an Army veteran who served as a chemical, radiological, biological, and nuclear specialist. Gill now works as an environmental specialist when he's not bagging peaks. He has gone through three pairs of boots since he started his journey to summit all 58 14ers in June of 2020, and he hopes to complete his goal by the end of next year. So far he has summitted 26 14ers. The following interview has been edited for clarity.
Snowbrains: How did you end up moving from Baltimore, MD to Colorado?
Evan Gill: I came out for a wedding. One of my battle buddies–one of his friends was getting married. I came out with him to help him drive. So taking I70 into Denver, I saw the mountains and everything, and knew I had to come and move out here. I had never seen a city so beautiful and nice in my lifetime… That was the first time in my life I'd ever seen a mountain. Coming from the East coast, I'd seen the Appalachian mountains. They're hills, compared to this. 
How did you get the idea for the project?
I initially started the journey back in June when the height of everything was happening. COVID and protests and stuff like that. I had a hard time dealing with depression and anxiety and I was recently diagnosed with PTSD. So, at that point, I had to do something to cope with my mental illness, and that was my escape. Then going through it, going on to these mountains and stuff like that and seeing that there weren't any other people of color, at least that I was seeing, I started doing more research about it and couldn't find anything. That's when I thought that maybe I would be the first one. 
I know there aren't a lot of people of color doing things in the outdoors and I'm curious about your perspective as to why that is.
That's a loaded question. But, I think that systemic racism and stuff like that has been in our community for so long that it's kinda ingrained into us. We're raised a little differently. Our parents always told us not to play in the woods. Back in the '60s, all the bad stuff happened in the woods. Lynchings, murders, stuff like that. I feel like people are still scared to be out in the woods by themselves as a colored person. That's my opinion.
That's interesting. I hadn't thought of the safety aspect.
Sometimes I have a little anxiety being by myself, doing these 14ers by myself, so I can just imagine somebody else feeling the same way just because you never know. It only takes one person to mess up the whole thing. 
Have you had any negative experiences with folks in the outdoors?
Not here in Colorado. The outdoor community, the 14er community has been nothing but open arms and embracing to me. I can tell you for a fact that back home in Baltimore was a totally different story when I was recreating outside. You'd get odd looks, and I had racist encounters… back home in Maryland. 
 I found a list that ranked all of Colorado's 14ers from hardest to easiest. Which mountains are you the most nervous for? 
I'm really not nervous about any of them, but if I had to put one on top of all of them, it definitely would be Capitol Peak. I'm not too worried about it because I do plan on making it my last 14er. They say that that's the most difficult one, so I want to make that my last 14er. If somebody wants to cover it, it could be a cool story, working my way up to Capitol Peak, because I didn't grow up in the mountains, I grew up in Baltimore. I've recently been introduced to the mountains and I want to go through the mountains correctly. 
What has the process of learning how to be a mountaineer been like for you?
It's been a lot of networking for me, honestly. There have been a lot of people trying to help me out, a lot of people giving me pointers and tips. I am an avid climber, I go to the climbing gym and we do climb outside. The climbing community has been nothing but embracing and trying to help me out with whatever knowledge that they can pass on to me.  
How many 14ers have you done solo? Or have you done them all solo?
Out of the 26, I've done 21 solo. 
Which was the first one that you soloed?
Torreys Peak and Kelso Ridge. It's a nice little class III route with a little mini knife edge. That was a little challenge for myself. I was like, 'lemme see if I can do it.' And for sure felt comfortable up there and did it. 
What has been your best moment so far?
My best moment was actually La Plata peak. That was one of the first snow 14ers that I did. Also, I dedicated that to my wife because it was the non-Hodgkin's Lymphoma cancer month. My wife is a cancer survivor and I dedicated that hike to her. She didn't know I did, at first, but I did over social media and she loved that. 
So the fact of it being your first snow hike and also getting to dedicate it to your wife, that made it the best one, so far?
Yeah, the most meaningful one, by far. It was a test for me heading up there, a mental test dealing with the snow and breaking trail. Also wanted to dedicate that special time for her. Without my wife, I wouldn't be able to do this, seriously. She's literally the backbone of dealing with this, and dealing with my kids when I'm gone, no easy task.
How did you come up with your handle @Black_Sherpa on social media?
I've known about Sherpas for a long time, and I've read many articles stating that they're underpaid and they don't have the best media outlet. People don't know about them. I felt that they deserve respect for one, and two–I want to be the leader of the outdoor movement in the 14er community. I want to be the one to help African Americans come out into the 14er community and feel safe and feel secure and also feel like they're prepared enough for these conditions. Know the weather, know the terrain, start as early as you can. That's the advice that I would give to them. I do want to be known not just as "Black Sherpa," but as Evan Gill as well. It's not about the name. If the Sherpas are not happy with the name, or they don't feel like I should have that name, then by any means, it's nothing but a respect thing. I respect what they do on Mt Everest, and I feel as though they don't have enough respect put on their name. 
What's your more broad goal with all of this? Obviously, to finish summiting all 58 14ers and to be the first African American to summit all 58, but what's the next step after you accomplish that? 
In the African American community, mental health has a history of being under-treated and under-diagnosed. In lower funded communities, there are limited resources to help cope with mental illness. My goal is to inspire people of color to get outdoors and explore, and to initiate a foundation as well to help bridge a gap between Baltimore and Colorado of enjoying the outdoors and being able to see what Colorado has to offer. Without a foundation, it's never going to happen. I feel like Baltimore has been neglected, abused, forgotten about, and I'm trying to spread positivity within Baltimore. I would love to target the young adults, you know, people that have just graduated high school, they don't know what they want yet, they're still growing and trying to figure out who they are. I want to be able to help them find another path that they haven't explored or had access to back on the East coast.

I would like to just reiterate some advice to first-time climbers. Don't underestimate the mountains, be prepared, know the weather, know the terrain, and start as early as you can. Take your time, it's not a race. Pace yourself. Go somewhere that very few have gone. That's my message to first-time 14er people that want to try these mountains out.
Follow Evan on Facebook, Instagram, and Youtube. Evan also has a GoFundMe where you can donate to help him reach his goal.