[Sponsored By: Grand Targhee Resort, WY]
Known widely by name and respected for that alone, ski & snowboard epi-center Grand Targhee Resort, located in Wyoming's Caribou-Targhee National Forest, has charged into the 2018-'19 snow season with an energy fifty years in the making. From its opening in 1969 straight through to present day Targhee has built a tradition one-half century strong by using the most basic of building blocks, place family first.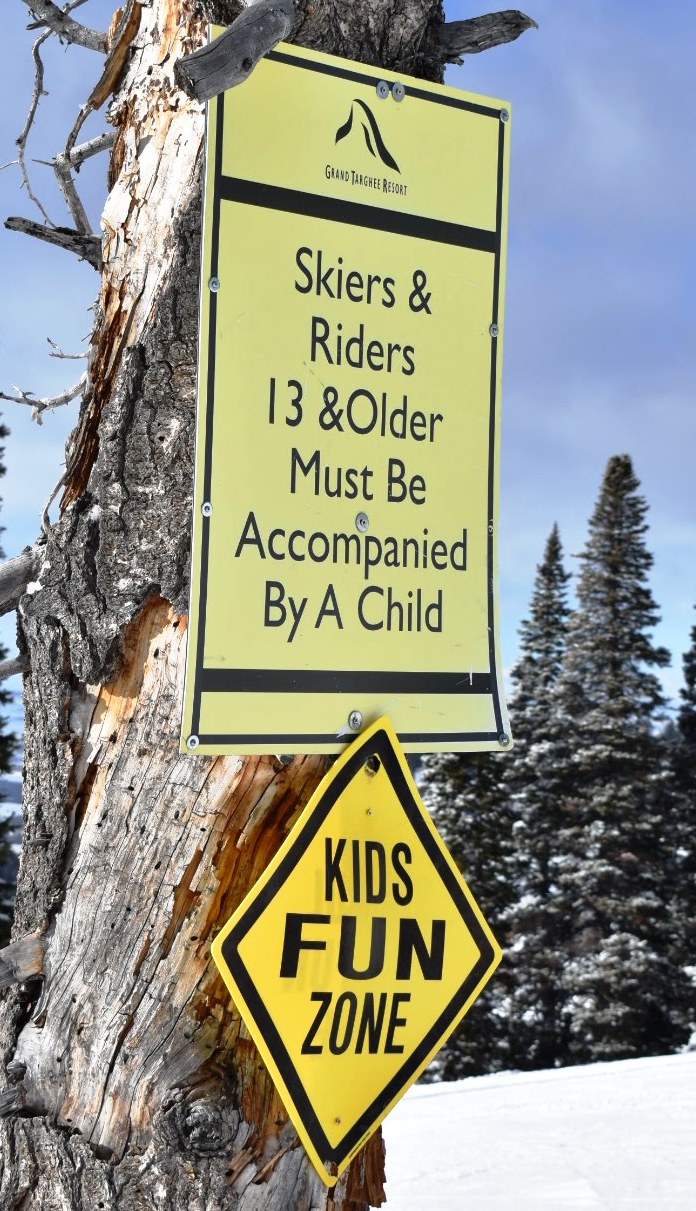 Kids Adventure Zone is a tangible testament to Targhee focus on the family. With thanks to Director of Ski & Snowboard School, Mark Hanson, what began in 2004 as a zone dedicated to all age fun is today a mountain-sized reality devoted specifically to development of youth snowsport skills.
"The zones are unique to what other resorts can offer," said Targhee skier and veteran parent Matthew Teele. "Shoshone lift is really it's own little mountain providing an isolated,safe and un-intimidating environment for learning."

"It's hands down the best beginner mountain I have ever seen," he said.
Accessed from smooth ridin,' Shoshone Ski Lift, or from above by runs, Big Horn or Palmer's Raceway, Adventure Zone core concepts are instruction and safe progression. Targhee and Adventure Zone terrain is carefully crafted to maximize fun while instilling maneuverability, visual awareness, and balance skills.
Jessica and Kevin Quinn of Points North Points North Heli Adventures recently visited Grand Targhee with their two children, Kinley and Kash.
"Shoshone and Kids Adventures Zone is one of the best kids learning area I have witnessed at any ski resort," Jessica said.
She described Targhee trails to showcase a well thought out approach to fun learning. Runs are built and maintained in a safe manner, reducing likelihood of accidents, which parents appreciate.
From Shoshone top station Targhee's future Olympians ski down a slope packed with nineteen individual zones, plus a terrain park.  Forerunner among these is a forest of painted eyes, encouraging active visual scanning while skiing. Downhill progress tours guests through Wacky Weasel Way, a tree sprinkled passage designed to develop edge control. And, nearing Basin area, skiers encounter Giant Ant Hills built specifically to grow a well-balanced colony of skiers.
"Our four year-old went from timid leash skiing (he is only 4) to not only skiing without a leash on but excitedly seeking all the hidden gems the lift accesses," Jessica said.
And North Pole Terrain Park is a standout in its own right with Targhee skiers. The safety-minded park offers entry level jumps, volcanoes, and wide balancing rails.
"What stands out about the program is its design to teach kids not just skills, but safety," Matthew Teele said.
And, of course, Targhee's promotes a Park Smart Code which is taught not only by instructors but the resort mascot Fred the moose.
Skier advancement through fun, interactive learning is an Adventure Zone way of life. And Targhee Ski & Snowboard School lends a hand in achieving just that.
Carefully sculpted lesson plans approach skill building with guest comfort in mind. And the kiddos love linking several Fun Zones in a single run. Coach-facilitated "challenges" test skier abilities in supportive atmospheres, encouraging exploration of previously un-attempted snow skills. When a goal is conquered, Targhee coaches have new zones and new instruction already in mind.
The skiing is light and fun, but the goals are taken seriously. Professional grade, coach-guided sessions at Targhee work to grow client ski ability. This is accomplished via full or half-day time allotments. Lesson reservations can flex to fit specifically instructor requests, target freestyle skill-building, or accommodate adaptive skiing.
Opening the door to next level skiing or riding is a mere phone call away. In fact, after a day at Adventure Zone, it's the kids who might be leading the parents by hand on the next day of family skiing.
"The quaint beauty, friendliness of staff, and ease of  mountain access really makes it so family friendly," Jessica said her family's visit.
Family Quinn has enjoyed a lifetime of skiing globally the Targhee experience will be especially lasting.
And, after an epic day on the slopes, it doesn't get better than Grand Targhee Resort's family-centric accommodation options.
Targhee provides two reasons to keep skiers returning to the 'wet' side of the Tetons. String together three nights or more of adult, accommodation-plus-ski bookings—made 48 hours in advance–and kiddos twelve years-old and under ski FREE. The deal can't be scored at the ticket windows and delivers up to two junior lift tickets for every adult ticket purchase per day per reservation, meaning six to twelve year-old skiers slash the goods FOR FREE at Targhee.
Grand Targhee Resort attracts ski faithful families with unfailing commitment to children. Mountain guests five years-old and under ski free, always. The complimentary gift can be secured the day of, or accompanying any reservation for lodging.
"Our daily routine would be to wake, ski, hot-tub, head to dinner–and do it again! You can't beat that," Jessica said.
In the Tetons, it's skiing exactly as parents (and ski-tots) prefer it, and only as delivered by Grand Targhee Resort, WY.
"Our expectations of Targhee were not only exceeded but GT quickly became one of our new favorite mountains," Jessica said.

"The memories and skiing adventures we experienced as a family are worth a lifetime," she said. "It was the best first family ski trip one could ask for!"