Who's the most famous, most legendary skier in California history? Many will blurt out modern names like McConkey and Schmidt – but no – it's Thompson. Snowshoe Thompson.
Snowshoe Thompson was possibly the most badass skier to have ever walked the face of the Earth, not just California, not just the USA. He was a skiing beast who charged 90 miles over the Sierra Nevada in the dead of winter – solo – on 10-foot skis carrying an 80-100 pound pack in only three days. Then, he'd turn around and charge the 90 miles back home in only two. The guy did this twice a month during winter for 20 years (1856 – 1876), and he did it with no gun, no blanket, no camping gear, and no compass.
Thompson claimed he was never lost, even in a blizzard, and he managed to save the lives of seven dying, snowbound men during his epic journeys.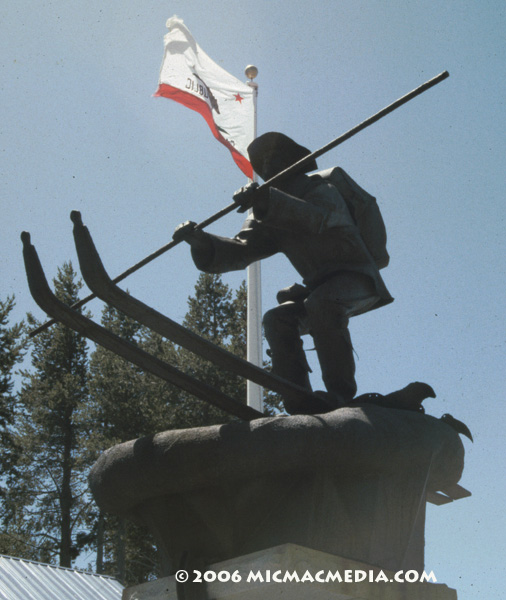 Snowshoe Thompson rarely even stopped to rest when crossing the Sierras. He would sprint up and over the Sierra Nevada range to Genoa, Nevada, and back to California in five days. Thompson used "Johnson's Cutoff," now known as US Highway 50, as his route topping out at 7,283 feet on Echo Pass, CA. The round trip included over 180 miles of travel, over 10,000 vertical feet of climbing, and over 10,000 vertical feet of skiing. There's no doubt that Snowshoe Thompson loved making this mail run.
Why? Why did Snowshoe carry a 100-pound pack across the Sierra Nevada mountain range solo twice a month for 20 years? Because he was the only connection between the mining towns of Western Nevada and California during the powerful Sierra winters of yore. There was no other way to get mail, medicine, and other essential supplies across the Sierra Nevada in winter.
Thompson would load his pack with US mail and whatever else was needed and fly. His only personal supplies included crackers, beef jerky, biscuits, and some matches. He was a true mountain man without fear of the snow or mountains.
No one in the Sierras had seen skis before during Thompson's time, and his skiing style was legendary.
"He flew down the mountainside. He did not ride astride his pole or drag it to one side as was the practice of other snowshoers, but held it horizontally before him after the manner of a tightrope walker. His appearance was graceful, swaying his balance pole to one side and the other in the manner that a soaring eagle dips its wings." – the famous Comstock journalist Dan De Quille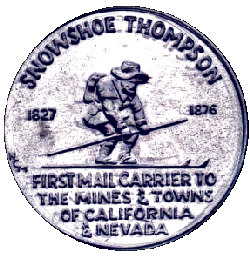 Snowshoe was never paid for his 20 years of superhuman mail service despite an 1869 appeal by the Nevada Legislature to the federal government for $6,000 in compensation for Thompson. 
"If I do my job and get the mail to the people, Uncle Sam will pay me." – Snowshoe Thompson
Thompson had no fear of mountains nor brutal snowstorms due to his imposing ski resume. The guy was born in Telemark, Norway, the modern birthplace of skiing. What more do you need to hear?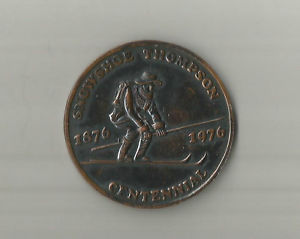 Snowshoe Thompson was born Jon Torsteinson-Rue in Telemark, Noway, in 1827. He skied to school in the winter. His father died when he was only ten years old, spurring his family to move to a farm in Illinois, USA. Thompson and his family moved from Illinois to Missouri, Iowa, and Wisconsin. In 1851 Thompson cowboyed a herd of milk cows to California from Wisconsin and settled down in Placerville, CA, 60 miles west of South Lake Tahoe. Thompson did gold mining in the California foothills and made enough money to buy a small ranch at Putah Creek in the Sacramento Valley, CA.
In 1855, Snowshoe Thompson saw an ad in the Sacramento Union newspaper stating:  "Uncle Sam needs a news carrier."  During winter, the Placerville postmaster needed a man to carry the US mail over 90 miles of rugged snowbound terrain to the miners of Genoa and Virginia City, Nevada.
When Snowshoe Thompson wasn't dominating the Sierras in winter, he was a farmer and commercial firewood cutter. He was a man's man in every sense of the word.
Snowshoe Thompson died of appendicitis and pneumonia in 1876. He left behind a wife and son. His son unfortunately only lived for two years longer than his father and is buried at his father's side.
Statues are currently honoring Snowshoe Thompson in Palisades Tahoe, CA – Donner Summit, CA – Reno, NV – Genoa, NV – and likely more.