[Sponsored by Sierra-at-Tahoe]
By now, we have all seen the truly incredible amounts of snow the Sierra Mountains have received and that only means one thing… So much is OPEN! Due to the beyond stellar conditions right now, not only does Sierra-At-Tahoe have its legendary Huckleberry Canyon terrain open, but they're almost finished building their famous halfpipe, as well.
Conditions are good at Sierra-at-Tahoe, but are they really THAT good right now? One word answer, YES! While looking at the historical snowfall for the month of February, according to On The Snow, at Sierra-At-Tahoe, the totals are so mind-boggling that it is hard to fathom skiing these types of conditions.
How much is too much? From Friday, February 1st till Tuesday the 5th, they received (pulls out calculator) 103 inches of snow. Then on the 10th, they had a 37-inch day… and since the 13th, they have received an additional 86 inches of snow. Looking at those storm totals makes my cheeks hurt from smiling. Needless to say, when it snows that much it is really hard to have a bad day skiing.
Looking to FaceTime your mother before you drop into some gnarly terrain? Huckleberry Canyon is the perfect place for advanced to expert skiers looking for thrills. This terrain is no joke and it was once used as a Freeride World Tour Qualifier event, which means to all you non-extreme skiers that this terrain is top shelf gnar for the most aggressive skiers. This area is truly special and has everything a big mountain die hard could ask for. From steep aggressive glades to exposure with big cliffs to air off of; if you are a big mountain fun seeker this is your spot.
Quick Public Service Announcement about deep snow safety. Sierra-At-Tahoe has been getting so much snow that we need to talk just for a second regarding deep snow safety. Some key takeaways are always staying within visual contact of a ski partner, stay close enough to either pull or dig out, use appropriate equipment to minimize risk, and if you have any questions always ask ski patrol. For more deep snow safety tips check out this SnowBrains treewell deep snow safety post.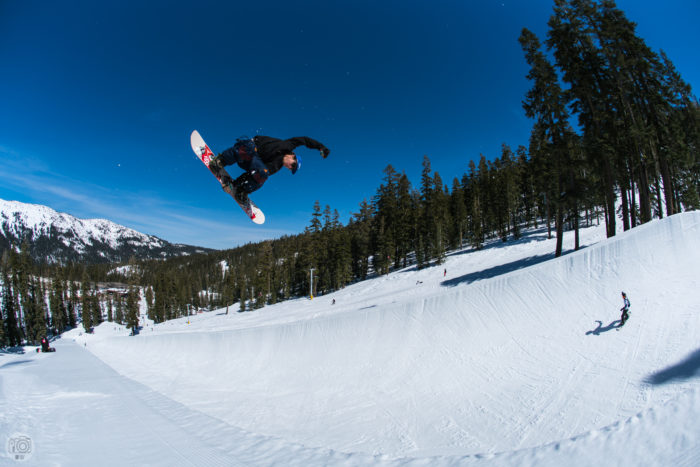 Not a freerider? Looking for a different type of thrill in the park? Sierra-At-Tahoe is set to open its halfpipe in early March. I am not a halfpipe skier, nor do many of my friends partake in trying to boost the walls. However, come springtime when the snow is soft, I am all about making some nice slashes in the halfpipe. Feeling the g-force as you rocket up the side of a wall is tons of fun. Sierra-At-Tahoe has the only halfpipe in South Lake Tahoe and it is home to some superstars. Drop in and you might find Olympic Halfpipe Gold Medalists like Maddie Bowman and Hannah Teter shredding around. Good luck trying to catch them.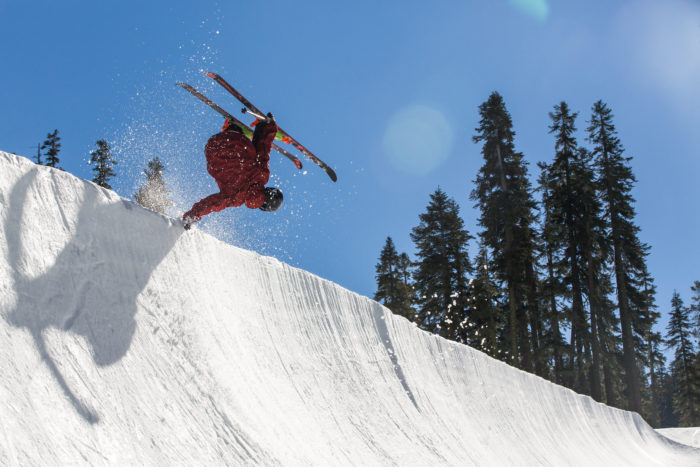 All this new snow is setting up Sierra-At-Tahoe for prime spring skiing conditions. Let the corn snow harvest begin (Well, not yet at least- more powder please!) While ranking skiing conditions, blower powder is always incredible, but a very close second is when it is sunny & hot, the snow has been melting since 9 am, and everything is soft and slushy. With this incredible amount of snowfall in February, Sierra-At-Tahoe will be set up to perfection for spring skiing.
One thing I will be looking forward to is Methodology presented by VANS at Sierra-At-Tahoe; a charity event that will benefit the Revert Foundation. The event will be a combination of style and speed as riders race down a banked slalom course that has a jump at the bottom so riders can show off their best tricks. The all-day event will be held on March 16th and trust me, you won't want to miss this one.