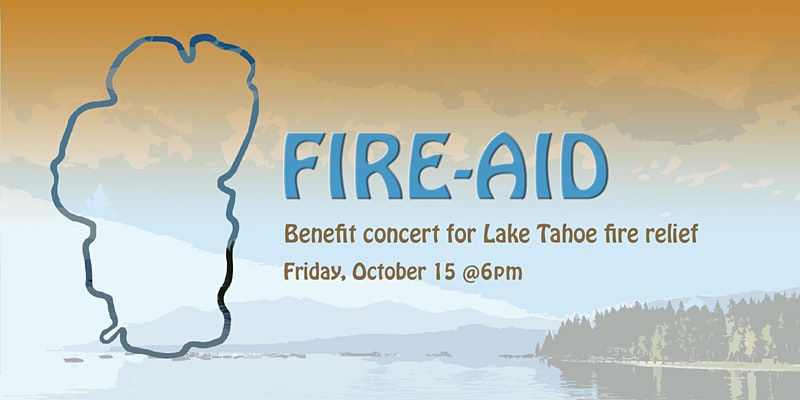 Lake Tahoe had a devastating fire season. People lost their homes. Ski areas got burned. Mass evacuations were a daily thing this summer. This is why Fire-Aid, a benefit concert for Lake Tahoe Fire Relief, was organized.
Please join the Tahoe community for an evening of energy, community, and live music to raise money for the Lake Tahoe Fire relief efforts.
About this event
While our skies have mostly cleared, many people are still in need after the devastating forest fires that have impacted the Lake Tahoe Area. Many of our South Lake Tahoe neighbors were unable to work during the evacuation and closures, causing a negative impact on their livelihood. This benefit is being held to help those neighbors with financial assistance, housing and food. With winter right around the corner, your support is needed now more than ever. All proceeds will be donated to the South Lake Family Resource Center. Thank you for your donation!

🔥 Sunset: Kicking off at 6pm with a Fire Breathwork Energy Set – warm up hosted by Nayla Tawa (Because winter is coming and it will be cold)

🎸 Evening: Pipe Down Sound is playing 7pm – 9pm (https://www.facebook.com/pipedownsound/)

🎶 Late Night Music

🍻 Donation from Pioneer Cocktail Club – @pcctahoe

🍷 From One Hope Wines – @onehopewinetahoekatie

A big thanks to everyone donating their time!

Thank you for your great generosity!
Donation Ticket Link: 
https://www.eventbrite.com/e/fire-aid-lake-tahoe-fire-relief-benefit-concert-tickets-186990522687
View this post on Instagram