National Fire News
as of July 12 at 5:00 a.m. MDT (on a scale from 1 to 5)
Current hours for the National Fire Information Center are
(MST) 8:00 am – 4:30pm, Monday – Friday
208-387-5050
This report will be updated Monday through Friday.
Please check the IMSR for more information.
July 29, 2022
One new large fire was reported in Oklahoma yesterday. Currently, 61 large fires and complexes have burned 1,956,668 acres in 12 states. More than 8,300 wildland firefighters and support personnel are assigned to incidents across the country. Five Type 1 incident management teams (IMT), five Type 2 IMTs, and one complex IMT are assigned to large fires in the Great Basin, Southern, Southern California and Alaska areas.
Hot and dry conditions will continue across most western states. Wildland firefighters are prepared for thunderstorms expected in southern Oregon, the central Idaho mountains and western Wyoming and Montana. For more information, visit the Predictive Services fuels and fire danger summary, fire weather and potential briefing, and the seven-day significant fire potential outlook.
When it comes to protecting homes and communities from wildfires, firefighters can not do it alone. As more of us live in the urban interface where homes and communities meet the wildlands, wildfire prevention and protection become everyone's responsibility. Simple Firewise steps can help you and your neighbors minimize your risk from wildfire and maximize your safety. Reduce your risks and help our firefighters by becoming fire adaptive and Firewise.
Lightning ignited more than 3,200 wildfires this year, but nearly 35,0000 were human-caused. Some people walk away without putting out their campfire, others light fireworks around day brush and grass. These behaviors are dangerous and unlawful. You can make a difference and reduce unwanted wildland fires by reporting careless and illegal behavior. If you see something suspicious, please call the nearest law enforcement office and help protect out wildlands. Please do your part to prevent wildfires and recreate responsibly.
Weather
As high pressure continues to build, hot and dry conditions will continue across the western CONUS away from the monsoon. A shortwave disturbance is likely to generate scattered wet and dry thunderstorm activity in the western Northern Rockies, central Idaho mountains, and into the eastern Great Basin. Gusty outflow winds will accompany the storms as they move over previously very dry terrain. Thunderstorms are possible in southern and central Oregon and far northern California. Breezy conditions are anticipated in eastern Oregon, southwestern Idaho, and northern Nevada. Monsoonal thunderstorms and showers will continue over the Southwest, mainly targeting the Four Corners region, with the highest amounts of rainfall expected over southern Colorado and northern New Mexico. Isolated storms are possible in eastern and southern Nevada and in the Sierra Nevada as well.
The southeastern corner of New Mexico, Texas, and portions of Louisiana will likely remain dry, breezy, and unstable. The possibility of widespread heavy rain will move into the central Great Plains, Oklahoma, and the Lower Mississippi Valley, with lighter amounts expected across the Ohio Valley and into the Mid-Atlantic. Dry, breezy conditions will persist over much of the Southeast, northern Great Plains, and Upper Mississippi Valley.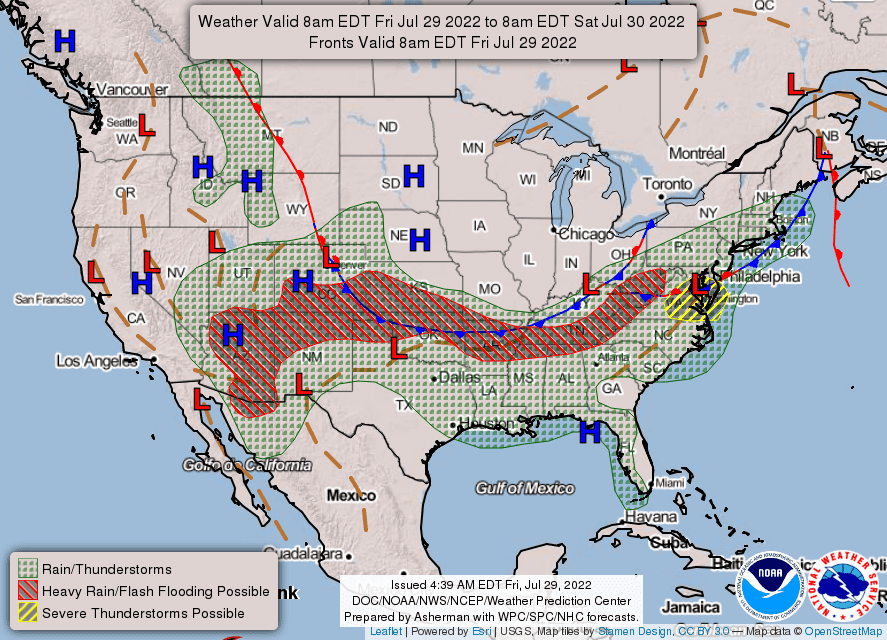 More Info: