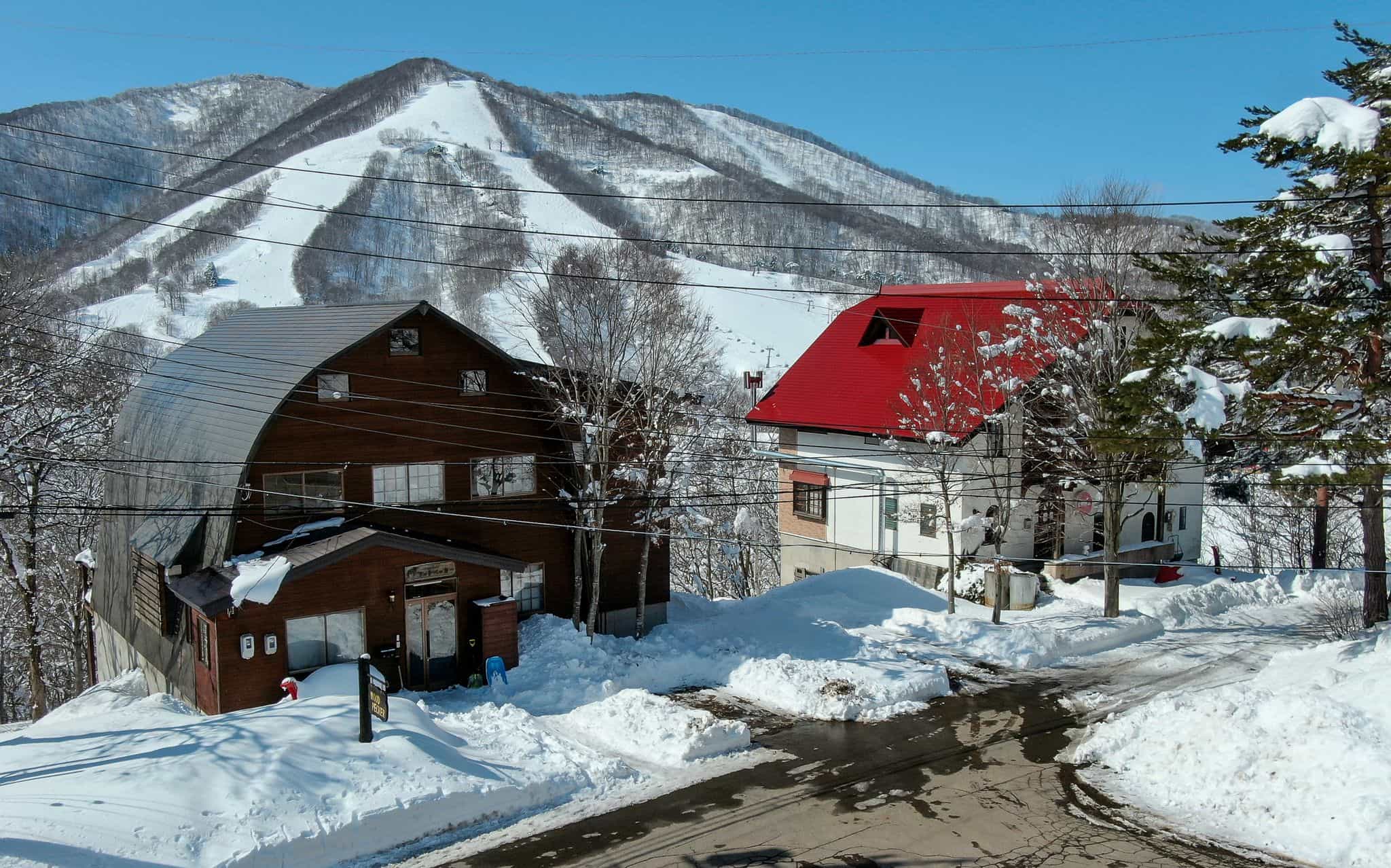 A ten-bedroom ski-in ski-out lodge in Japan is on the market with an asking price of approximately $950,000. That's a bargain when you consider that a parking space in Aspen will set you back more than $300,000.
The lodge is in Madarao Mountain Resort, about 250-miles northwest of Tokyo. Madarao Ski Resort (also known as Madarao Kogen/Madarao Highlands) neighbors the wider known resorts of the Myoko valley and Nozawa Onsen – both within an easy 30-minute drive. It is fast emerging as the next hot spot for western skiers in Japan. Famous for its 'MADAPOW' (for the abundance of light fluffy powder snow that accumulates there), the winter season brings some 500+ annual inches of snow blown in from cold Siberian winds traveling over the Sea Of Japan, hitting the Alps and dumping on the North Nagano/Niigata region – ski conditions can only be described as 'epic'.
This is a rare opportunity to own a renovated property in a prime location in Madarao. Use it as your own vacation home or continue as a boutique hotel operation, the choice is yours.

– Listing
For more details on the lodge, the full listing is below:
Kuma Lodge is situated on approx 1,065 sqm of land in Madarao Mountain Resort & occupies an enviable location within the village, offering a true "ski in – ski out" experience.
This ten-bedroom lodge is ideally positioned next to the beginner ski runs and English-speaking ski school and enjoys breathtaking panoramic views of Mt Madarao and the surrounding Alps.
The lodge was extensively renovated in 2017.
Since 2016 the property has been run as a boutique hotel and is rated as the #1 TripAdvisor lodging in Madarao Ski Resort.
Japan offers a unique opportunity for global investors to own freehold land as a foreigner with essentially no restrictions or additional costs.
The pandemic has reinforced the demand for space, fresh air, and nature. Good healthcare, winter, and summer recreational activities combined with reliable cell phone networks and Wi-Fi make Madarao in the Japanese Alps a very attractive investment choice.
Madarao ski resort is growing rapidly as a destination for foreign skiers due to world-class snow, proximity to Tokyo (just 90 mins on the Shinkansen), and Japanese culture remaining intact on the mountain.
Foreign ski numbers in Madarao have grown at an annualized rate of 140% from 2015 to 2019 and now represent over 20% of total skiers on the mountain. (Source: Madarao Mountain Resort).
Property prices have risen approximately 65% pa over the pre-pandemic period from 2015 to 2019 (based on actual sales prices over the period) while strong tailwinds remain intact for further growth in Madarao:
Madarao has an enviable competitive advantage as an international ski destination due to the ease of accessibility to the mountain and shortened travel times to reach the destination. In 2015 a Shinkansen station was launched in Iiyama; with Madarao now just a 20-minute drive from the station.
In 2020 the Japanese Tourism Agency announced plans to provide significant investment for 15 key ski areas in order to promote international tourism in Japan. Madarao is included as one of the 15 locations.
Many small ski resorts in Honshu that lack critical infrastructure and are not part of the program from the Japanese Tourism Agency are closing down which will ultimately direct traffic to Madarao and other more established resorts.
Marginal investor demand continues to shift away from Niseko which has become relatively expensive and the underlying Japanese culture has all but disappeared.
A recent survey by Ski Asia revealed that 12.2% of readers planned to head to Madarao for their 2022 ski trip, Niseko was the top choice at 29.3%, and Hakuba second at 13% while Madarao came in third.
The 2022 winter Olympics was held in China. Xi Jinping has underscored the games' role in developing the winter sports industry among 300 million people in China. Japan is well-positioned to capture a significant share of this massive rise in skier demand as it is already a favored destination for the Chinese with over 10m visiting Japan in 2019, spending USD $16.3bn. Source USC US-China Institute.
Kuma Lodge – Key Statistics:
10 x bedrooms, with private washbasins, heating, and wardrobe storage
1 en-suite bathroom, 6 showers, 5 toilets/ bathrooms
Fully furnished (new in 2017 including custom made beds)
Large dining area overlooking Madarao Mountain; catering for up to 25 pax.
Separate reading/relaxation room
Large basement games/TV room
Ski storage room accessed from the street front
Large Commercial grade stainless steel kitchen + separate larder with access from the street for deliveries
Extensive storage throughout including 4 loft bedrooms (unused currently with development potential subject to relevant authority approval)
Freehold Title
Approx 1,065 sqm land (with further scope for development subject to relevant authority approval)
On-site parking
The hot water boiler was replaced in December 2021 and the roof was resealed and newly painted in 2020.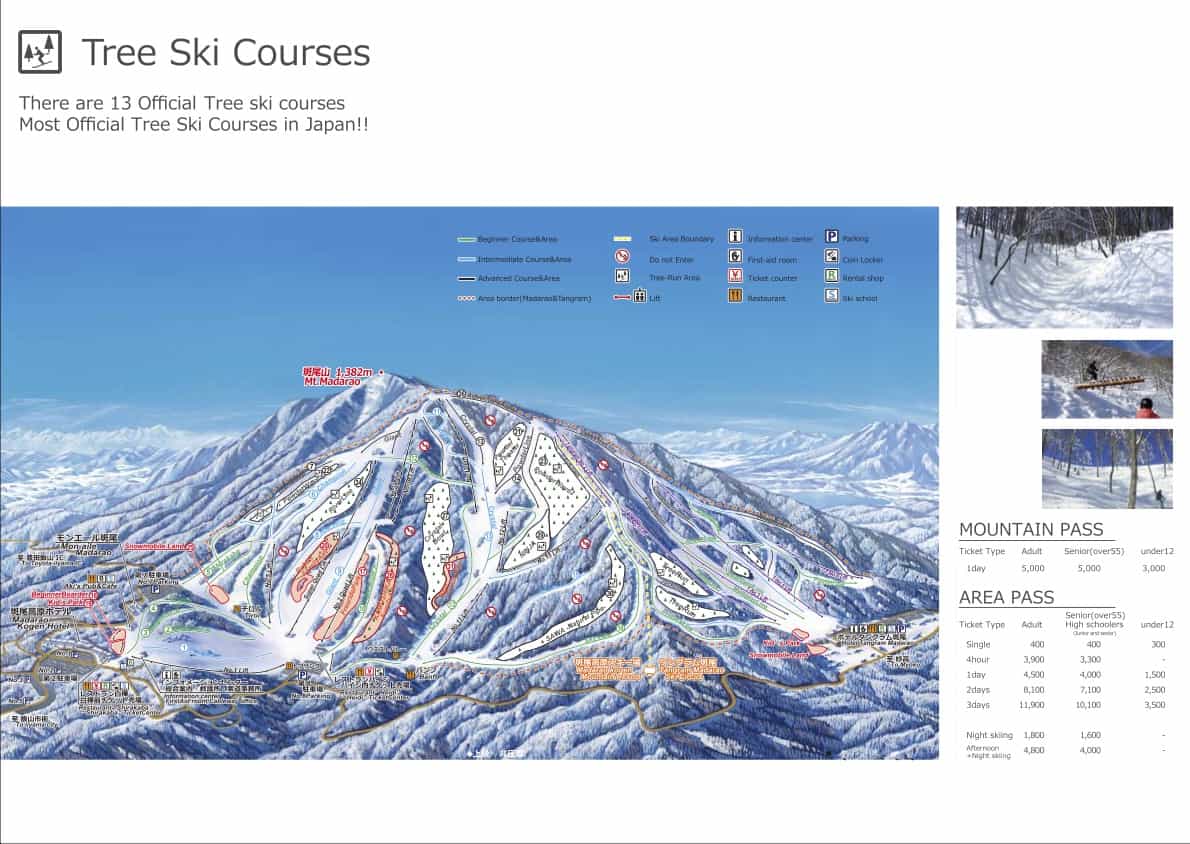 If you have dreams to run your own ski lodge, the hard work has been done for you – including:
researching Japanese ski resorts for the next investment hot spot.
sourcing the right properties after multiple research trips and false starts elsewhere due to tired buildings with non-disclosed heating/plumbing/roofing issues (We recommend against buying an un-renovated property in Japan unless you speak the language and plan to be onsite throughout the entire purchase/construction/licensing/business set-up stage)
overseeing an extensive renovation (Kuma Lodge 2016/17) including custom designing some furnishings
obtaining the hotel licenses
connecting all utilities plus wifi, Netflix, and more.
making the connections for local banking, building insurance, staff recruitment, etc.
operations manual for setting up pre-winter, running, and closing down lodge postseason
extensive past guest database
lodge management software
room pricing & occupancy research
connections to local, national, and international ski media
SEO
local trades list for any maintenance or renovation works
strong reputation with local eateries who take our guest bookings
excellent network of foreign owners
building a boutique brand & social media following which is double or greater than that of local competition. Facebook 3,900 + Instagram 1,500
It has taken more than five years to create this business and it now offers a turn-key investment for the new owners, alleviating much of the hassle/risks of owning abroad. Please note we have no insight as to whether you may debt fund the purchase of the lodge. We suggest you speak with your bank for advice.