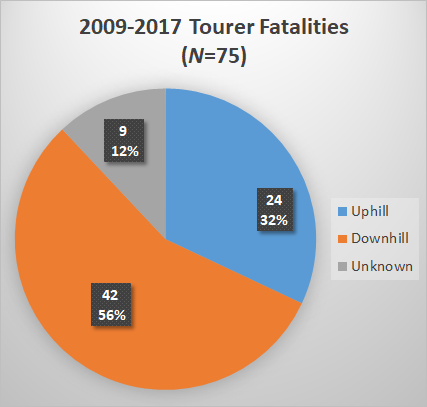 Are you traveling in the backcountry this year? Do you spend most of your time identifying avalanche terrain while traveling uphill or downhill?
If you think that most avalanche fatalities occur when tourers are going downhill, then you are correct.
BUT a shockingly high percentage of avalanche fatalities still occur when tourers are going uphill—32% percent to be exact, according to Evelyn Lees, a former avalanche forecaster with the Utah Avalanche Center.
That means 1/3rd of all avalanche fatalities occur when backcountry users are traveling up the hill. Does this mean that avalanche safety courses should focus more on uphill travel techniques when navigating avalanche terrain?
The Utah Avalanche Center shared a blog post addressing the high percentage of avalanche deaths from tourers going uphill, which we have quoted below:
Background

Years when the US averages 25 to 30 avalanche fatalities in a season, the particulars of each accident blur. However, in the winter of 2016-2017, when there were 12 avalanche fatalities, some interesting details stood out. One was the percentage of solo recreationists getting killed; the other was the relative number of people who were going uphill at the time of their accidents.

The risk of backcountry incidents and fatalities while descending is well known, and is often a main focus of avalanche training and education. However, the risk while proceeding uphill is less known. This study investigated the incidence of avalanche fatalities that occurred while backcountry tourers were ascending.

Objective

We evaluated the proportion of avalanche fatalities that occurred among backcountry tourers and recreationists while proceeding uphill, relative to fatalities that occurred during descent.

Methods

We analyzed data on avalanche fatalities (source: Avalanche.org) for winter seasons 2009-2010 through November 2017. We focused on the avalanche fatalities of backcountry tourers and recreationists who spent a significant portion of their trip going uphill, and excluded avalanche fatalities related to all other modes of travel (see Definitions). We then reviewed the subset of tourer data to determine if the tourers were proceeding uphill or downhill when the accidents happened.

Definitions

"Tourers" included backcountry skiers, snowboarders, snowshoers and hikers, including those who used motorized means for a limited portion of their ascent. We excluded motorized users including snowmobilers, heli skiers/snowboarders, most climbers, most side-country skiers/snowboarders, and patrollers/forecasters caught in accidents while doing avalanche mitigation work.

We also defined a category called "Unknown", which included backcountry tourers or recreationists for whom the available information was insufficient for determining whether they were ascending or descending at the time of the accident.

Results

Of the 210 total fatalities from winter 2009-2010 through November 2017, we determined that 75 fatalities (36%) fit our criteria as backcountry tourers or recreationists who spent a significant part of their time going uphill.

Photo courtesy UAC

Of the 75 tourer fatalities, 24 (32%) were proceeding uphill, and 42 (56%) were going downhill at the time of the incident. The remaining 9 (12%) were classified as 'unknown' due to insufficient information to make a determination.  Reasons for classifying an accident as "unknown" included lack of enough detailed information in the accident report to make a judgment, and lack of information in solo fatalities with no witnesses. Cornice accidents were particularly challenging to classify, when trying to determine if the accident "occured before descent."  Many of the cornice fatalities ended up in the "unknown" category.

Photo courtesy UAC

Conclusions

Backcountry travelers and avalanche education courses often tend to focus on the descent component of backcountry travel, yet in this study approximately ⅓ of tourer fatalities in the U.S.—over more than eight seasons—occurred when tourers were ascending. These results suggest that backcountry travelers need to spend more time evaluating the terrain they are traveling through during their uphill travels. Also, backcountry travelers could benefit from avalanche education that includes a clear focus on uphill travel, in addition to the existing focus on descent.
To learn more about avalanche safety techniques, avalanche forecasting, and other tools available to you—the backcountry skier/rider—please check out the podcast with Utah Avalanche Center director Mark Staples and SnowBrains CEO Miles Clark.
Stay safe out there this season!