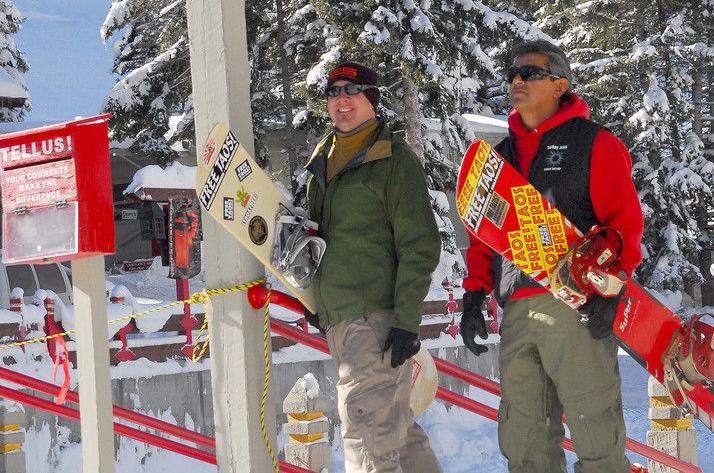 Taos Ski Valley was one of the few skier-only resorts in North America until 2008. But then the steep-skiing Mecca changed its mind after over 50 years of being two-plank exclusive and began allowing snowboarders. Two New Mexico snowboarding legends, who tragically died one day apart from each other in June of 2020, were largely responsible for this shift. They started what became known as the 'Free Taos' movement. Now, a ski run has now been named after them at the resort—with a funny side story to it.
The run at Taos formerly known as "Pioneer" is now called "Free Tacos" as of earlier this month. According to Taos News, the name became a running joke after a sticker supplier made an error using spellcheck and printed "Free Tacos" instead of "Free Taos," a movement that contributed to ending the longstanding ban on snowboarding at the resort. Burt Skall, the director of the Snowsports School at Taos, told Taos News that the joke is a great tribute to the movement's founder, the late George Medina, who died when a cement truck he was driving flipped on U.S. Highway 64 in June of 2020. He was 54 years old.
The very next day, his close friend and partner in the Free Taos movement, Michael Johnstone, 50, succumbed to a vicious, several-year-long battle with throat cancer and died in his sleep. Medina and Johnstone started Experience Snowboards in the 1990s, a snowboard shop in Angel Fire, New Mexico. That's when the Free Taos movement started gaining traction and grew to become a common bumper sticker seen on cars all over New Mexico.
Medina was also a beloved snowboard instructor at Taos Ski Valley and around the Enchanted Circle, according to Skall. He was one of the first fully certified snowboard instructors in New Mexico.
As is often the case, the good die young, but legends never die. Medina's sister, Theresa Trujillo, told Taos News that she and her family are "so honored and touched" to have her brother and his revolutionary movement remembered by the new run name.