Based in Salt Lake City, Utah, DPS Skis has always been known to push the boundaries of materials and technology, ultimately resulting in high-quality, performance-driven skis. Newly updated for DPS's 2021-2022 fleet is the Foundation 106 C2, now available for their Dreamtime Sale. Here's what DPS has to say about the ski:
"The Foundation 106 C2 has undergone some key updates, making it a capable and enjoyable ski across all snow conditions. The refined shape provides for a smoother turn entry and allows you to hold speed down the fall line, while still having the option to exit into shorter turns when desired. We also significantly changed the flex profile of the ski, giving it a profile that both generates more energy and excitement out of a hard pack turn, and is intuitive and bends through all kinds of turns in variable snow."
The Foundation 106 features DPS' C2 construction, an all-mountain, traditional sidecut shape that uses a long effective edge and more traditional camber, resulting in a larger turning radius and a more powerful, directional ski. 
This past spring, I had the opportunity to test the new Foundation 106 C2. I was sent the skis with no obligation to necessarily give a positive review; here at SnowBrains, honesty is what we're all about. 
Reviewer Stats:
Name:

Clay Malott

Days skied on the 2021 DPS Foundation C2:

52

Testing location:

Aspen, CO

Height:

6'3″

Weight:

160lbs

Skiing Level: 

Expert

Boots // bindings used:

Salomon S/PRO 120

// Marker Griffon 13
In this review, I'll explain my impressions of the ski's performance in 5 different categories: powder, crud, groomers, tight terrain (chutes, trees, moguls, etc.). At the end of the review, I'll close with my final "overall impressions" of the ski – what I like, what I don't, and who I would recommend this ski for. Without further ado, here is my full, unbiased review of the 2022 DPS Foundation 106 C2.
Powder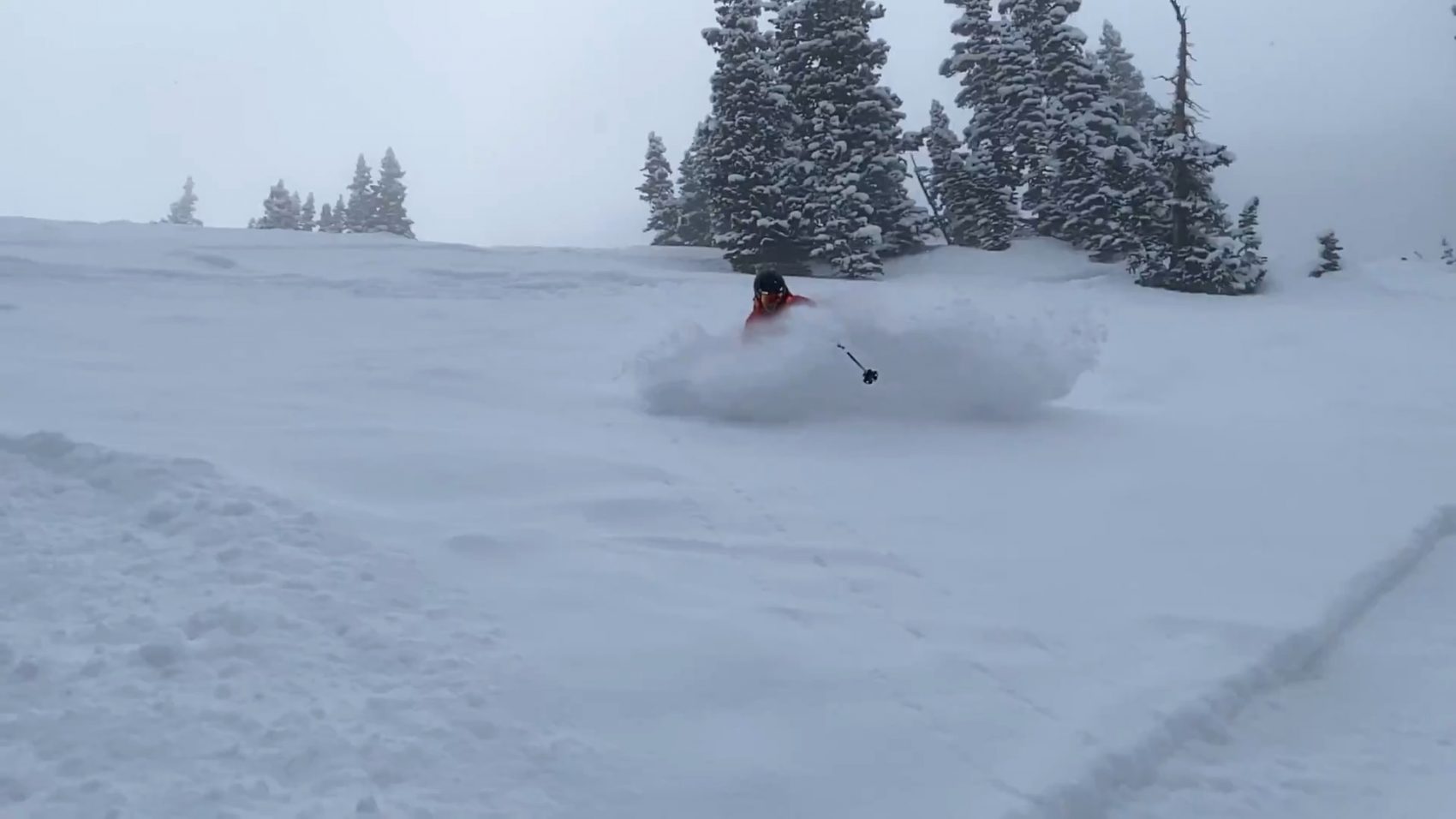 Admittedly, it's pretty hard to dislike a ski in powder, but the Foundation 106 C2 really excelled in this category. I typically ski on narrower skis (95-100mm underfoot), so I was excited to take some wider planks out in deeper snow. To put it simply, I was not disappointed. The Foundation 106 has a tip width of 137mm in the 179cm length, so the ski absolutely punched above its weight in terms of floatation. There were several 15-20 inch powder days where having the extra surface area yielded an incredible feeling. The 137mm tip width allowed me to float through the snow and give a bit more maneuverability (rather than just diving all the way down through the new snow), but the waist width was still narrow enough that I could "pump" the ski deeper into the powder and get that wonderful bouncing feeling.
This tip and waist width combo made the ski very intuitive while skiing deep snow. Without really having to think about it too much, the ski automatically dove the perfect depth on each turn when pressure was applied to it, and the 137mm tip width prevented it from diving too deep. The result of this balance is an incredible feeling when this ski is skied in fresh snow.
I can't really think of a situation where this ski would be too narrow for a ski day. The deepest fresh snow that I skied on it was 20", and I had absolutely no issues with it being "too deep" (where the snow is so deep that you can't get enough speed built up to make relaxed turns. I can't imagine really needing a wider ski; however, if you ski in an area that receives a lot of snowfall and you prefer to stay on top of the snow completely, you might potentially look for something a bit wider. For me personally, I love getting in the snow more, and I found the 137-106-121 width profile on the Foundation 106 C2 to be pretty much perfect. Category score: 10.
Crud
In my opinion, crud is the most important performance criterion when I test a ski. You can have the best ski of all time in perfect snow conditions, but you're not always going to have perfect snow conditions, so having a good performance in cruddy snow is absolutely paramount to a good ski. 
The first day I tested this ski in early March, it had been a few days since fresh snow and strong sun had made the snow a bit funky; textbook crud conditions. I was excited about the snow because it was the perfect testing environment for the Foundation 106 C2. I started slow, just feeling out how the ski would perform in some chopped-up steeps. After a few turns, everything was feeling awesome, and I started opening it up a bit more. Throughout the rest of the day, I was laying out big, arcing turns on steeps, bombing down chopped-up groomers, and blasting through anything else that got in my way. Simply put, the Foundation is strong in crud.
Weighing in at about 2,000 grams per ski, the Foundation 106 C2 isn't obsessively heavy. However, to me, the Foundation feels quite stiff, so it gives the ski a strong, rigid performance in crud when combined with the weight. I would liken its performance in chopped up, messy snow to that of a freight train; I trusted it to plow through any snow that I encountered.
Overall, the Foundation 106 C2 really impressed me in less-than-ideal snow conditions. In crud, it performed much more like a 2,200-2,400 gram ski. This was absolutely one of the most impressive aspects of this ski. Category score: 10.
Groomers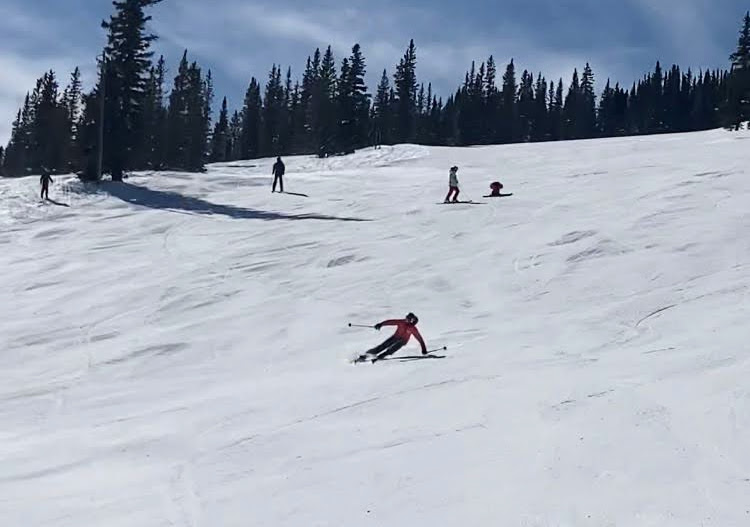 The Foundation C2 performed more like a narrow, explosive slalom ski than a mid-fat, playful ski on groomers. This came as quite a surprise to me. At 106 underfoot, I expected it to be clunky on the corduroy. My conclusion is that it is quite the opposite.
In early March, I spent a few days calibrating just how far I could push the ski on groomed terrain. I've never loved groomers very much (I tend to ski more in steep, off-piste terrain), but this ski made me fall in love with carving on groomed runs, again.
As I mentioned before, I find Foundation 106 to be on the stiffer end. At low speeds and low energies (where you're not forcing the ski very hard entering into the apex of the turn), the ski performed quite well, similar to any other ski around that width and weight. However, I found that this ski truly shone and blew the competition out of the water when I really pushed the ski at higher speeds. 
First of all, the ski is incredibly damp, so you get very little chatter when turning, even on less-than-ideal snow at high speeds. More importantly, this ski is simply explosive when it's really pushed hard. When the ski is traveling fast and fully loaded up heading into the apex of a turn, it absolutely explodes out of the turn. It's hard to put the feeling into words, but when really pushing this ski hard and loading it on turns on groomed terrain, it just feels powerful. With a turn radius of 19m, this ski still makes fast, nimble turns, even when fully loaded. It's an awesome feeling. 
At slower speeds at an intermediate level, I would give the Foundation 106 C2 a category score of 8. However, for other expert skiers, and for me, I would give this ski a category score of 10. Since I have to think about the ski overall for a variety of types of skiers, I'll average them out. Category score: 9.
Tight terrain
This is another super important category since it encompasses so much terrain. The Foundation 106 has a fairly tight turn radius of 19m, which was surprising since it feels a bit stiffer to me. However, I can't argue with it because I was shocked by its performance in tighter terrain. In trees and moguls, when I needed to make tight turns at speed, I found that the ski takes some "wind up" energy; in other words, it took a bit of force to get it to "pop." However, I found that turn after turn, it continually loaded itself – the energy exiting the apex of each turn contributed towards loading up the ski for the next turn. This is where the stiffer feeling that I got from this ski comes in again. Since the ski is so explosive, reverting to its original shape after being loaded, it pops with nimbleness and agility that I have not experienced in a ski this wide before.
In chutes and couloirs, this pop is also quite beneficial. It allowed me to make faster turns, and hop turns were a breeze, despite its slightly heavier weight than other skis I've skied in the past. 
Personally, I would give this ski a 10 in tight terrain. However, I also recognize that it takes a bit of skill and intuition to understand how to maximize the pop of the ski. If you cannot make the most of that energy, by no means is this ski bad in tight terrain. With a turn radius of 19m, it would still be quite a nimble ski even if skied by an intermediate skier. Category score: 9.5.
Overall impressions
At the risk of sounding overly positive about the Foundation 106 C2, I have to say that it's probably my favorite ski that I've ever owned. The ski doesn't have any glaring weaknesses, and for me, I would give it perfect 10s all around. However, maximizing the ski and unlocking its full potential takes some skill, which is the only reason that it got a 9 and a 9.5 in my review. Even for an intermediate skier, this is still an amazing ski. However, an expert skier is the one who will really get the most out of this ski and love it as much as I did. I would recommend this ski to an intermediate trying to progress their skiing to the next level with an intuitive, strong ski, and expert skiers looking for a strong ski that will get the job done in all terrain and conditions, feeling good doing so. Overall score: 10.
During DPS' Dreamtime Sales Event (July 26-August 11), the 2022 Foundation 106 C2 is on sale for $599 (from $799).