2021 K2 Mindbender 108Ti Stats:
Lengths: 172 cm, 179 cm, 186 cm, 193 cm
Rocker:  Tip and Tail
Stiffness:  8 out of 10
Weight per Ski:  2225 grams per ski [186cm]
Dimensions:  136 / 108 / 125mm [186cm]
Sidecut Radius:  22.8m [186cm]
Construction:  Aspen and Fir Core with Titanal Aluminum Y-Beam
Reviewer Stats:
Name:  Phillip Cullinane
Days skied on 2021 K2 Mindbender 108Ti [186cm]: 14
Height: 6'4″
Weight:  195 lbs
Skiing Level:  Advanced
Ski Length Tested:  186cm
Boots/Bindings Used: Scarpa Maestrale RS | Marker Griffon TCX
Preferred Snow/Terrain:  Steep and Deep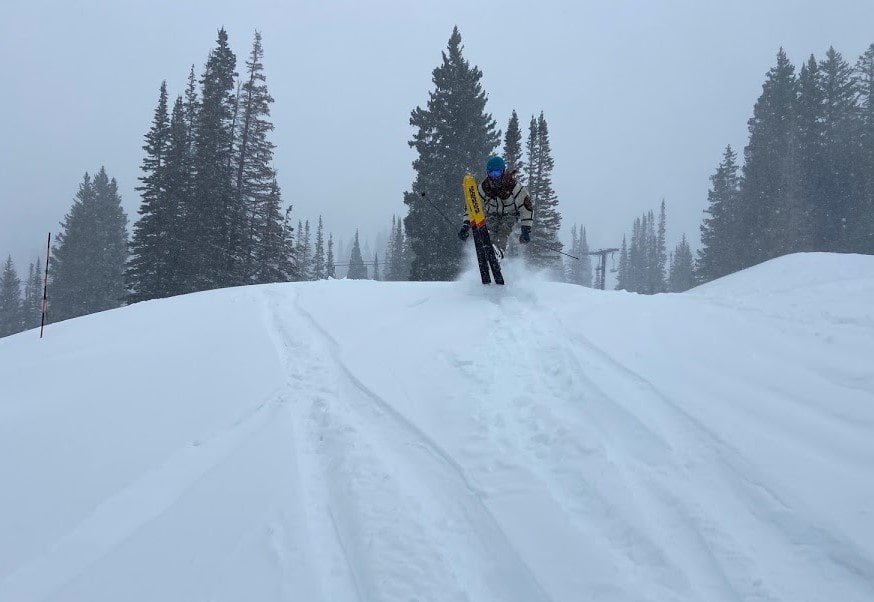 Locations Tested:
Alta, UT
Snowbird, UT
Solitude, UT
Brighton, UT
Deer Valley, UT
Who This Ski Is For:
Advanced skiers who prefer to charge hard in powder and crud and love stability through all terrain.
Overall Impression:
My first impressions of this ski were mediocre. However, after over 10 days of riding, my opinion changed from mediocre to "pretty dang solid." These skis shine in crud and tracked conditions, allowing for fun days after a storm. Stability and balance in lousy conditions mean this ski is a great addition to the collection or a decent "One-Ski-Fits-All."
My initial impression of the ski stems from my riding style, which, to put it nicely, is a bit more playful than a father of four skiing on Soul 7s. I enjoy the finer things in life, like landing backseat and buttering off rollers. Unfortunately for my shins and ego, this ski doesn't excel in either. However, the poor season Utah has had thus far has allowed this ski to show its nobility in absolutely dominating the crusty wasteland of ungroomed crud at Alta Ski Resort, UT.
Some may ask, what even is a ski? I'd answer long sticks bound to your feet turning gravitational acceleration into downhill momentum for the sole purpose of recreation. Does the 2021 K2 Mindbender 108Ti fit this definition? I suppose it does.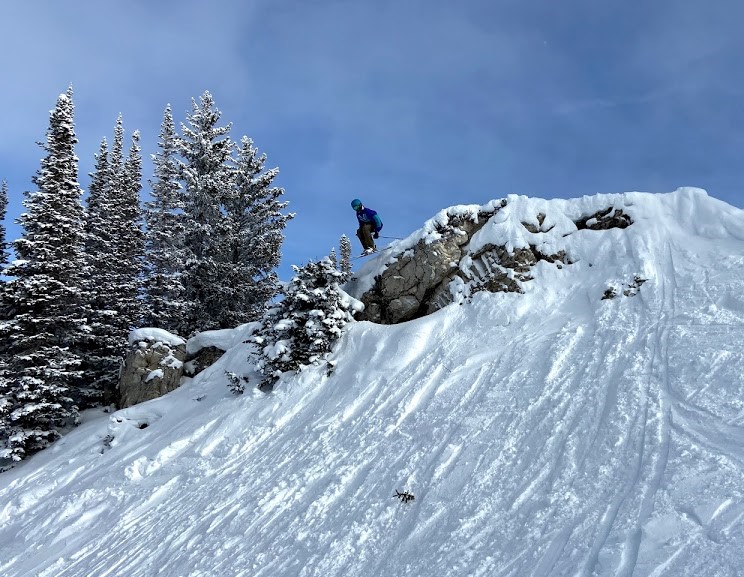 Pros:
More stable than a sorority girl's trust fund
Handling in crud is fantastic
The graphics are pretty nifty
Sending/landing cliffs
Pretending you're a pro
Excellent at high speeds
Floaty in powder
Cons:
Stiffer than a college student tipping a delivery guy
Heavier than average
Not playful
Low rise tail
Long sidecut radius
Powder: (8/10)
I was very surprised at how the K2 Mindbender handled powder, and I might even say 'delighted.' I've always loved a little thickness, and these skis don't disappoint. In my opinion, I don't think you'd ever need anything wider than 108mm unless you're actually waterskiing. I weigh nearly 200lbs, and this ski is still quite floaty and fairly nimble in powder, even at slow speeds. I was pleasantly surprised by just how floatable the K2 Mindbender is, considering it has a regular amount of tip rocker.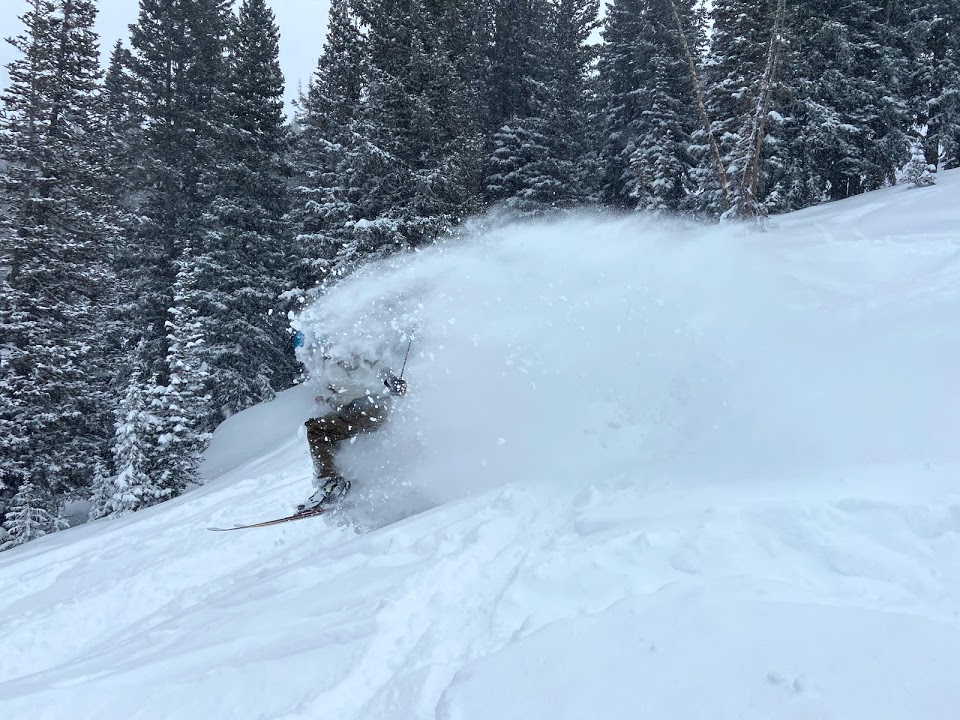 Crud: (10/10)
I can't say I've ever been excited to ski crud. However, the K2 Mindbender 108Ti is absolutely god-tier for crud and crusty skiing. The ski is heavy, stiff, and absorbs energy extremely well as it was engineered with some magical futuristic stuff K2 calls 'Titanal aluminum.' The Titanal Y-beam paired with the K2 PowerWall sidewall allows you to blast through technical terrain with extreme stability and control. Hands down, this ski provided the most fun I've had skiing crud and crust ever.
If you're looking to add a crud ski to your arsenal, I would absolutely recommend the K2 Mindbender 108Ti. 
Groomers: (8/10)
As far as groomers go, I'm rating this an eight out of ten. The stiffness of the K2 Mindbender 108Ti allows for great stability while trying to clock your speed record but lacks slightly in the carving department. The Mindbender is a fairly wide ski, and long ski, so deep carving can get a bit technical. Some would argue size matters, but I'm willing to go out on a limb and say it's also how you use it.
My mind isn't exactly bent when it comes to carving the proverbial gnar, but the ski does hold its own compared to other 'All-Mountain' skis. If you're planning on ripping blue cord while vacationing at Vail, I'd keep looking for a different ski.
Moguls: (6/10)
Honestly, does anyone actually enjoy moguls? The K2 Mindbender 108Ti has plenty of maneuverability to maneuver you promptly away from any moguls and towards literally anything else.
In all seriousness, if you're unfortunate enough to find yourself in a day-ruining patch of 'moguls,' the Mindbender will tackle them fairly well. The heaviness, length, width, and stiffness of the ski make quick sharp turns trickier than a dedicated mogul ski.
I would not recommend the K2 Mindbender to any mogul connoisseur or masochist, be them one and the same.
*Disclaimer: I avoided moguls to the best of my ability.
Turn-i-ness: (7/10)
The K2 Mindbender 108Ti has no exceptional qualities for carving/turning. These skis are nimble and agile, proving their worth in (once again) control and stability.
Bounding in and out of trees is smooth and effortless; however, quick sharp turns prove a touch more challenging. The K2 Mindbender has a 22.8m sidecut radius for the 186cm model I tested, contributing to its average turning radius. If you're looking at the 172cm model, the sidecut radius of 19m would make it much more nimble for quick stops and turn initiation.
Stiffness: 
The K2 Mindbender 108Ti is a stiff All-Mountain charging ski designed to tackle any terrain with great stability. Embedded under the front topsheet is a Titanal Y-beam that minimizes weight while providing strength. Under the rear topsheet is a strong center beam that tapers the stiffness into flex. The strong, oversized Powerwall sidewall delivers very strong underfoot stability allowing excellent and direct power transfer to the snow. The combination of Titanal and an oversized Powerwall enhances stability and torsional stiffness for optimal charging experiences.
The ski decreases in stiffness as it extends from underfoot to the tips but remains quite rigid and stiff overall. I've experienced no chatter in any situations on these skis.
Due to the stiffness, I would not consider the K2 Mindbender 108Ti a playful ski. Popping and buttering are fairly difficult if you're used to a flexy ski, a small price to pay for the control and stability of a charging ski.
Tip & Tail Rocker:
This ski sports an All-Terrain Rocker that provides incredible stability in crud.
The tip rocker is traditional. This isn't a dedicated powder ski but provides enough to float through powder without being overkill.
The tail rocker has a slight rise. This allows for easier pivoting but keeps the ski incredibly stable on firmer snow.
It should be noted, the K2 Mindbender 108Ti is nowhere near twin-tip.
Weight:
The K2 Mindbender weighs 2225 grams per ski.
The tested Mindbender 108Ti is heavier than your average powder ski due to the added weight from the Titanal Y-beam. Although the ski may be heavy, it makes up for it with stability.
The heavier weight of the ski does not take away from its performance, making it a great, strong ski overall. The weight sinks into powder, and the width glides without fail, the perfect combination of strength and balance.
K2 wanted to make this ski an absolute charger, and I can attest, they achieved that standard. While the skis are on the heavier side, I never found it an issue, regardless of powder skiing or groomer carving.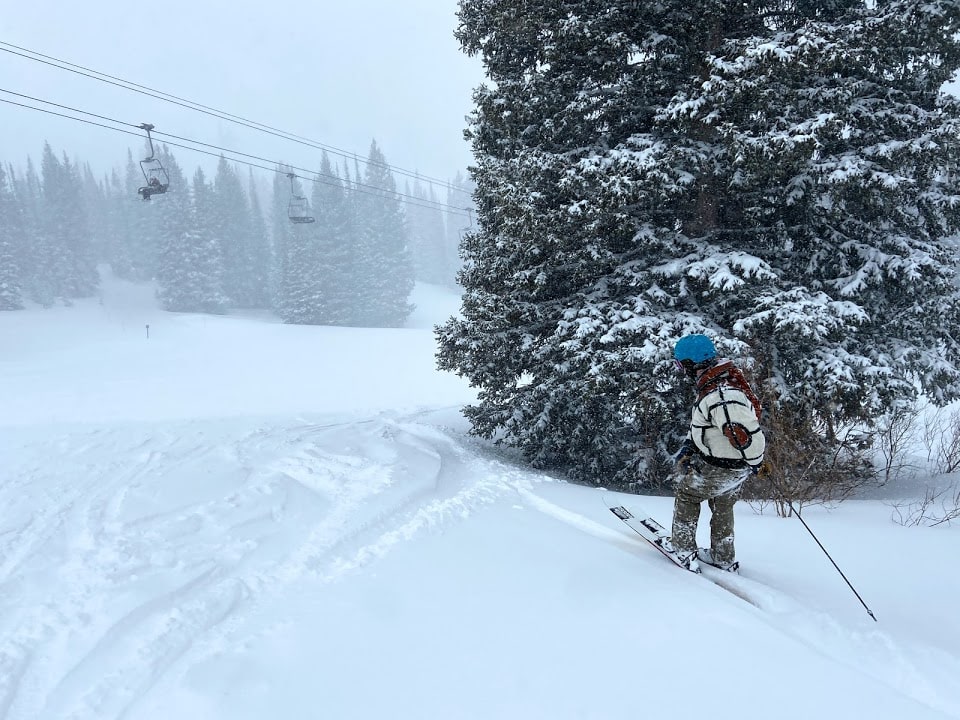 Size:
The K2 Mindbender comes in a 172cm, 179cm, 186cm, 193cm.
I tested the 186cm, which is around what I usually ski on, so it was a perfect match. 
I found the 186cm to be a great length for my weight and height, as I am 6'4" and need a longer ski. The long side-cut radius allows for long, across-the-groomer turns but makes sharp turns a little more difficult. Having said that, I still enjoy skiing trees on this length.
Construction:
While the ski feels well built and sturdy, I didn't have great results with the durability of this ski. Granted, this was my own undoing. During my testing, I landed directly on a rock from a small cliff and caused a long abrasion/expansion fracture below the ski's midsole. While this was completely my fault, it may be something to keep in mind if you often send cliffs.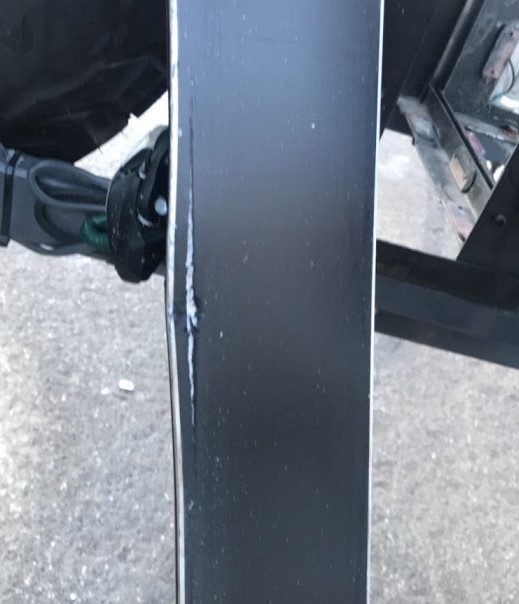 All-Terrain Rocker
Fir and Aspen Core  
Titanal Aluminium Y-Beam
K2 PowerWall Sidewall
Mounting:
If you are prone to sitting in the backseat like me when skiing, I would recommend mounting a little more forward than the factory default mounting points. If I were to re-mount them, I would mount them slightly (1-2cm) forward because I prefer a little more tail.
K2 lists factory midsole mark mount points on this ski (186cm) as 83.4cm from the tail, a list of mount points for all sizes is listed here. 
Bottom Line: (8/10)
The K2 Minderbender 108Ti are fine skis overall. They don't exactly bend my mind, but that is partially due to my style of skiing. I prefer a more playful ski, but I think the K2 Mindbender 108Ti is a great ski to add to the collection.
I think the ski's biggest strength is its ability to charge through anything from crud to crust. They are good for powder but not the best. There are some sacrifices to consider with a "one-size fits all" ski, such as stiffness versus playfulness. However, I think they are acceptable all-mountain skis considering they can do a bit of everything.
A trivial observation is that the white design of the ski makes any dirt or scratch more noticeable. Nonetheless, the color pallet and construction are very clean looking.
The K2 Mindbender 108Ti has replaced my previous Armada TST and become my new all-mountain skis. The lacking Utah snowpack has allowed this ski to shine as an off-piste ski for anyone who actually cares about their well-being and loves to charge.