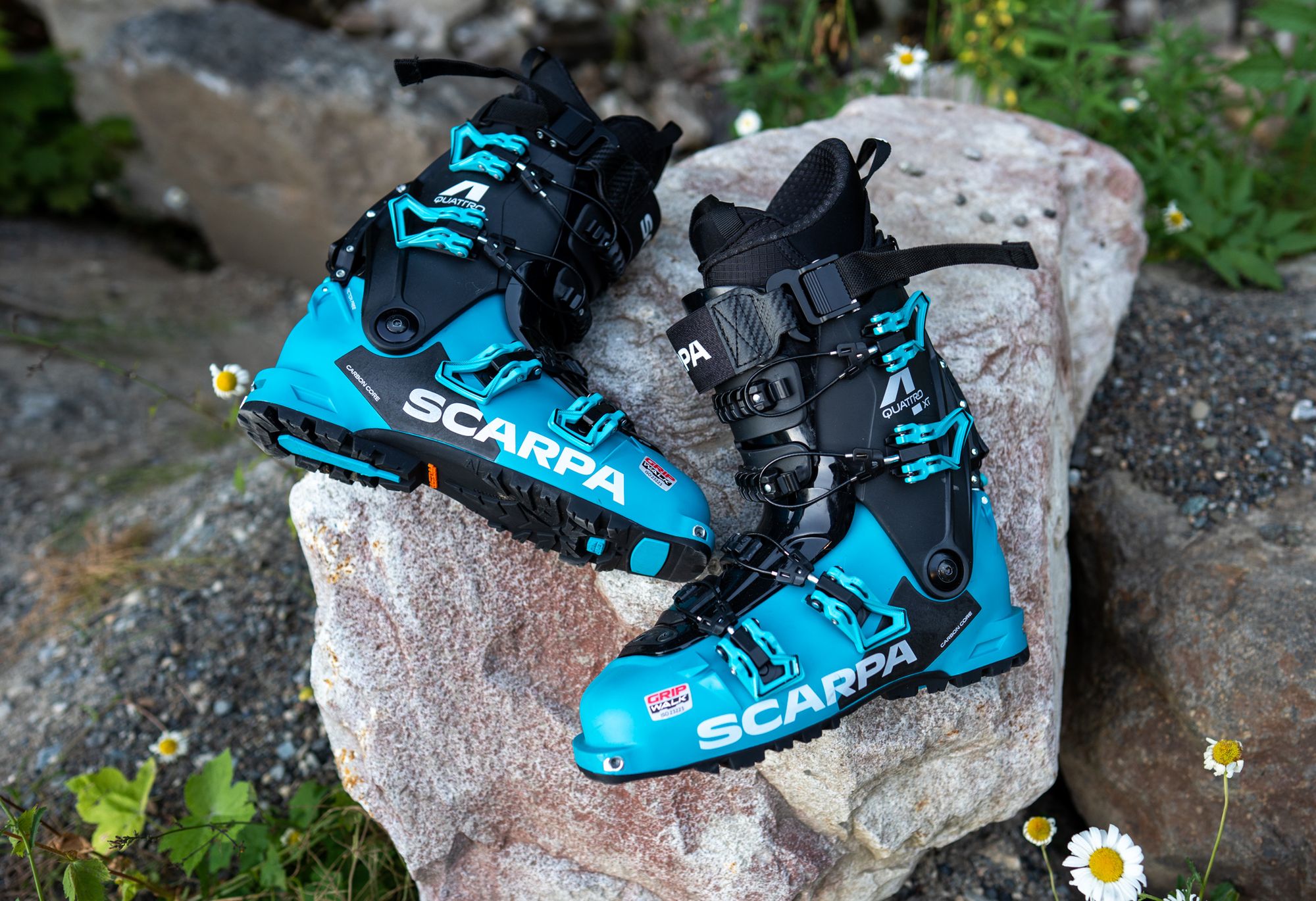 This review was written by Jeff Jacka; Snoqualmie Pass, Washington.
This spring, I had the opportunity to test out Scarpa's new 4-Quattro boot series (pizza, anyone?), specifically the XT, the beefiest boot in the new lineup. As SnowBrains has done in the past, this review is broken up into several sections: initial impressions, fit, uphill performance, downhill performance, miscellaneous pros/cons, and "the bottom line."
Reviewer Stats:
Name:

Jeff Jacka

Days skied on the 2022 Scarpa 4-Quattro XT:

15

Height:

6'0″

Weight:

200lbs

Skiing Level:

Expert

Skis/bindings used:

Fischer Ranger 102 FR + Salomon Shift, Scott Superguide Freetour + Moment Voyager
Initial Impressions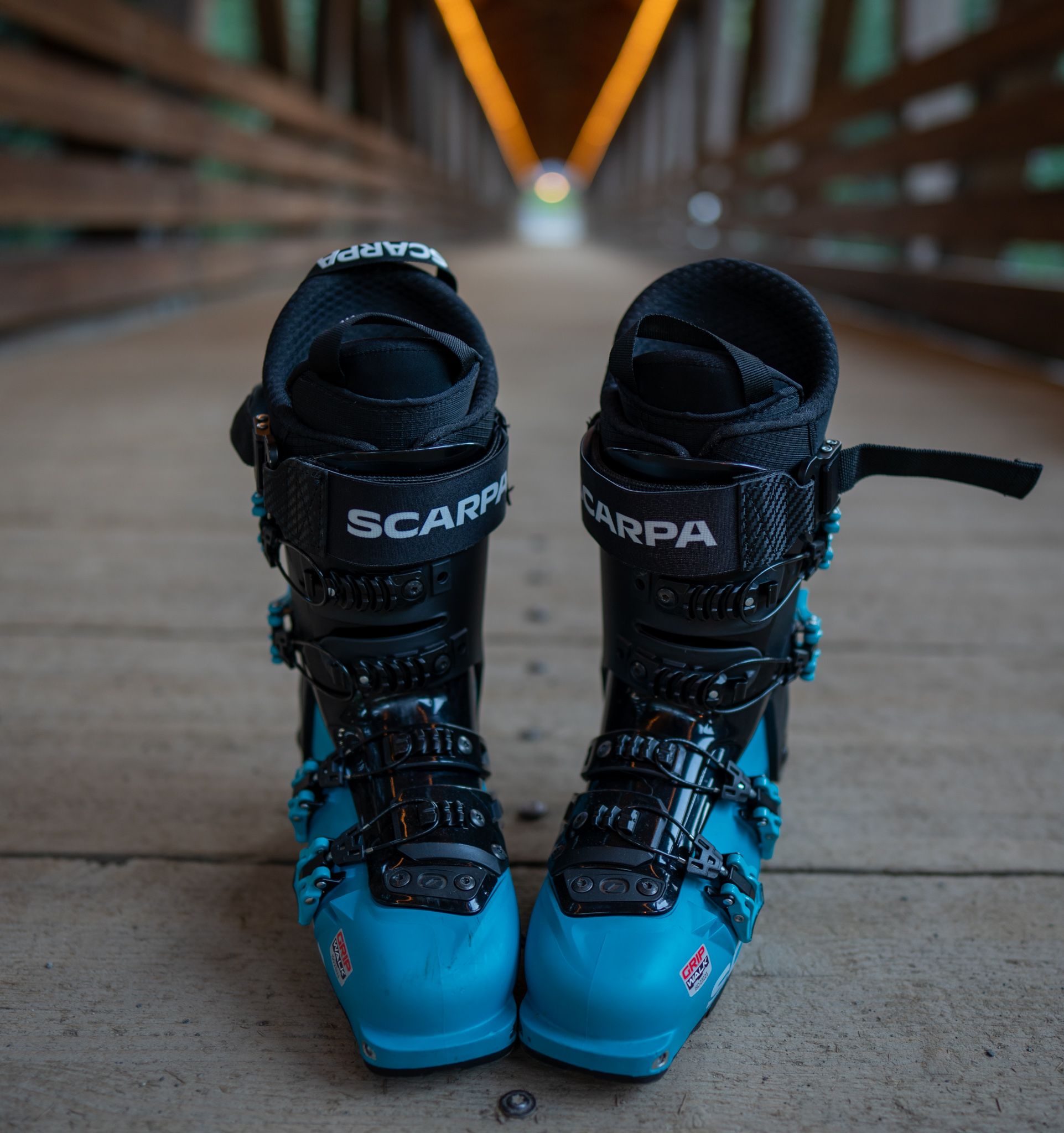 Some view this section as superfluous, but unboxing is important. Opening the 4-Quattro box, you're greeted with a brilliant blue color; the fit and finish feels really nice. The liner is a high-quality Intuition liner, which is common in Scarpa boots and is widely regarded as the industry leader in custom ski and snowboard boot liners. The boot also features GripWalk, the most walkable platform for a ski boot in the industry. According to Scarpa, the 4-Quattro is the lightest boot to ever do so. The boot feels fairly light, but nothing like some of Scarpa's very light offerings. There will be a few comparisons in this review to the Atomic Hawx XTD 130, as they are my current "daily driver" touring boot and fulfill a similar role in my boot quiver. Here's how the 4-Quattro boots weighed in on my scale:
Left – 1500g
Right – 1515g
Hawx L – 1470g
Hawx R – 1505g
Fit
I want to preface this section by saying I grew up ski racing and my feet are ugly, some of you can picture this well. For the most part, this boot fits pretty well out of the box. The first thing I noticed was that the mid-foot was fairly narrow and the toe box was quite roomy. The boot features similar buckles as the Maestrale XT, but there are four instead of three here (hence the "4-Quattro" name).
In the end, the fit of these boots did not work out straight out of the box for me, but it would be much more shocking if they had. The narrower fit in the middle of the boot might be an issue for some, but I think with a little work at the boot fitter, it will work for many. The wide toe means minimal work for my foot and really didn't feel like it had any effect on the performance of the boot. 
Downhill Performance
Scarpa brought in 2 prominent ski legends (Bode Miller and Chris Davenport) to help design this new boot, so naturally, the downhill performance of the 4-Quattro was a huge focus for Scarpa. True 130 flex performance has been promised over and over again by many manufacturers yet has never fully come to fruition. However, I will admit that Scarpa is starting to get very close. Compared to the 2020 Hawx XTD 130, the 4-Quattro boot is noticeably stiffer. Ultimately, this means greater control and energy for aggressive downhill skiing, primarily due to more efficient leg-ski energy transfer and increased responsiveness.
The 4-Quattro also features a "U" shaped carbon strip on the bottom of the boot, which I absolutely felt in the form of increased torsional rigidity. This carbon is super light, so Scarpa is able to add lots of strength without adding to your legs' fatigue in the parking lot at the end of the day. On the downhill, this boot feels strong, secure, and stable.
The boot comes with a quality strap that makes it easy to get a nice snug fit, I doubt many people would be looking to replace it except some ex-racers looking for a bit more rigidity along the shin. This helps provide a nice progressive flex, the boot feels stiff without feeling like you're hitting a brick wall. Overall, I was very impressed by Scarpa's ability to engineer a boot with such good downhill performance at just 1500g.
Uphill Performance
For what Scarpa is marketing as a downhill-oriented boot, the uphill performance on the 4-Quattro is very impressive. I wasn't able to measure the degrees of motion, but they state 61 degrees, and is certainly feels like they accomplished that. A greater range of motion means longer and more efficient strides and ultimately less tired legs!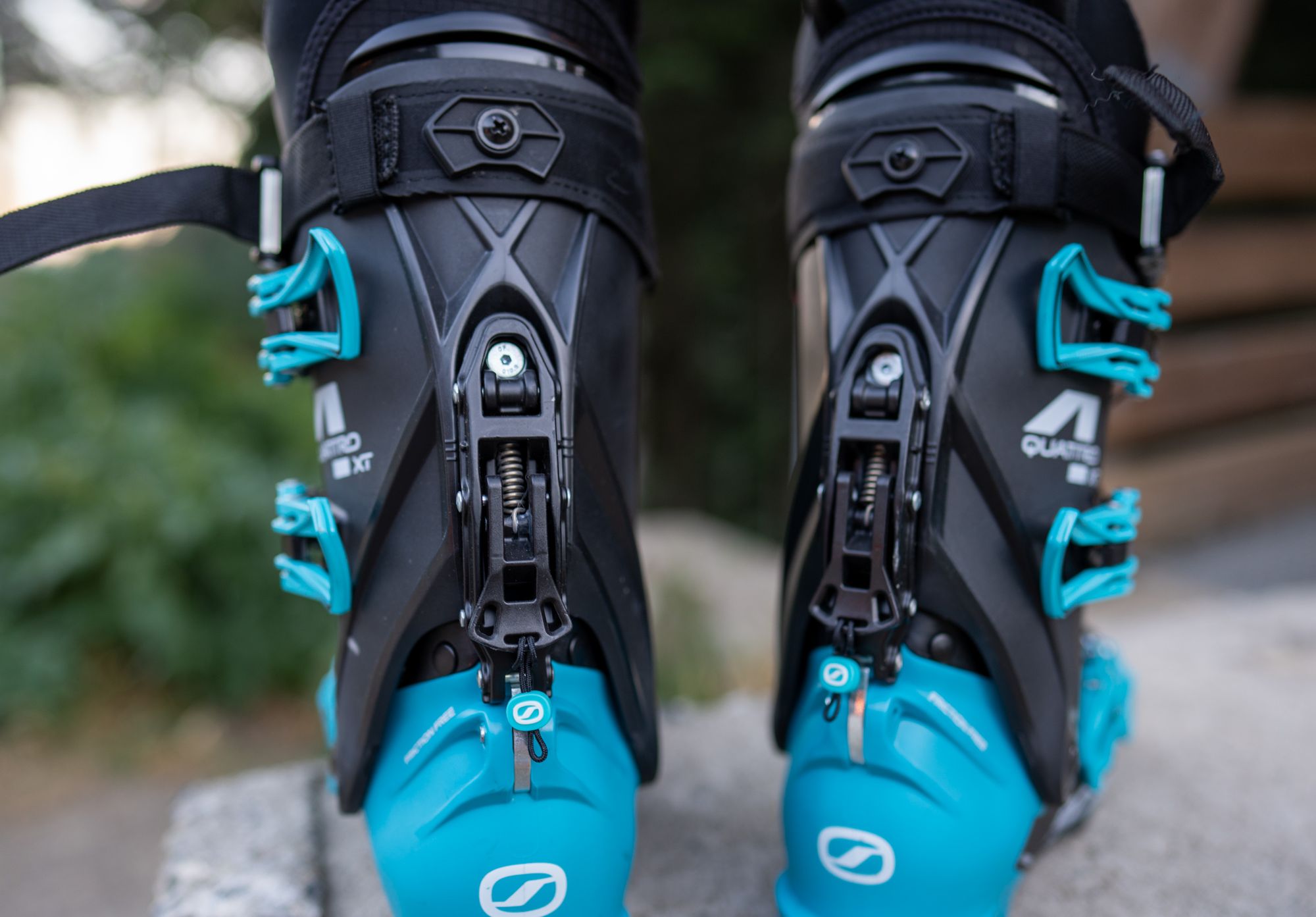 Utilizing the shank style lever the boot is easy to flip into uphill mode, and there's a bit of an extra piece that keeps it locked into place compared to other versions. Unlike prior Scarpa boot models, the walk-ski mechanism in the 4-Quattro boot is made out of magnesium, not aluminum. Similar to other 4 buckle touring boots, there are a few extra steps to transition when compared to their uphill-oriented counterparts with fewer buckles. However, it's still a quick transition between the modes, which means less time fiddling with equipment and more time skiing. The two upper buckles feature a hook that makes it easy to bump them out into walk mode without getting in the way.
The Bottom Line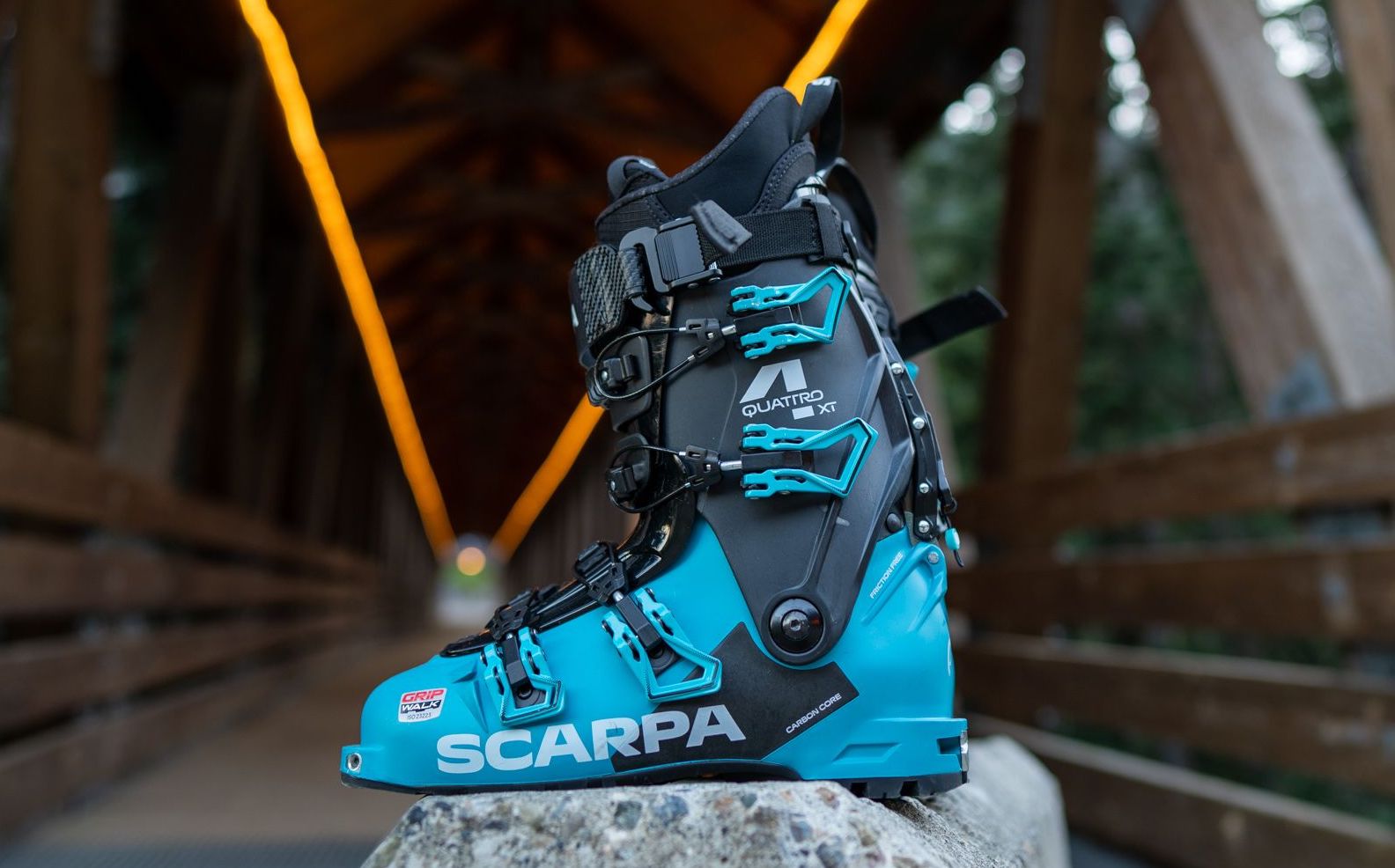 I'm really stoked about this boot and it gets me excited about the future of ski equipment. It was pretty amazing to experience how cutting-edge engineering is blurring the lines between weight savings and performance; Scarpa is taking a huge leap forward in this regard with the 4-Quattro. To me, this still feels like a backcountry boot, but it's able to handle both inbounds and out-of-bounds skiing styles very well. For people who are lighter and don't typically crush the front of their boot, this could be the one. The quality of the boot feels really nice; so far the only damage it's taken has been some light scratches. I hope to get some more time in the 4-Quattro early in the season and update this review as I get more experience using this boot.