The Product
Unless your summertime adrenaline fix comes in the form of accelerating speeds on two rapidly spinning motorized wheels, there's a good chance that you haven't yet heard of Cardo Systems' range of products. Founded in 2003, the company recognized for designing state-of-the-art wireless mesh and Bluetooth communication systems for motorcycle riders has expanded its product range to include wireless communication systems for alpine athletes and other groups and individuals in motion.
The Cardo Packtalk Outdoor is a lightweight, waterproof, innovative, and brilliantly designed piece of technology that you never thought you needed skiing or riding. But once you use it once, you never want to be without it. Trust me. The sleek unit, available in black and white colorways, clips to your helmet, jacket, or backpack and provides crystal-clear on-mountain communication, over distance, with groups of up to fifteen skiers and riders. 40mm JBL-designed speakers greatly enhance the experience of surfing and slaying mountains via a Bluetooth connection to your favorite playlist. At the same time, your phone stays snug and dry in your jacket pocket.
Cardo generously sent me some Packtalk Outdoor units to test in early December. It has become an essential part of my and my daughter's snowboarding gear in the months since, traveling with me to snowy mountains on both Canadian coasts.
What's in the Box
Each box, itself a sleek design and suitable for storage, includes the PackTalk Outdoor Unit, a cradle with a v-strap mounting clip, a glue plate, 44mm sound-by-JBL speakers with a wired microphone, Velcro pads, stickers, and cleaning pads for the speakers, a USB 3.5 MM audio adapter, and a USB charging cable. The unit is easily removed from the v-strap for charging, and I bought an inexpensive dual-port USB adapter for my car, so my phone and the Cardo have full charges when I get to the mountain.
Installation & Set-Up
Download the Cardo Connect app to your Apple or Android device, ensure Bluetooth is on, and follow instructions for set-up and synching. My friend Karen and I synched our units under the group name inspired by one of our favorite movies: 'Chalet Girl(s),' obviously. Installation of the unit itself is straightforward, with the 'v-strap' holder – like a chip clip – attached to the side of your helmet. The company's website has an easy-to-follow instructional video for this.
As far as functionality is concerned, Cardo Systems has thought of everything. The unit, always on intercom, requires no cellular or internet signal. 44 mm high-definition speakers have been engineered to sonic perfection by the geniuses at JBL. Withstanding temperatures ranging from -30 to 55 C / – 22 to 131 F and certified wind and waterproof, the Cardo Packtalk Outdoor will keep you connected in all of Mother Nature's variable weather conditions. The 2nd generation DMC intercom creates living connections, actively seeking to communicate with other units, and adapting based on the behavior of units in a network, to ensure that communication is always maintained.
The Specs
Main unit: Height: 44mm – Length: 88mm, Depth: 25mm – Weight: 49.5g
Speakers: Diameter: 40mm, Depth: 10mm
Connectivity: Bluetooth 5.2
Intercom: 2nd generation DMC Intercom
Group size: Up to 15 users
User to user Range: Up to 1.0km/0.6mo
Overall range: Up to 5km/3mi
User Interface: Natural Voice Operation
Audio: Sound by JBL 40mm speakers
Talk time: Up to 10 hours
Charging time: Up to 3 hours
Standby time: 10 days
The Experience
Cardo Systems kindly sent me four Packtalk Outdoor units, two in each colorway. I kept one for myself and one for my daughter and gave two to Karen to test amongst her family of four, including her husband, who snowboards, and their two teenage kids, who ski. We've tested the units in all kinds of scenarios at our local resort south of Montreal, which is big, has variable snow conditions, a party atmosphere, and is often crowded with night skiing offered seven days a week. There can be a lot of distractions here, a lot of white noise. The Cardo has enhanced how we experience our sport in two significant ways – practical and pure fun  – and I feel like we've only scratched the surface of its on-mountain capabilities.
Skiing and snowboarding with kids is itself a unique experience. You want to protect them as best as possible, encourage and gently coach them, and give them the freedom to send it. With the Cardos synched, we can communicate with each other and our kids while skiing and riding in a way we hadn't imagined. My daughter, who rides with me, is thirteen. She's also petite for her age, which adds another element of vulnerability at a ski resort. With our Cardo units synched, I can keep track of where she is, offer tips and encouragement in real-time, and she can choose to turn up her tunes and tune out mom if she's in the zone.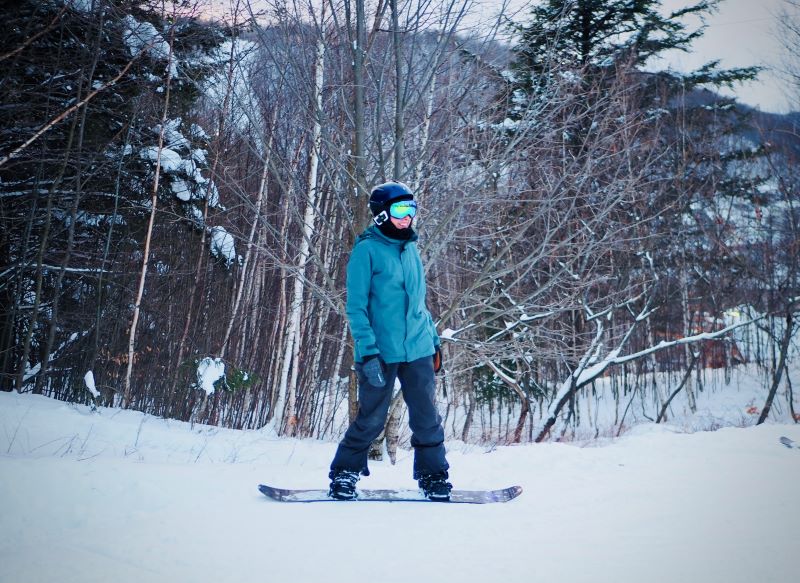 I never used to listen to music when I went snowboarding. For years I thought listening to music through headphones was an added distraction, unsafe to me and the skiers and snowboarders around me. With the Cardo, I can easily adjust and mute the volume, and nothing is constricting in my ears. Now I charge my phone in my car between runs for continuous music play (no need to charge the Cardo itself, as it holds a charge for up to 10 hours). When I went to British Columbia on a solo snowboarding trip earlier this month, I packed the  Cardo. There is nothing like riding to a soundtrack of your favorite tunes piped through those JBL speakers, like something from a dream.
Final Thoughts
I would recommend the Cardo Packtalk Outdoor to any skier or rider who wants to enhance their on-mountain communication in a group or reach a new euphoria riding mountains solo. I am constantly asked about it by other skiers and riders on the gondola and chairlift. My only criticism is that Quebec mountains can be windy up top, sometimes so much so that the wind alone has adjusted the volume on my Cardo – designed to adjust automatically according to speed – to LOUD. But that is a minor quibble and an easy fix with the user muting the volume (either manually or via voice command). A single unit retails for $249, which may seem a bit steep initially, but when you consider how much we invest to enjoy a day on the slopes, the Cardo PackTalk Outdoor is a revelation in sound technology – it is worth the price of admission.
& just for fun, my Cardo PackTalk Outdoor 'Solo Days' Playlist
In Need of Repair Band of Horses
Dayvan Cowboy Boards of Canada
Saw Red Sublime w/t Gwen Stefani
Walking on the Moon The Police
I Don't Mind Sturgill Simpson
Jack & Diane Mellencamp
Pink Houses Mellencamp
Award Tour A Tribe Called Quest
Electric Relaxation A Tribe Called Quest
Can I Kick It? A Tribe Called Quest
Get it Together Beastie Boys, w/t Q-Tip
Just a Girl No Doubt
Feel Good Inc. Gorillaz
Burning Down the House Talking Heads
Holiday in Cambodia The Dead Kennedys
Atlantic City The Band
Sun is Shining Bob Marley