Light, efficient, and durable, Dynafit's Blacklight alpine ski touring binding is dependable when it comes to bagging peaks and charging hard. The bindings are a new model from industry leader Dynafit that offers greater retention in a minimalist U-spring design. It's a serious choice for backcountry enthusiasts who want to travel fast and light with the luxury of an adjustable heel with multiple climbing levels.
At 280 grams, the Blacklight is a light, minimalist ski touring binding that lends speed to your climb and is also impressive on the descent. I was able to test the binding over the course of the past two months in the Utah backcountry and found that you don't have to work hard to ski hard with these. With the Blacklight, the characteristics of a lightweight ascent-oriented binding have been combined with the advantages of a classic ski touring binding. It features 10 mm of flex in its length adjustment and thus enables it to fit various sole lengths. With its perfect bayonet positive lock at the heel unit, an extremely high power transfer from binding to ski is achieved for increased responsiveness and downhill performance. The Step-In Side Towers make entry into the toe piece more than 30% easier. It's really easy and fast to step into these bindings—almost too easy and fast. At the same time, the Step-In Side Towers increase lateral stability on the descent.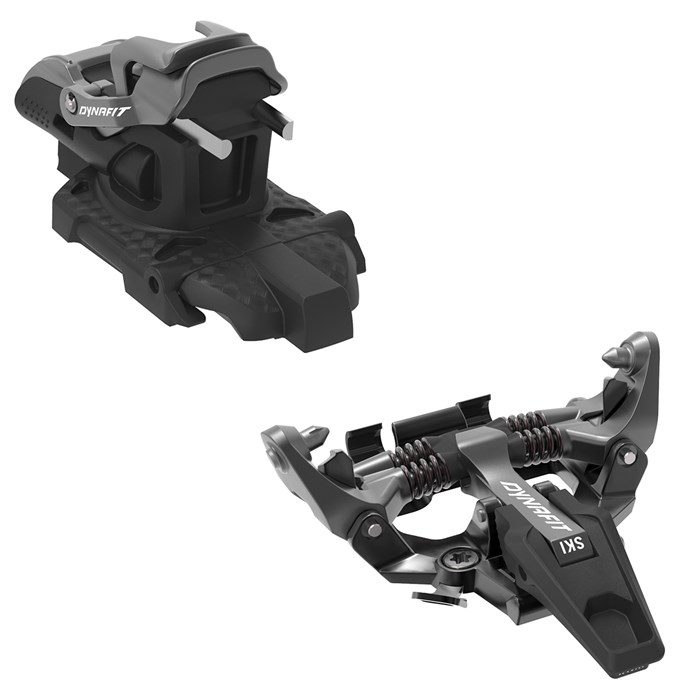 With the Blacklight binding, you're not only the first to the summit but you're also the first back down again. The Blacklight has two riser heights you can operate quickly and easily with your pole. The binding's lateral release value can be fully adjusted from DIN 5 to 12. The vertical release is fixed. For a bit more safety on ice or crust, ski crampons can also be attached. In addition, the Blacklight can be retrofitted with a brake (available separately).
As with all DYNAFIT bindings, the Blacklight has been developed and manufactured in Germany and offers DYNAFIT's Lifetime Guarantee.  The Blacklight = comfort, lightness, and performance. These have been my go-to ski binding this Winter and will continue to be this Spring as I start tackling bigger, longer objectives in the mountains.