Introduction
New for the 2019-20 ski season is the Fritschi Xenic. The Xenic builds on Fritschi's pre-existing Vipec EVO and Tecton binding using many of the same concepts and materials. This means that the Xenic can be truly thought of not as a scary-new product but one which has evolved by building on Fritschi's past success and experience.
Xenic is an alpine touring binding of the "Tech 2.0" variation. This means that it possesses the notable advancement of no heel gap between boot and heelpiece instead of having a heelpiece that contacts the boot thus giving better ski control. Xenic is Fritschi's lightest touring binding having a release value of 4 – 10; separately adjustable horizontal and vertical RV at the heel; one climbing aid and brakes/crampons that go from 85 – 105mm in 10mm increments.
In summary, the Xenic binding has (optional) brakes, adjustable vertical and lateral heel retention, is under 300g and is priced relatively affordable at an MSRP of USD $420. For comparison, the other Fritschi offerings are Tecton ($ 649 USD) and Vipec Evo ($ 599 USD)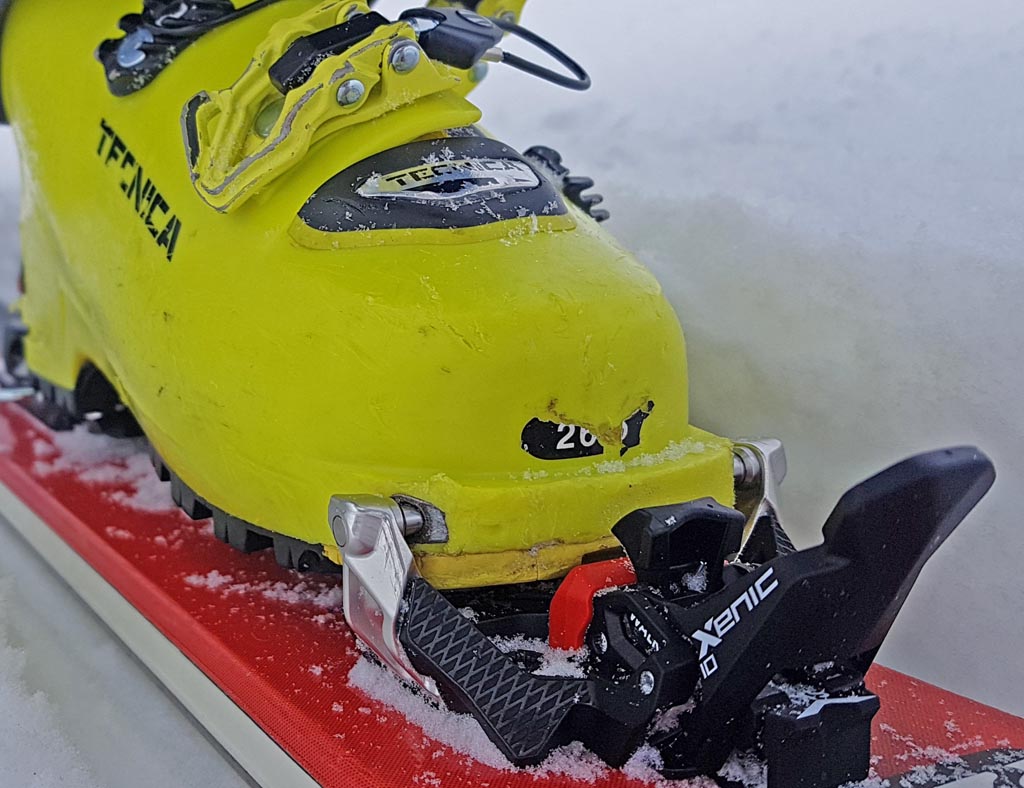 Specifications
The Fritschi Xenic is designed only for touring boots meeting DIN ISO 9523. Theoretically, this would mean that Dynafit Speed nose and other boots without substantial toe and heel welts won't work with Xenic. Lamentable speed nose boots (like the Dynafit Hoji Pro Tour) are not compatible. While I've heard rumors that you can use such tragic boot designs on this binding by removing the Xenic's red alignment pedal (see picture above) I have not confirmed. Accordingly, if you want to use your non ISO 9523 touring boots with Xenic please try your boot on the binding.
Fritschi provides specifications and an operating manual for the Xenic as well as an instructional video on the use of the binding and its single heel riser. Some other Xenic trivia follows
The Xenic is built of the same materials as Fritschi's Tecton/Evo binding using a fair amount of plastic. It does however also use some carbon.
The Xenic has an RV of 4- 10 adjusted via separate Pozi drive screws at the heel for lateral and vertical release. Oddly the screwhead is a Pozi drive 2 which is smaller than the normal Pozi. A small Phillips or flat head driver works fine though as long as you're not a complete gorilla so this is a small nit to pick.
Xenic's heel is somewhat elastic and like other tech heelpieces can twist somewhat (13mm) laterally before releasing. Horizontal elasticity is delivered through a spring in the baseplate (same as with Vipec/Evo) which delivers 10mm of elasticity to compensate for ski flex. It's not quite Tecton/Shift level (which I recommend for those wanting to be aggressive when touring) but Xenic's elasticity is inline with other Tech 2.0 offerings
The Xenic's heelpiece shares the same baseplate as Vipec or Evo so unsurprisingly, like the other Fritschi bindings the Xenic has 25mm of adjustment. If you want more adjustment (but this will weigh more) you can get the demo track which offers 60mm of boot sole length adjustment.
The heel-toe touring delta is negligible meaning that the touring mode is pretty much flat. The only heel riser gives you approximately 11 degrees of rise so is somewhere between the Tecton/Evo's two climbing aids which gave 9 and 13 deg of rise.
The heel-toe skiing delta is a different story. Xenic's toe is 34mm above ski top sheet while the heel is 46mm (both measured to the middle of pins). This 12mm delta is pretty old school especially compared to other bindings and even to other Fritschi offerings (8.3mm delta – Vipec; 10.6 mm delta Evo).
(Specifications – continued)
The claimed weight of the Xenic is 280g – this is without brakes. The actual weight is 296g without brakes and 346g with brakes. Compare this with the Vipec with brakes (581g) and Tecton with brakes (672g) and there's quite a bit of weight shaved here.
The Xenic toe piece is pretty minimalist. There is a red alignment piece that helps you align your boot for clipping in but otherwise, it looks like most other tech toepieces.
The Xenic's toe piece minimalism also means that it doesn't have the lateral release characteristics of Tecton/Evo where a toepiece arm flips down to laterally release if the toepiece takes a big hit. Fritschi says that it designed the Xenic to that the wings open on a horizontal plane, unlike other tech bindings which rotate slightly downward when opening. According to Fritschi the Xenic's horizontal clamping forces make it less prone to pre-release and gives it consistent clamping force (this may lend itself to slightly more elasticity when skiing.
If you already have a ski drilled for a Tecton/Vipec mount then (as mentioned above) you'll be able to use the same heel baseplate for the Xenic. However, the toe mount will require 2 new holes as the Xenic toe mount position is ever so slightly different than Vipec/Evo.
(Specifications – continued)
Xenic brake widths are 85, 95, and 105mm wide. Like the Tecton and Evo brakes, they fit wide. I fit a pair of 105 mm brakes on my 110 mm width skis without any bending. Generally, the recommendation is to size down and bend the arms out if need be. It's worthwhile noting that Xenic/Vipec/Evo brakes are the same as some generation Diarmir Freeride brakes so scavenge for spare parts if you need brakes if you want to save some money. Because Fritschi brakes are interchangeable this means that you can get the maximum brake width (120mm) and mount the Xenics on fatties if you want
Xenics use the same crampon mounts as Dynafit but don't need the same crampon place holder doohickey of the Salomon MTN/Atomic Backland. This also means that you can go crazy with crampon widths.
Use and Performance
Touring bindings should be simple to use and by and large the Xenic fits that bill. Of course, the binding is light. Paired with a light ski (Atomic Backland 107 in 189cms is under 1600g) and a light boot (Tecnica ZeroG Tour Pro in size 26 is a little over 1300 g) there is a disturbingly satisfying airy feeling walking uphill. Having said that there are nits to pick.
Getting into the toepiece is not as easy as getting into a Dynafit (which I and many others use as a benchmark of comparison). Even experienced users hunt to match boot inserts to toepieces despite features such as the red alignment tab. Even after some days of use, I tend to dive through the vertical stoppers that position the boot at the toe pincers.
Moving from ski to tour can be done without taking off skis and even without bending over. Use the pole to depress toe lever from tour to ski. Use the butt end of the pole to persuade the heel piece to rotate to ski position. I note that the toe lever is still pretty stiff even after 20+ days of use. Don't be afraid to heave on it.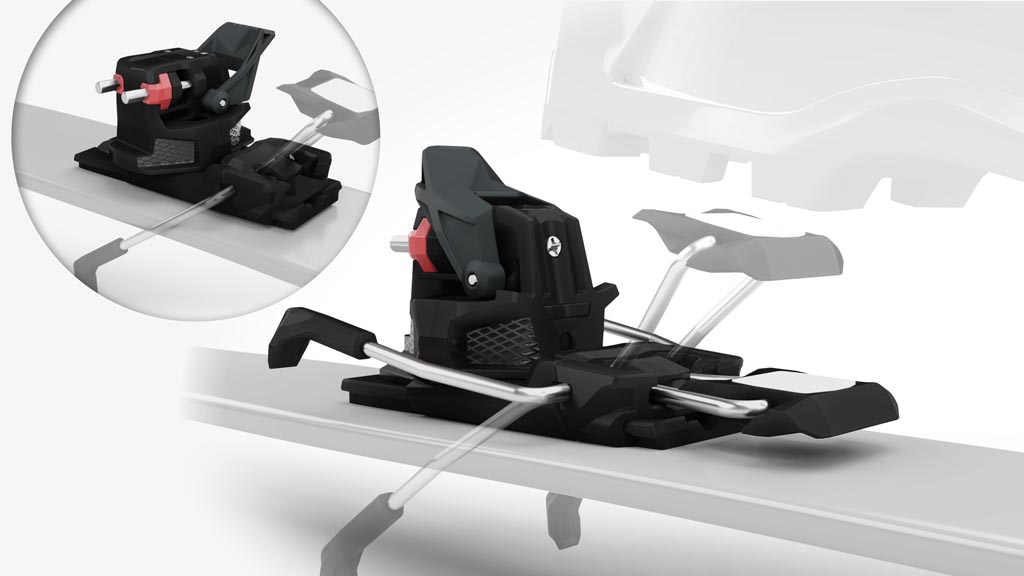 When switching modes from ski to tour stowing the brakes is simple in hardpack. Simply press them in place with your hand. The design also allows you to stomp the brakes down just using your feet. However, If you're switching modes when there's ice and/or snow there can be issues. For the brakes to remain stowed they must retract a bit into a recessed cavity; a cavity that can be filled with ice/snow. To mitigate that blockage simply give the heel pad a few whacks with hand or pole.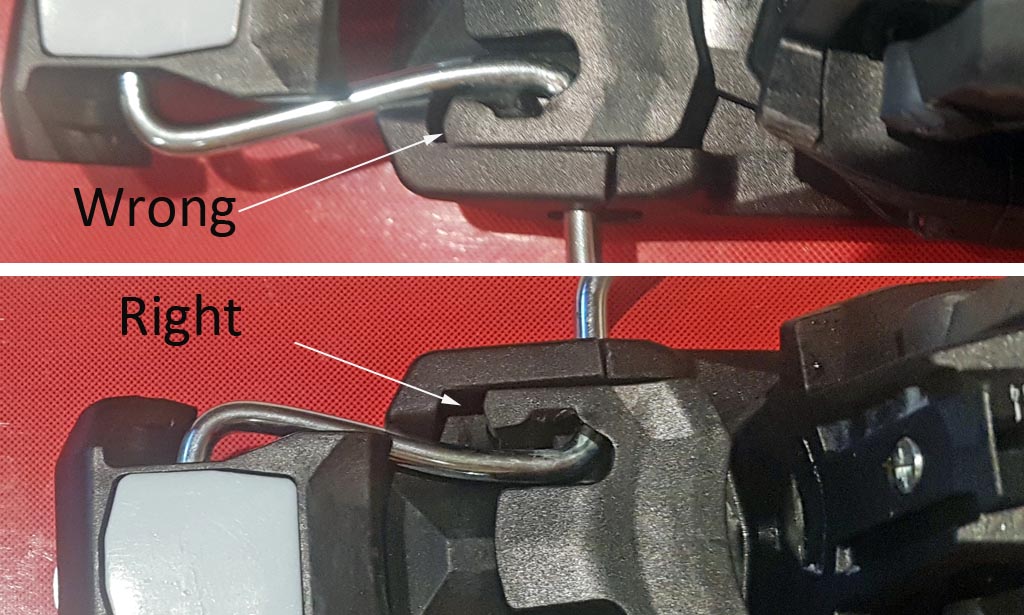 Where I've been pleasantly surprised is how good the Xenics feel on the downhill. My 20+ days have been split between inbounds and touring with some days on hardpack. In short, the Fritschi Xenic has been unnoticeable, has felt solid and stayed on even when I've gotten sloppy and had to do speed checks.
Retention-wise the Xenic is unnoticeable even when skiing on hardpack. Even releasing on hardpack the brakes have deployed and arrested the skis. I finally got to test the release of the Xenic by splatting off a pillow skiing inbounds at Revelstoke Mountain Resort. My heel released as I came up short on a double and tomahawked. While the brakes held the ski uphill on a powder pillow, I went downhill. In those situations where I played gaper, it's nice to know they work.
Reviews of related gear
Atomic Backland ski
Fritschi Vipec and Fritschi Tecton alpine touring bindings