Brought to you by Insta360
The Insta360 One X2 is a sleek, durable, pocket-sized action camera sure that's dominating the action sports market right now. The One X2 is jam-packed with incredible features to take any ski edit to the next level—like its invisible selfie stick. The camera is small and waterproof up to 10 meters and has not one but two built-in wide-angle fisheye lenses which each shoot in a resolution of 5.7K at 30 frames per second.
This tiny action cam records 360-degree or wide-angle photos and videos with appealing clarity and quality. Toss in the automatic motion reduction, object tracking, and tap-and-go edits, and you have one powerful platform. It even uses artificial intelligence editing to allow you to record the best videos money can buy.
The One X2 is lightweight (149g/5.25oz) yet manages to pack an impressive array of features. The Steady Cam feature enables a single lens stable capture and the Flow State Stabilization feature is truly next level. It comes in clutch in the powder. This ultra-high tech stabilization feature captures footage from both lenses and uses a cutting-edge algorithm in addition to six gyroscopes to stabilize the footage, resulting in higher quality stabilization than that found through the use of a gimbal.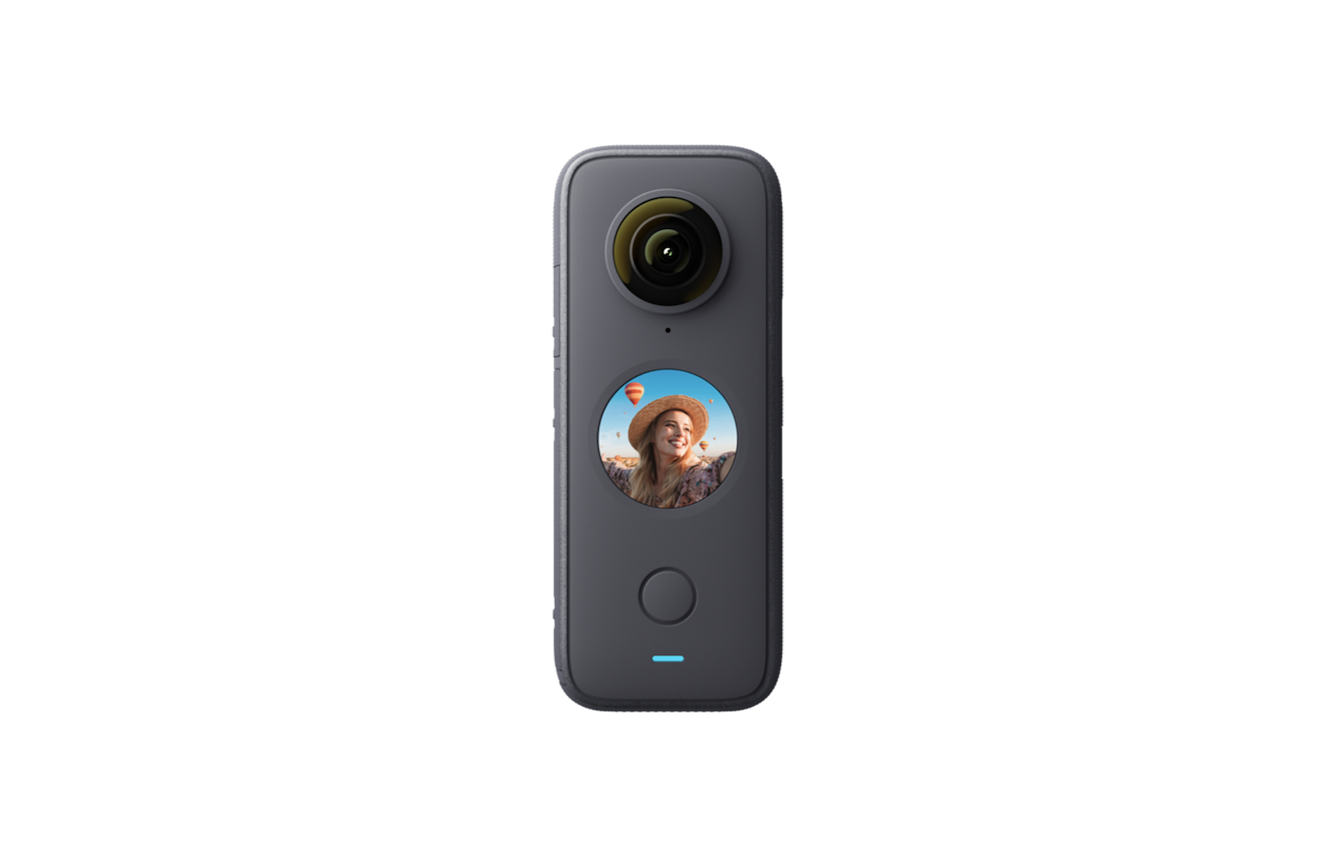 We've all seen choppy, unaesthetic, and basically unwatchable action camera footage—but for users of the One X2, that will never be a problem due to the incredible stabilization provided by its Flow State Stabilization. Also, the One X2 comes with an invisible selfie stick (the selfie stick automatically gets edited out of any shot by the app), so users can create drone-esque footage with the click of a button. The Insta360 One X2 can be ordered with a snow-specific package, which includes an invisible selfie-stick, sd card, helmet mount, helmet mount extension pole, pole mount, and chest strap.
The camera editing app has a simple user interface and a host of manual and AI editing tools. You can pick filters, select angles, snag snapshots, and export footage in 16:9, 1:1, or 9:16 aspect ratios and share directly to Instagram, YouTube, Facebook, TikTok, and more.
Features of the Insta360 One X2 include:
5.7K 360º Capture
Steady Cam Mode
FlowState Stabilization
Invisible Selfie Stick
Waterproofing to 10 m (32.8ft)
AI editing
4-mic 360º Audio
Ultra-Bright Touch Screen
Hyperlapse
Voice Control
Easy to Use Insta360 app for editing and generating content
Personal Experience Testing the Insta360 One X2.
Durable, sleek, and easy to use on the mountain. The camera's shape feels good in my ski jacket pocket. It's extremely quick and easy to whip this camera out of your jacket and throw it onto your helmet. The camera does well in the cold and its voice-activated recording is a major plus that helps keep my hands warm.
I took it to Alta Ski Area this week on a 19-inch powder day and the camera performed exceptionally well. I was able to easily use the voice-activated recording to capture high-quality, 5.7K 360º footage. I got a ton of powder shots and the camera wasn't even phased—battery lasted all day, even in near 0-degree-Fahrenheit temperatures. My toes and hands, on another note—not as much.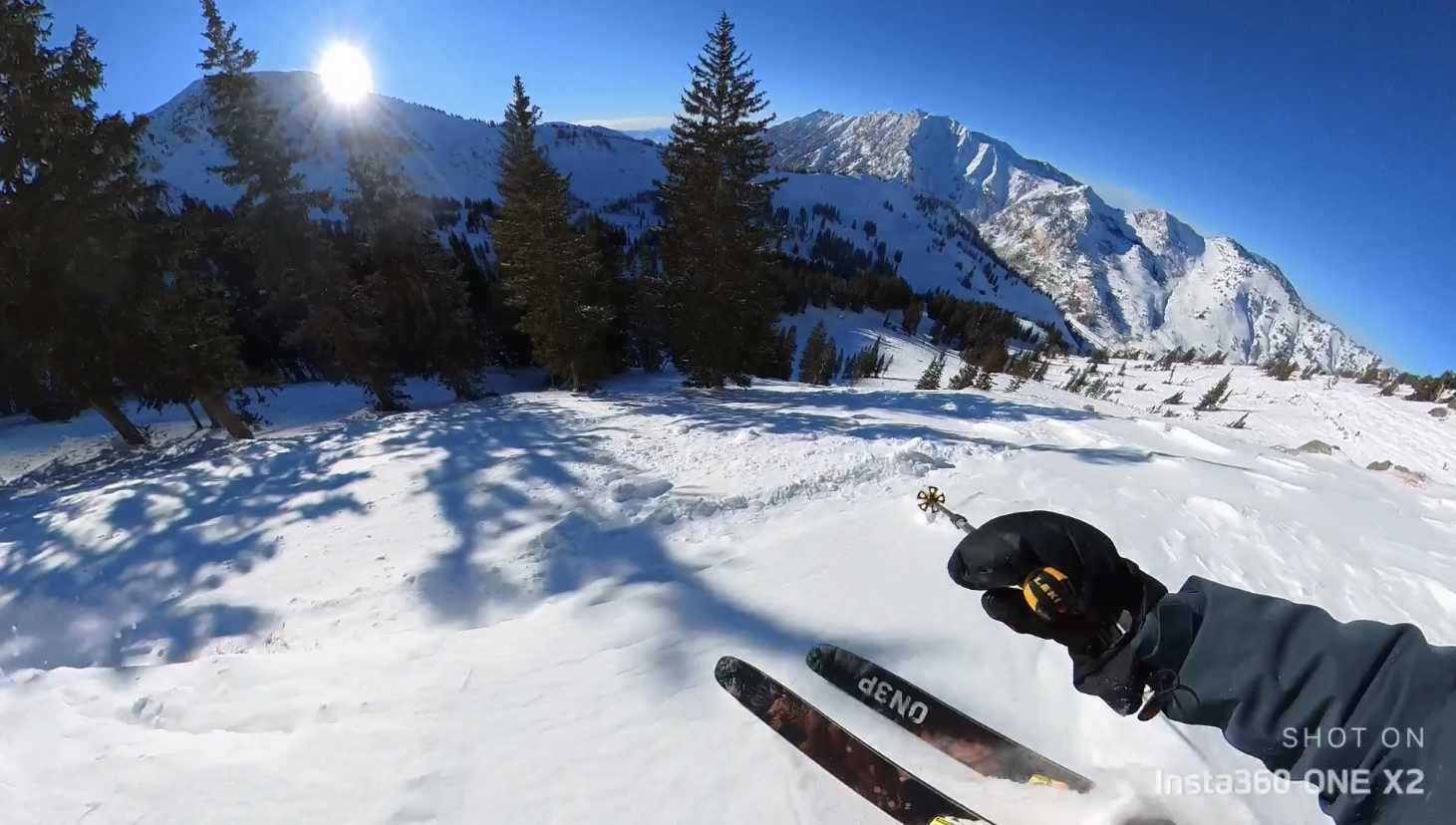 Every day after skiing I edit video footage from the day. Oftentimes this part of the day is a time-consuming drag. The Insta360 editing app actually makes this process fun. There's a ton of editing features, which can seem a little overwhelming at first because the developers at Insta360 really thought of everything. But within a few minutes, I got the swing of it and had all my videos from the day edited and shared. It took no time at all before I was acquainted with all the cool editing features this camera's app offers. I also find it pretty neat that you can upload your videos directly from the camera to Instagram and other social media outlets.
My favorite thing about this camera is the super-stabilized 5.7K 360º video quality. It plays back like a dream. The invisible selfie stick makes the footage looks so clean. I'm also a huge fan of being able to verbally tell my camera to turn on and off, so I don't have to take my hands out of my gloves. It also feels good in your hands and isn't as confusing to use as some other cameras. The camera's touch screen interface is just plain cool, too. Overall, this camera makes my life easier and my ski footage better. It will be my go-to this season when it comes to capturing moments in the mountains.
View this post on Instagram