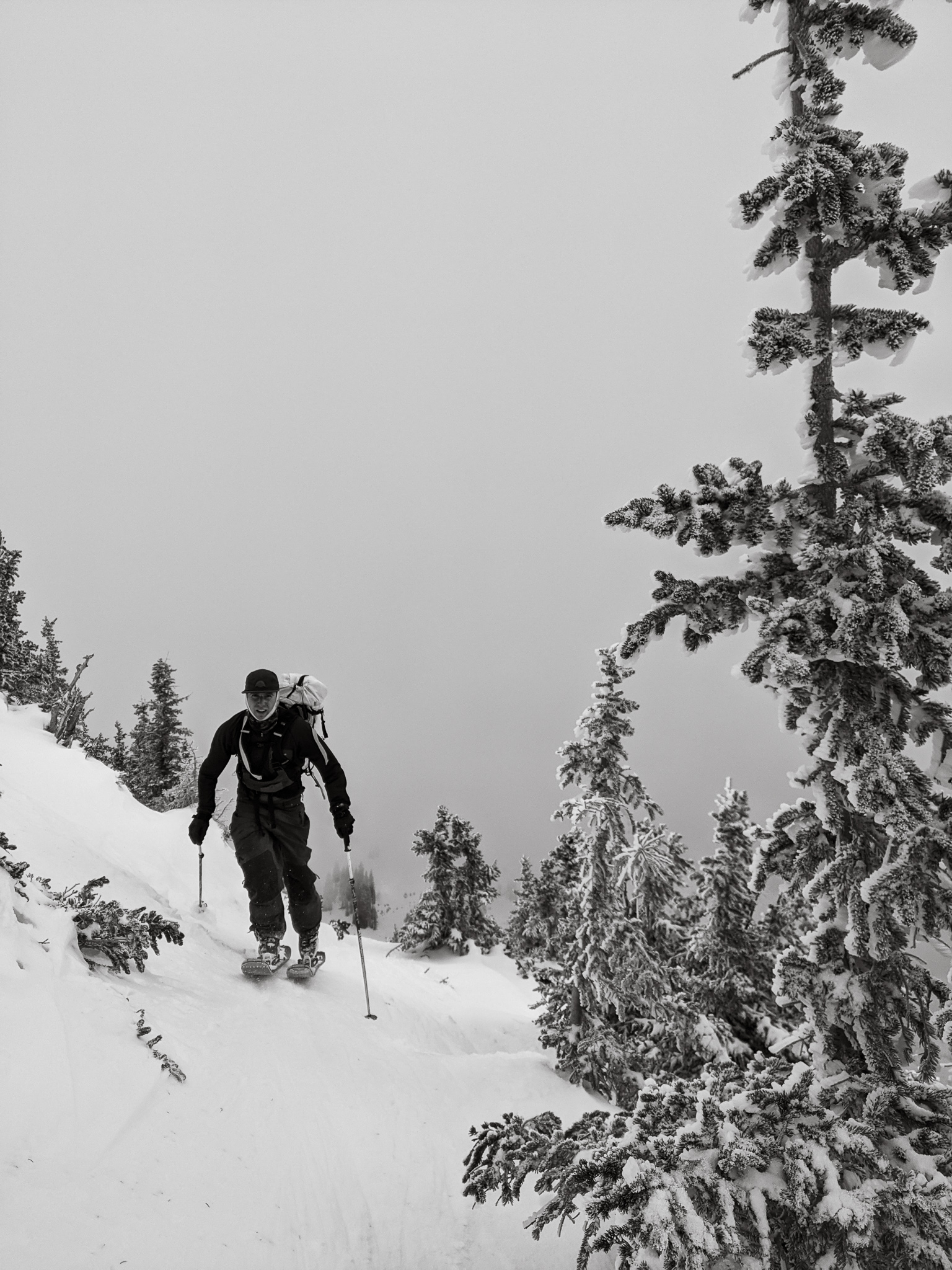 $220 MSRP
The Snoskiwoski 40 has ALL the bells and whistles and has enough to take you into the backcountry or into long mountaineering endeavors. It's the pack ski-mountaineers love. The Snoskiwoski Pack is an ultra-lightweight carrying system made for done-in-a-day missions and long hauls that lean on efficiency. Drawing on the expertise of world-class alpinist Vivian Bruchez, it combines Mountain Hardware's lightest and strongest materials like its aluminum frame and CORDURA® shell to help withstand the rigors of the high alpine. Whether skinning up a mountain, entering deep terrain via sled, or rappelling into a couloir, its efficient organizational structure gives you easy access to climbing tools and avalanche safety equipment when you need it quickly to keep you on the light-and-fast track for a lifetime.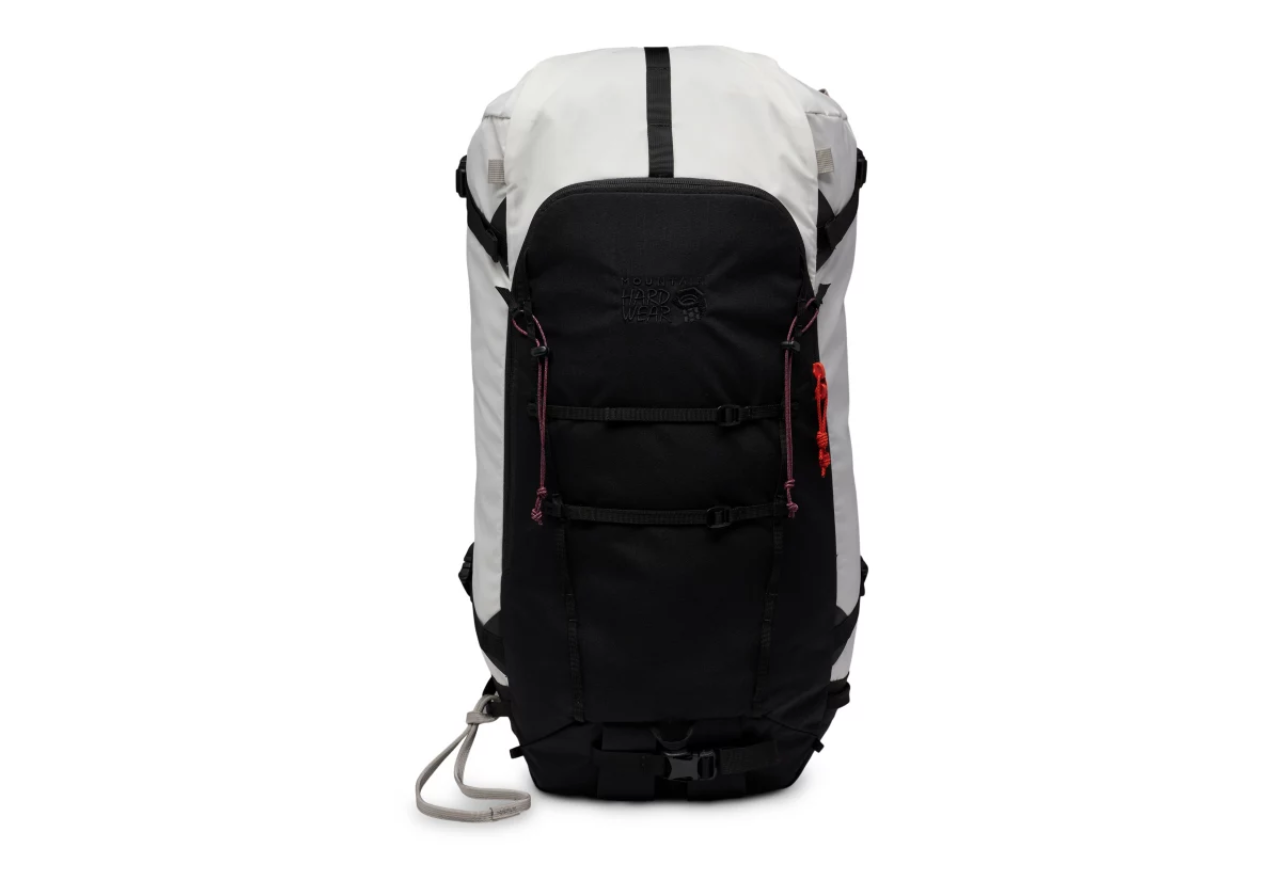 Features include:
Uses: Ski / Snowsports
Recycled 210D ripstop shell and 500D CORDURA® base are lightweight yet super durable
Large main compartment with quick-draw top skirt opening and integrated top storm flap
Dual-density shoulder strap with multiple lash points for radio, hydration hose routing, and a removable strenum strap with whistle buckle
Right side large zip access to main compartment
Left side large zip pocket for skins, extra gloves, ski straps, or water bottle
On-the-fly removable ski carry strap attaches to either shoulder strap and allows for quick diagonal ski carry without removing the pack
Interior hydration sleeve that doubles as a cord/rope stow with an oversized port for hydration tube or rope feeding
Removable dual-density hip belt with zip pocket, gear loop, ice-clipper loop, and tow loop
Removable CLPE foam frame sheet can be used as a seat pad
Modular and removable helmet hammock allows multiple helmet carry positions on the front and bottom of the pack to accommodate A-frame or diagonal ski carry
Foam-reinforced front panel to protect against diagonal ski edges, crampons, and other tools
Dual side compression straps with glove-friendly buckles and Hypalon reinforced wings
Quick access front tool carry accommodates axes and other tools
Reinforced, dedicated A-frame ski loops
Ambidextrous diagonal ski carry with a modular bottom ski strap
Color-matched inform function
Undyed top shell fabric and lining to improve durability and reduce water pollution during production
Top skirt and side zip provide quick access to pack contents, even when carrying skis in diagonal or A-frame modes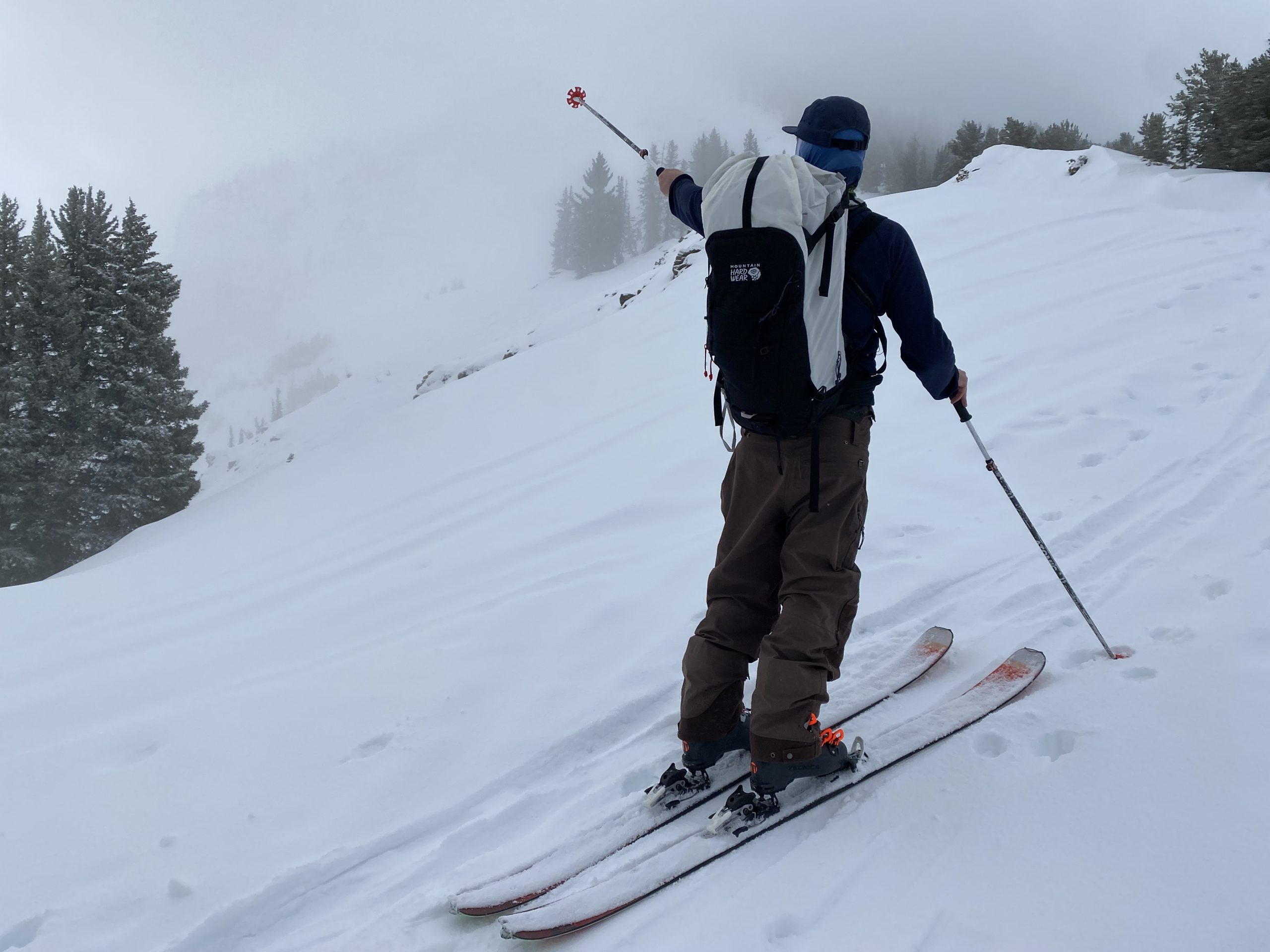 We asked the developers for the top three most notable features which were:
Easy access to the main compartment – either through the top skirt or the right-side large zip access, you can get to the main compartment in A-frame or diagonal carry modes.
Fully strippable – Removable CLPE foam frame sheet can be used as a seat pad, removable dual-density hip belt, removable helmet hammock.
Modular ski carry option –

Ambidextrous diagonal ski carry option with a modular bottom ski strap, on-the-fly removable ski carry strap allows for diagonal carry without removing the pack, and reinforced dedicated A-frame ski loops.
My personal experience with the Snoskiwoski 40:
For a couple of seasons now, I've been longing for a backcountry pack that has everything I need for a long tour or mountaineering mission in the backcountry without having to compromise. The Snoskiwoski 40 is that pack.
It's the perfect size to fit all my gear without feeling cumbersome. It makes attaching skis to the pack so easy, at least compared to my previous, smaller pack that made strapping skis to it a war every time. I used to have to fight and struggle and pull and to secure my skis to my pack with all my gear inside of it. But with the Snoskiwoski 40 it's easy.
I love the pack's simple design and easy access. A big zipper on the outside of the pack makes it easy to grab items quickly. Opening and closing the large compartment of the pack is a breeze because it's enclosed with a drawstring instead of a zipper. Plus, the overall design is straightforward and attractive—this pack looks good. From small day tours to big mountain climbs,  I highly recommend the Snoskiwoski 40 for anyone who skis a lot of backcountry.
To learn more about purchasing Mountain Hardware's Snoskiwoski 40, visit its website at MountainHardware.com