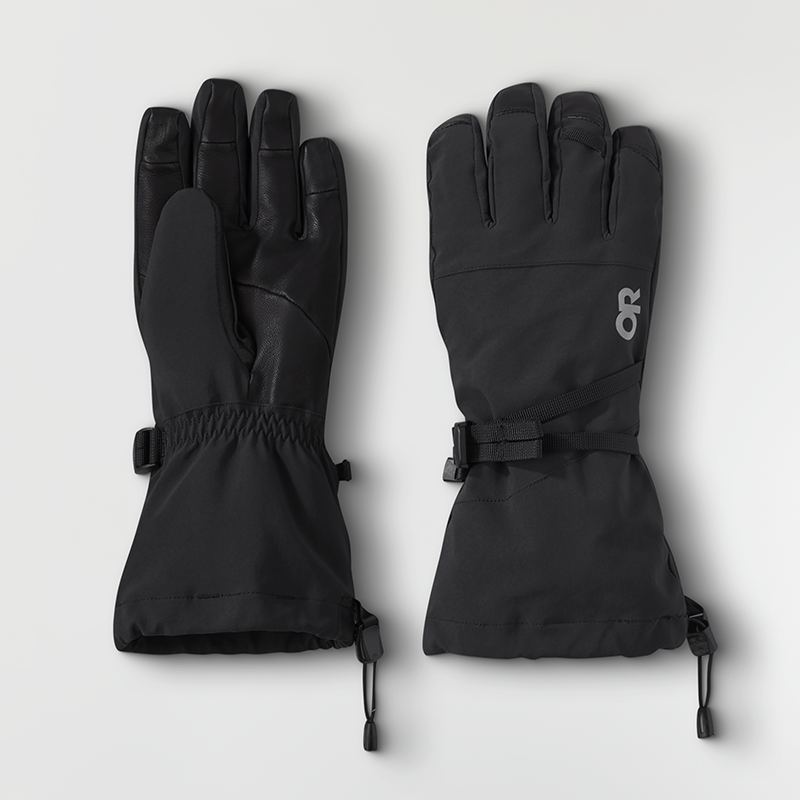 This past season, I had the opportunity to test the Outdoor Research RadiantX gloves. In my opinion, gloves are often an afterthought to more prominent layers like jackets and pants. However, gloves are one of the only layers that can truly either make or break a day, so having a good pair is incredibly important for having fun in the mountains.
I was able to test the RadiantX gloves for around 60 days this season in every condition, which allowed me to get a great idea of the glove's strengths and weaknesses.
One thing that I absolutely loved about the RadiantX gloves was the dexterity. I never had to take these gloves off to fiddle with boot buckles, pole straps, zippers, and other things that might usually have required me to remove my gloves and expose my hands to the cold. Ultimately, this meant warmer hands and less time spent getting my gloves on and off: more skiing! The tip of the finger on the RadiantX gloves is also touchscreen compatible, meaning you can use your phone without having to expose your fingers to the cold.
As a backcountry skier, another incredible feature of these gloves is how packable they are. Ski gloves can be quite bulky, but these gloves can be balled up and easily thrown in the bottom of a backpack taking up hardly any space. During spring mountaineering missions where I wanted a lighter glove for the warm ascent and wanted a warmer glove for the descent, this feature came in handy; I could carry the lightweight, packable RadiantX gloves in my pack without causing my whole pack to overflow.
In terms of ease of use, there were several pros and cons to this glove. The glove features two points where you can tighten the fit: one around your wrist and one a bit further up your forearm. The one around the forearm was great. The cord was super easy to pull and fasten in place, all while keeping my gloves on during the process. This came in handy on deep days where I was taking my hand out a lot to film but had to quickly tighten the glove to keep the snow out before I continued skiing. The other strap around the wrist, however, was a bit harder to manage. This strap is actually two straps in one through the same buckle, and I found that the straps frequently crossed over each other inside the buckle and became jammed. Fortunately, this strap is the less important of the two, so it ultimately didn't affect my enjoyment of the glove much, but it would be nice to have a single strap there, instead. As a whole, the glove fits great; tight enough to keep me warm but comfortably roomy at the same time.
In terms of warmth, this glove was perfect for 95% of ski days. The glove is surprisingly lightweight and breathable, so on hot days when my hands began to sweat, the moisture didn't accumulate inside and leave my hands soaked. Instead, it permeated through the material and left my hands dry and happy. Despite this breathability, the glove is dependably warm in the cold. On extremely cold days (below 5 or 10ºF), I found that the glove did run a bit colder than some of my other pairs of gloves, but never to the point where I wanted to stop and warm my hands up. However, if you're someone whose hands get easily cold, these gloves are roomy enough that you could wear a glove liner underneath for a bit more warmth.
Finally, the waterproofing on these gloves was amazing. Some of the most popular gloves in the industry often soak through by the end of a long day, leaving wet, cold hands inside. The RadiantX was excellently waterproof even in wet, spring conditions. This is something that I consider to be extremely important to have in a glove, and the RadiantX certainly checks that box.
Ultimately, I found the RadiantX gloves to be a glove "quiver killer" of sorts, meaning it has replaced most of my gloves for most days. Warm and sunny spring day? RadiantX. Cold, windy, stormy out? RadiantX. If you're looking for an affordable glove that gets the job done at an elite level in any condition, I cannot recommend the RadiantX glove enough! Shop the RadiantX glove here.