Last winter, after waking up to several feet of fresh snow, my friends and I loaded up the truck in anticipation of an unforgettable powder day. An hour's drive and a few windy roads later, we arrived at the mountain, eager to grab our gear and hop on the lift. Far too excited for the fresh turns ahead, I haphazardly tossed my brand-new skis into the truck bed alongside several other pairs without a care in the world. Upon retrieving our freshly tuned skis, we quickly realized just how precariously we had loaded them into the truck, far too impatient to spend the time or energy required to pack them safely. Every bump and turn in the road tossed our gear around, banging up against each other and the truck. With several new scratches and dings, we couldn't help but ask ourselves- could there be a more efficient way for skiers and snowboarders to transport their valuable gear?
And there is. Pondoz protective products are the first-of-its-kind innovative solution to any transport troubles. Designed to be adaptable to any travel, they provide reliable and convenient protection for your valuable gear, eliminating precious time packing and preserving equipment so that you can spend more time on snow. Between the hassle of packing and the inevitable risk of damage to your gear while in travel, Pondoz products take every detail into account, from comfort and convenience to durability and protection. Whether using a ski bag, car box, or roof rack, your gear will be in good hands thanks to its ingenious design and ease of use.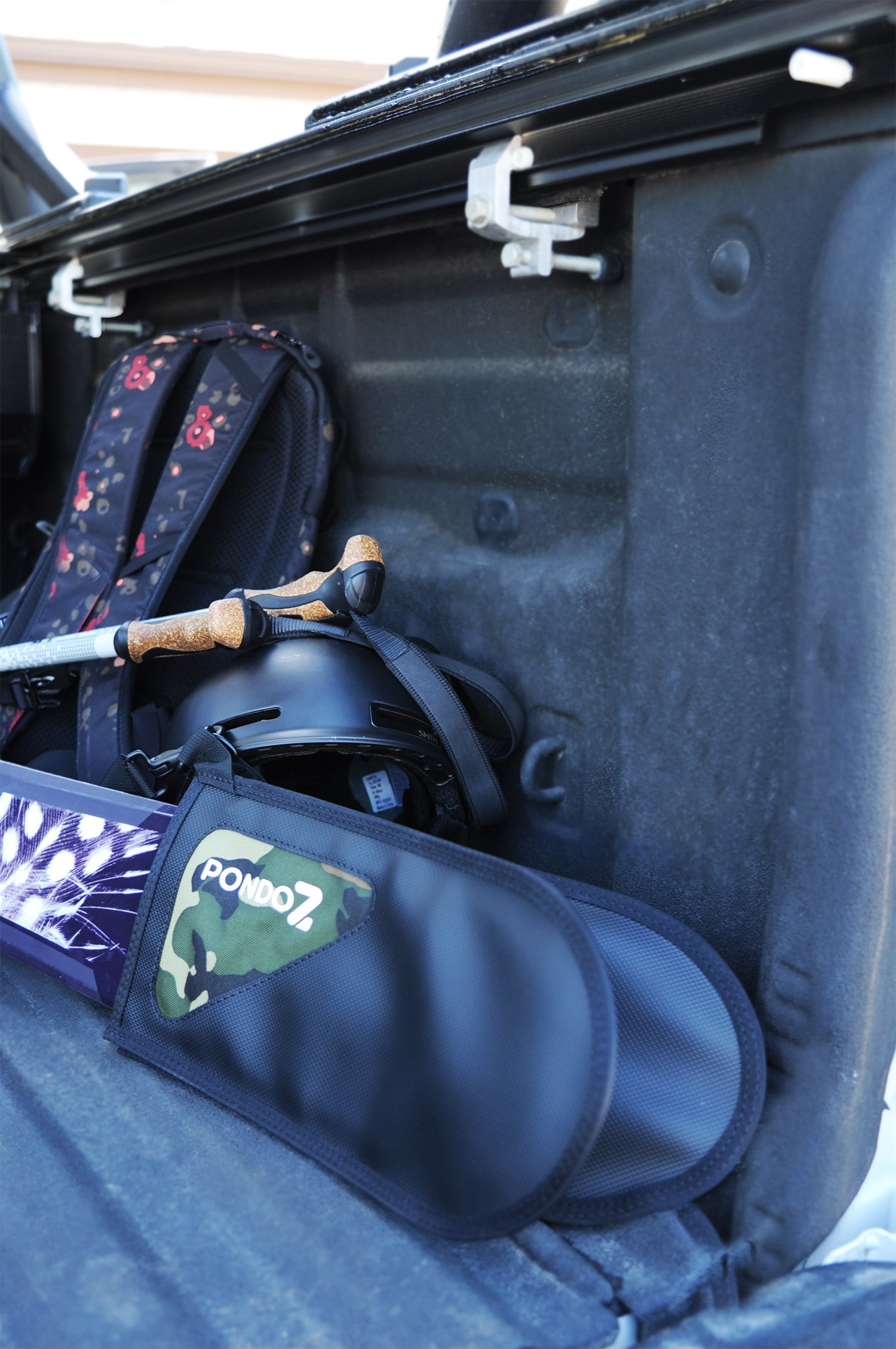 Before diving into it, we must look at where it started. Every story has a beginning. In this case, it all started with an idea. For Robin Gianakopoulos, founder of Pondoz, that "aha" moment became the origin story of her family-owned business and patent-pending product. On a family ski trip to Vail, after laboriously helping her husband wrap his ski tips, tails, and bindings with towels and bungee cords before packing in his hard-shell Sportube to fly, Robin couldn't help but think, "there has got to be a better way to do this, this is ridiculous!" And with that thought came the idea for Pondoz. Inspired by their greek family heritage, the word "Pandoufles," meaning slippers, became the name of their company. A simple yet revolutionary idea quickly became the prototype for the Pondoz slippers for skis and snowboards, making traveling for snowsport enthusiasts hassle-free.
Whether you're sliding your skis into a truck bed or cramming them in a ski bag, the Pondoz slippers are designed to protect your freshly tuned equipment en route to the mountain, ultimately optimizing performance on snow and enhancing the longevity of your gear. Featuring a detachable padded carry strap, carrying your gear when you have a long walk from the parking lot to the slopes is easy and comfortable. It keeps expensive outerwear from getting ripped from sharp edges and relieves strain on your shoulders and forearms.
Made in the US, each Pondoz product is hand-sewn and double-stitched using exceptionally durable, waterproof, and long-lasting materials. Using 1000 Denier nylon on the interior of the slippers, this material provides exceptional abrasion resistance and tear strength. It is also water-repellent and easy on the surface of your skis or snowboard. On the exterior, V-Diamond Tec vinyl features snake-bite-proof durability and is guaranteed to stand up to the elements. In addition to the slippers, they also offer a ski bindings buffer that safeguards the essential part of the skis from road salt or sand. Made of tough, ripstop nylon and V-Diamond Tec vinyl, it includes fixlock locking cords that cinch the buffers tightly around your bindings.
As a Freeride athlete and coach who travels consistently throughout the winter, I couldn't wait to put the Pondoz products to the test. Having experienced my fair share of travel troubles, finding a solution to such problems, including damaged ski tips and ripped outerwear from sharp edges, would make my ski trips much more enjoyable. On my first day out this season, I headed to my local mountain, which entails a rugged road at best, with hairpin turns, and frost heaves around every bend. Properly securing and protecting your skis for the drive takes added time and effort if you don't want to ding up your gear before getting to the slopes. This time, my skis were packed and ready in a matter of moments.
My first impression of the Pondoz slippers? First and foremost, the convenience and ease of use. Simply slipping them over the tips and tails of my skis, followed by the ski binding buffer, they were ready to go in a flash. Fully protected and secure, they made the journey to the mountain damage-free and were in pristine condition upon arrival. When it was time to walk the dreaded march to the base, the padded, detachable shoulder strap made carrying skis a breeze, not to mention comfortable and reliable.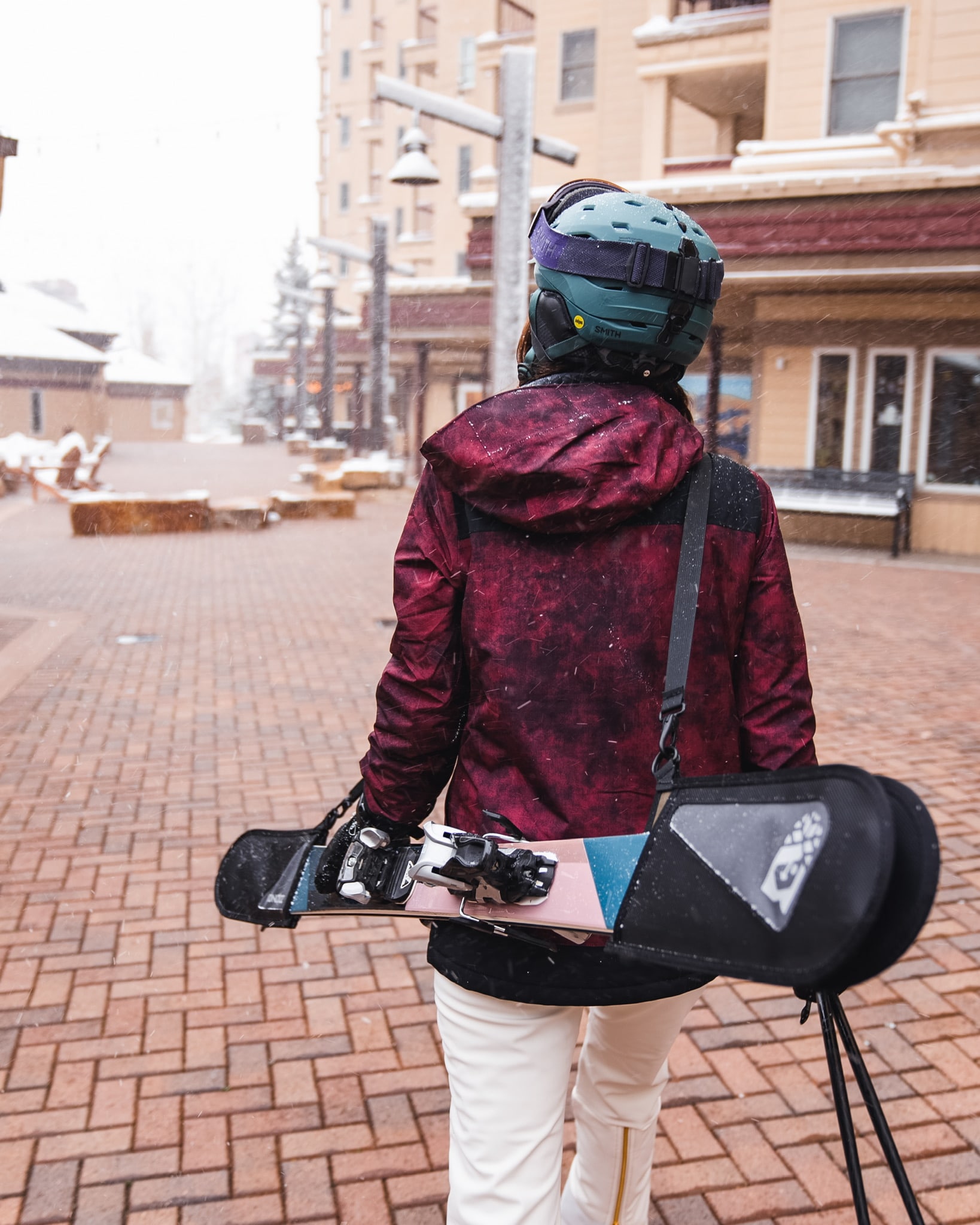 My second impression was the quality of the materials. Noticeably durable and high quality, the waterproof, snake-bite-proof material on the exterior of the slippers provides superior protection from the elements while guaranteeing long-lasting use. On the inside, the abrasion-resistant nylon fabric is high-quality and explicitly designed to prevent tears, scratches, or any other damage. The double-stitched seams add strength and durability, enhancing the overall quality and ensuring product reliability. Plus, it's manufactured in America!
If you regularly travel with your skis or board and hope to preserve and protect your gear, I highly recommend the Pondoz slippers. I found the Pondoz products to be an affordable and convenient solution to a common problem for skiers and snowboarders alike. Head to the mountain confidently, knowing your equipment will be in perfect condition when you arrive, regardless of how you travel.