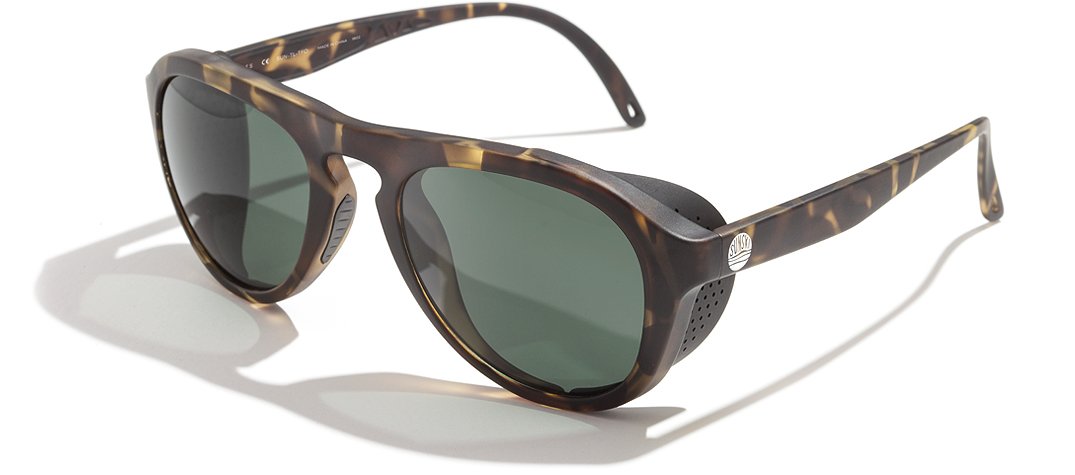 The Sunski Treeline polarized sunglasses are for people who like high-velocity sports and the environment. Made from a 'SuperLight' recycled plastic that Sunski came up with themselves and backed by their lifetime warranty, The Treelines are eco-consciously sexy.
The award-winning Treeline is part of Sunski's glacier sunglasses line with extreme coverage and sun protection.  A unisex style that looks great on radical guys and gals alike, the Treeline is a must-have for spring skiing and mountain pursuits.
Sunski's premier performance style mixes a classic aviator with the iconic glacier goggle. Removable magnetic sun shields protect the eyes from side glare, while perforations prevent fogging and enhance peripheral vision. Extra dark lenses and sun shields make these a great pick if you spend extended amounts of time in the snow or on the water.
"The first thing I did when I was trying out these shades was climb a mountain. The shades were comfortable on my face and the polarized lens felt quality. I also dig the sun shields as they gave the shades a more sporty feel to them, making me want to go fast for some reason. Also, they're made from 100% recycled plastic, and you can't even tell. Very cool company, very cool shades." — Martin Kuprianowicz, SnowBrains editor.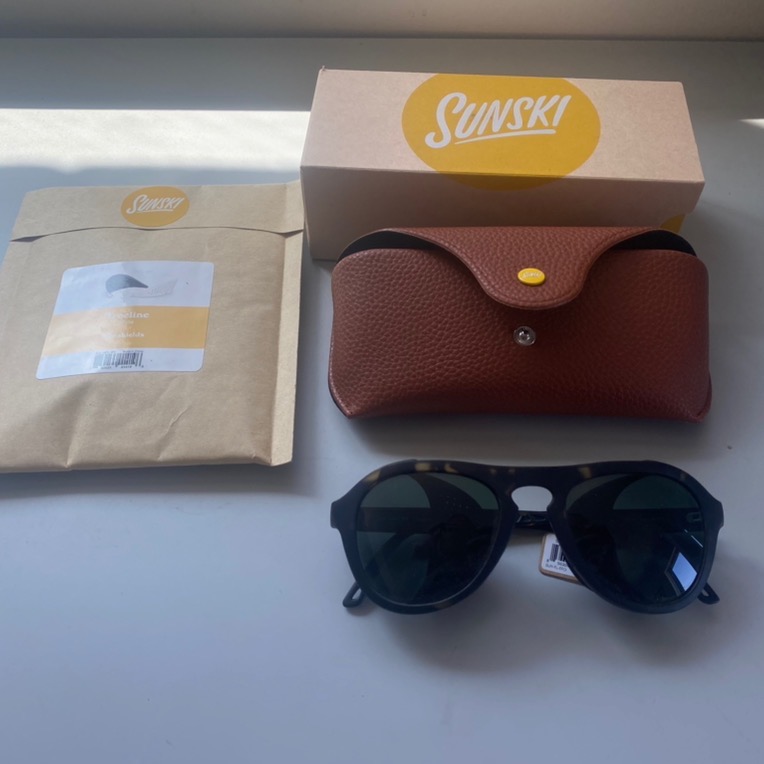 The Treelines come with a leather case, glass-cleaning cloth, a tip booklet on maintaining lens quality, and a spare pair of sun shields, all arriving in sustainable packaging. 
They are offered at $89 and come in four different colors. Purchasing info can be found HERE.
Style and Fit
Sunski's innovative design process weaves contemporary trends with everyday functionality. Every style and color is developed entirely from scratch at their studio in San Francisco. Their light, flexible frames are designed to fit snugly so they don't slip or slide, but not so tight that they squeeze or cause pain.
Sustainable by Design
All Sunski frames are made from SuperLight recycled plastic, a material they developed themselves. Their packaging is 100% recyclable and free from single-use plastic. As "proud members of 1% for the Planet," Sunski donates one percent of their sales to environmental non-profits.
"Sunski is a proudly independent sunglasses company based in San Francisco, California. Our commitment to design innovation, sustainability and grassroots community helps us stand out in the crowd. We believe in the simple joy of going outside and great sunglasses that make those moments even better."