Brought to you by 10 Barrel Brewing
Any day on snow is better than not; ask professional snowboarder Anna Orlova.
Straight outta Siberia, Anna's a World Tour champ who has seen podiums, known pain and lives the equation of inspiration-plus-endurance equaling success.
Rarely found far from snow and widely traveled as an ambassador for Roxy, Jones Snowboards, and BCA, Anna was a No.2 seed among the female snowboard athletes of FWT 2019/'20.
Focused and training hard, the future looked bright indeed.
Then major injury snatched Anna's season, AND the pandemic closed the world.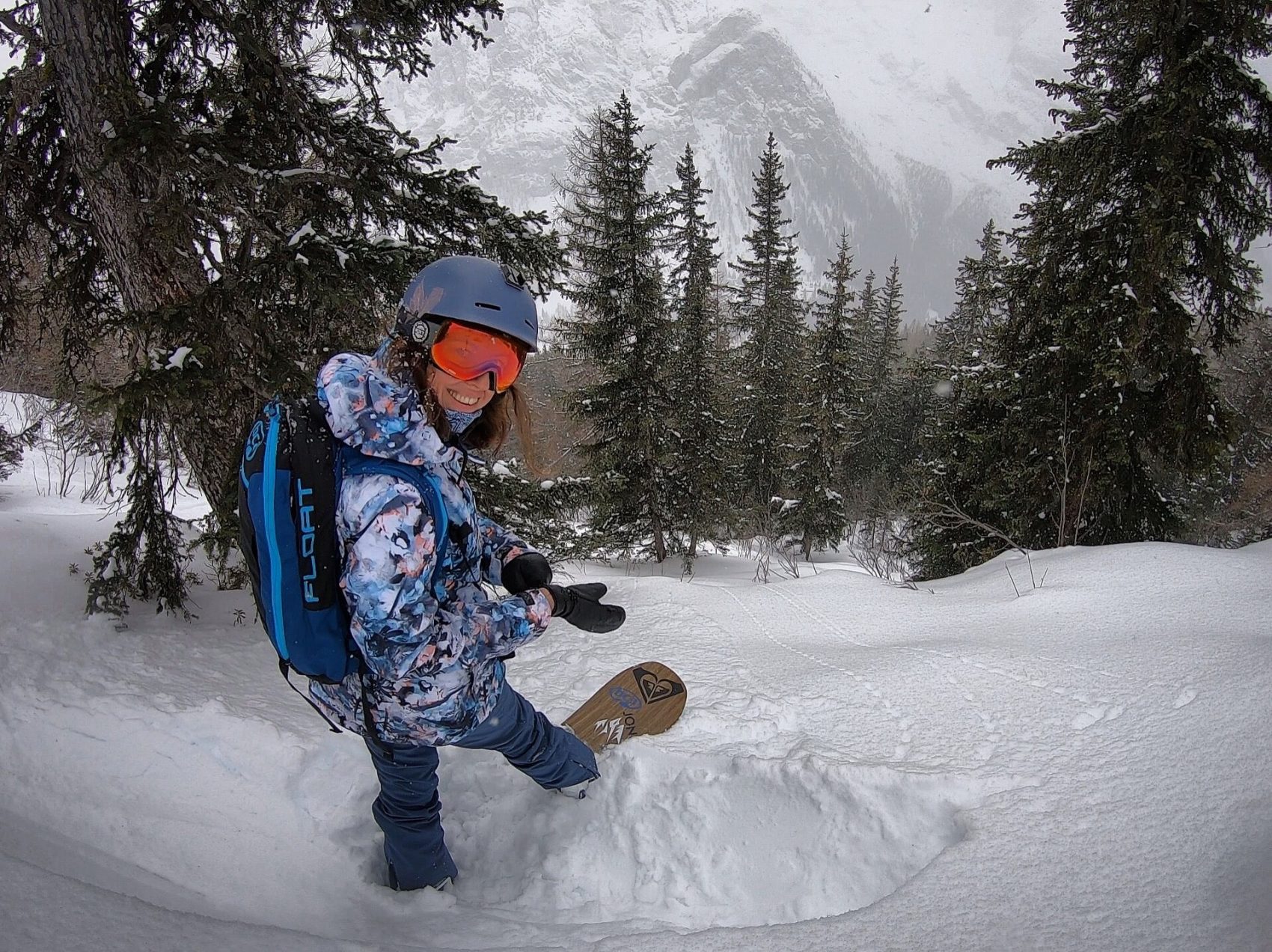 Now, at the onset of a season that's already being called 'our darkest winter,' Anna is prepped, new knee and all, to focus completely on lighting her own trail.
SB: Where does this motivation to charge come from, Anna?
A: Simple: the mountains and snowboarding. They make me happy every single day.
Even when I was young, as soon as there was any snow, I would take off from school to hike my local hill. I'd be there all day, the snow would melt, and still, I'd ride. I'd come back covered in mud. (btw, I still use that first board to shred the indoor parks)
SB: So when did the drive hit high gear?
A:  When I started focusing on the Freeride World Tour.
I'd placed well on the qualifier circuit for three-straight years when, in 2018, I got the wildcard in Canada. I took 2nd in my first tour event and placed 3rd overall that season. As I said, I was training hard.
SB: The very next season, you stepped-it-up a notch and took 2nd overall; talk us through 2018/'19.
A: I took deep breaths and visualized the runs so that I felt I was already riding them.
I can't say I didn't feel any pressure, just a little nervous, maybe. The compromise came in choosing lines that I knew would be a challenge, yet I still felt confident to ride.
I won the first event in Japan, and straight away was fighting for the overall title.
But it's not about 'pushing'; it's about inner nature willing us to progress. That's Freeriding in general, recognizing the new opportunities the mountains offer and exploring them line-by-line.
SB: So you were advancing on the tour. You went home to hone the skills, and… 
A:  Yes, during training the week before, I would fly to Japan for the first FWT event when I cut my ACL and meniscuses. Ten days later, instead of riding, I was in surgery.
SB: Was there a moment when you feared snowboarding was over for you?
A: It was hard. I felt bad, scared as well, about finishing my snowboard carrier–not only as a professional athlete but mostly as someone who loves to ride wherever they want without having to worry about safe runs or how the leg feels.
SB: How did you get through it?
A: Support of those around me and trust in myself.
The doctors were amazing, telling me I would come back stronger. That motivated me when I felt low. But then, 2 months into physio, the pandemic began—so no more going to the gym 5 days a week. Instead, I was alone with my injury and had to motivate myself to train. That was a hard time when every day was a challenge to focus. But I listened to myself and the doctors and worked very hard.
To anyone suffering such an injury, I would say,
"Stay strong and don't give up; training is a path back, even if you're not

feeling progress this second, it will come."
SB: Going through a major injury can be life-altering; what have you learned about yourself during the process?
A: It was surprising: the cold-blooded day-to-day, week-by-week of staying at home just doing the same exercises without any opportunities to go to the mountains—not even to see them. All that remained was the dream of the day when everything would be normal again.
Looking back, it helped me appreciate every single moment in the mountains more and to be very thankful and proud of myself that I didn't give up in a bad time.
The 2020/'21 season is impossible to plan, but I'm coming back in competition shape no matter what.
SB: This season has a WAY different feel–and it hasn't even fully begun; how will the industry be changed, or how should it change as a result of the pandemic?
A: (Maybe finding soft snow this season means walking far away.) Actually, in Russia, I'm not seeing a lot of change… ski resorts are opening as usual. But I know splitboarding has become super popular. Almost all the boards in the shops are already sold. That is probably because people expect some resorts won't open or because closed borders mean more people on slopes.
In the meantime, I do what is asked: social distancing, mask, and trying to minimize contacts, especially to protect my parents, who are in a risk group.
But rules don't prohibit us from enjoying life and being happy. We know stress is bad, and it's good thoughts that help us to be healthy.
SB: What does riding mean to you?
A: Snowboarding helps me to discover the world–new mountains, new countries, new people. And I discover myself every day in freeride adventures.
SB: Do you ever doubt the path you've chosen?
A: I never regret my life choices, even in hard times. The path is not easy, and new challenges may want to break me, but my desire to create a better future is stronger.
SB: Do you look to anyone in particular for inspiration?
A: All the ladies progressing in freeride or other extreme sports, they inspire me hugely. They motivate me to pursue my future goal of becoming a freeride world champ. And together, we can take women's sports to the next level.
SB: Fair to say, you've gotten a lot out of snowboarding. Is it important to give back?
A: Yes, I hold a freeride school in Priiskovoy–it's a popular spot for cat skiing–and I find it is perfect for sharing my mountain experience with others, educating on avalanche rescue and security in the mountains, plus instructing how to pick a line from the top and how to ride deep pow. The school is only in its fourth year, but I hope to see it grow.
SB: Anna, thank you for sparing a moment of your time. Any parting thought(s) to the next generation?
A: It's a strange and difficult time for all freedom lovers. It's hard not having opportunities to travel wherever you want, and it isn't easy to plan anything. But still, no matter what,
"all hard work and training will be rewarded."