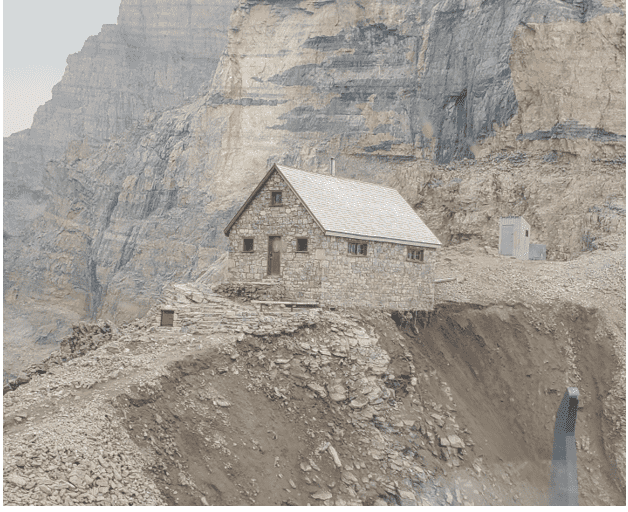 Slope instability requires dismantling of historic stone alpine shelter overlooking Lake O'Hara
Parks Canada is the steward of 174 national historic sites, preserving these nationally significant examples of cultural heritage for the benefit of all Canadians and sharing the history of Canada and the stories of these places with visitors from across the country and around the world.
The Abbot Pass Refuge Cabin National Historic Site (Abbot Pass Hut) has been negatively impacted by the effects of climate change. Slope erosion and glacial recession have caused structural damage to the hut despite extensive stabilization efforts and interventions made to preserve the structure in its location. As a result, Parks Canada has made the difficult decision to dismantle and substantially remove the Abbot Pass Hut in spring 2022. This action is necessary to mitigate a significant visitor safety risk posed by the current condition of the site.
Following reports of rockfall and erosion in fall 2016, Parks Canada conducted geotechnical assessments and monitored the slope beneath the hut for stability. Significant slope stabilization work was completed in 2018, including the installation of rock anchors to better support the hut. Geotechnical assessments conducted in 2021 found higher levels of slope erosion and new evidence, including cracks in the masonry, that reveal the entire hut has been impacted.
Visitor safety is a top priority for Parks Canada and an area closure remains in place for Abbot Pass and the Abbot Pass Hut. Based on expert assessments, additional slope stabilization work is unlikely to be successful in preventing further erosion. Parks Canada has explored a number of conservation options, but it has become clear that the Abbot Pass Hut cannot be conserved in its current location and cannot be effectively moved.
Parks Canada recognizes the importance of the Abbot Pass Hut to many Canadians, particularly those in the climbing and alpine community, and is saddened by the loss of this treasured alpine refuge due to the effects of climate change. Parks Canada thanks the Alpine Club of Canada for their important role in welcoming guests and operating the hut for more than 35 years, helping to bring Abbot Pass Hut to Canadians.
While the hut must be substantially removed to ensure visitor safety, Parks Canada looks forward to exploring ways to continue to commemorate this important national historic site in a meaningful way for future generations. Consultations with Indigenous groups, the Alpine Club of Canada, stakeholders, and the public are planned for 2022 to help identify options for continuing to commemorate the story of the Abbot Pass Hut and its importance to the history of architecture and mountaineering in Canada.
Climate change and other environmental forces are challenging the integrity of ecosystems and the condition of the natural and cultural resources administered by Parks Canada. Parks Canada is continuing work to understand the impacts of climate change and to explore adaptation and mitigation strategies.
Quick facts
The Abbot Pass Hut is located at 9,596-feet (2,925 meters) in elevation on a windswept mountain pass (col) on the border of Banff and Yoho national parks near Lake Louise.
The Abbot Pass Hut was built in 1922 by Swiss Guides, with all of the construction materials, apart from the stone for the hut walls, packed by horses to the foot of the Victoria Glacier and then carried by mountaineers to the pass between Mount Victoria and Mount Lefroy.
The hut has been operated by the Alpine Club of Canada since 1985 and is a popular destination for mountaineers and advanced hikers
The Abbot Pass Hut was designated a national historic site in 1992 for its rustic architecture, its representation of the theme of alpine recreation in Canada, and its historic use in mountaineering
View this post on Instagram