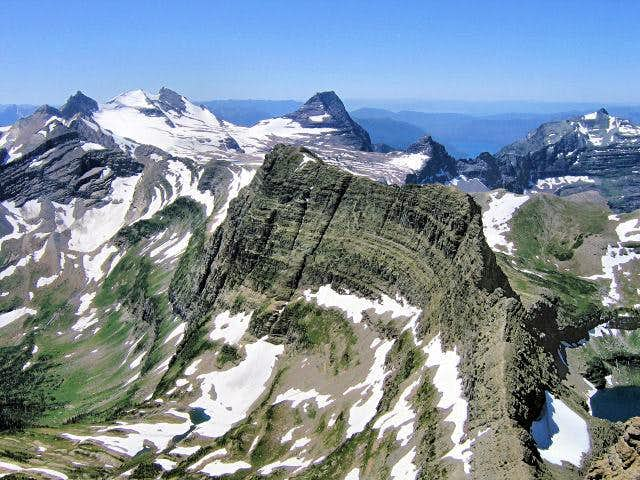 Glacier National Park, MT has identified the victim of a climbing accident in the Logan Pass area on the evening of Tuesday, July 21 as 20-year-old Josh Yarrow of Wichita, Kansas. Yarrow was spending the summer working for a local business in the West Glacier area.
Yarrow was mountain climbing off-trail in the area referred to as the Dragon's Tail, southwest of Mount Reynolds. He was attempting to retrieve a fallen backpack at the time of the accident. His fall of approximately 500 feet was witnessed by a climbing partner who went for help. Glacier National Park rangers received the report of the accident at 7:46 pm and immediately initiated a search and rescue operation.
Two Bear Air's rescue helicopter was able to get to the victim and confirm that he had died. The body was recovered by Two Bear Air.
Glacier National Park officials remind visitors that off-trail hiking and mountain climbing are inherently dangerous activities due to extremely rugged and steep terrain. Hikers and climbers will encounter steep snowfields and loose rocks along many of the climbing routes within the park.
This incident was the second rescue mission in the Logan Pass area within the past week. On Wednesday, July 16th a climber was injured after sliding down a snowfield near the saddle on Mt Oberlin. Falls while hiking and climbing, along with drowning, are the leading causes of accidental death in Glacier National Park.
Glacier National Park is an American national park located in northwestern Montana, on the Canada–United States border, adjacent to the Canadian provinces of Alberta and British Columbia. The park encompasses over 1 million acres (4,000 km2) and includes parts of two mountain ranges (sub-ranges of the Rocky Mountains), over 130 named lakes, more than 1,000 different species of plants, and hundreds of species of animals. This vast pristine ecosystem is the centerpiece of what has been referred to as the "Crown of the Continent Ecosystem," a region of protected land encompassing 16,000 square miles (41,000 km2).
The region that became Glacier National Park was first inhabited by Native Americans. Upon the arrival of European explorers, it was dominated by the Blackfeet in the east and the Flathead in the western regions. Under pressure, the Blackfeet ceded the mountainous parts of their treaty lands in 1895 to the federal government; it later became part of the park. Soon after the establishment of the park on May 11, 1910, a number of hotels and chalets were constructed by the Great Northern Railway. These historic hotels and chalets are listed as National Historic Landmarks and a total of 350 locations are on the National Register of Historic Places. By 1932 work was completed on the Going-to-the-Sun Road, later designated a National Historic Civil Engineering Landmark, which provided greater accessibility for automobiles into the heart of the park.