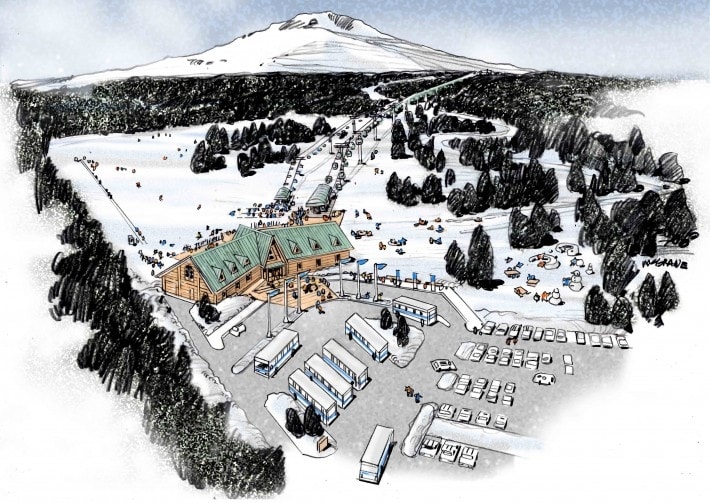 Back in 2018, J.S.K. and Company, the operators of Timberline Lodge & Ski Area, OR, acquired their neighbor just down the mountain, Summit Ski Area. Through the acquisition, J.S.K and Company gained access to 52 acres of the Summit Ski Area Special Use Permit (SUP), 9 acre Snow Bunny Snow Play Area, as well as base area features such as the lodge, maintenance buildings, ski patrol A-frame, and parking. While Summit Ski Area is a small, family-friendly ski area, J.S.K and Company have much bigger plans for a potential connection between the two areas in the future.
What's Being Proposed?
Amending and extending the existing Summit Ski Area SUP to connect and consolidate with the Timberline Lodge & Ski Area SUP
New 10 passenger interconnect "Timberline Gondola" connecting Summit Ski Area with Timberline Lodge & Ski Area
New 4 passenger chairlift at Summit Ski Area to replace the existing 1980 double chairlift
Terrain expansion inside the new SUP boundaries to include new trails for both winter and summer use
Improved parking, remodeled Summit Base Lodge, upgraded snowmaking, and enhanced snow play options
The goal of the project is to preserve the unique and historic character of Summit Ski Area, upgrade the guest experience and transportation options, and increase parking and facilities while moving into the future sustainably. The connector gondola and improved parking would alleviate congestion on Highway 173 (Timberline Road) leading to increased safety and less driving to get on the hill.
You can find additional information by accessing the full master development plan.
Believe it or not, the two ski areas were connected previously during the 1950s. A "skyway" of sorts that was essentially a flying bus linked the two for a brief time period, but based on pictures, I can see why it didn't last too long.