[sponsored by Grand Targhee]
There might not be a more beloved ski resort than Wyoming's Grand Targhee. Short lift lines, deep snow, and unrivaled backcountry access give "the Ghee" a vibe like no other place on earth. Targhee captures the soul of skiing and is almost a mecca for hardcore skiers seeking out the most fun pow day of their lives. In a time when big corporations like Vail, KSL, and Aspen are dominating the ski industry, Targhee is owned by a single family and is still thriving.
First off, let's look at how Targhee got to this point.
Grand Targhee has humble beginnings, conceived in the mid-1960's as a way to boost the local economy. Thanks to the effort of over 900 Wydaho locals, Targhee opened in December of 1969 with two lifts.
Just three years into the resort's existence, Grand Targhee was bought by Bill Robinson, a plastic surgeon from Ohio. Over the next thirty years the resort would change hands twice before being bought by Booth Creek Ski Holdings in 1997, the first and only time that the resort would not be privately owned. Only 3 years later in 2000, Targhee was sold again. George Gillett, the CEO of Booth Creek Ski Holdings, decided that he would like to privately own Targhee and sold it to himself. Gillett and his family still own the Resort today, making it one of the last family-owned ski resorts in the U.S.
A big reason why Targhee has managed to be successful is that the owner is a highly competent businessman with the access to resources, funding, and connections to run the resort efficiently.
The owner, George Gillett is an interesting person in his own right. He made a fortune in the sports, food, and communication sectors. In 1985 he owned both Vail and Beaver Creek and was known to ride the chairlifts and greet guests.
In 1992 several of his businesses filed for chapter 11 bankruptcy and Gillett salvaged 32 million for himself to restart his business empire. Since, he has since been very successful, notably in the food and ski industries.
At one point Gillett was also the majority owner of the Montreal Canadiens, Nacar team Evernham Sports, and Liverpool F.C.. Gillett currently splits time between Targhee and Vail. Gillett has displayed a passion for skiing throughout his career and was a major proponent of bringing Alpine Skiing events to the U.S. in the 80's. This passion for skiing is a big part of what makes Targhee such an incredible mountain.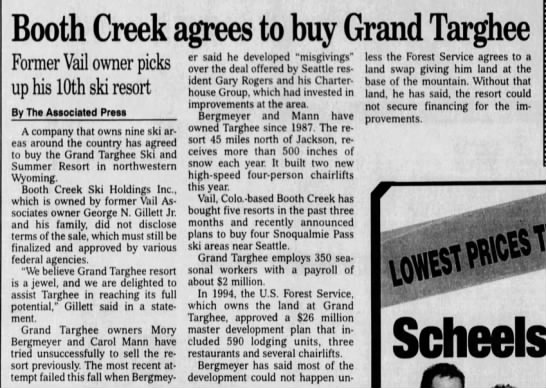 Targhee is a skier focused mountain and a true local favorite. What it lacks in fame when compared to neighboring Jackson Hole it makes up for in snowfall; receiving an average of 500″ a year. Targhee also has several backcountry gates and a resort run cat skiing operation making it one of the best resorts in the states for backcountry access. Additionally, Targhee allows visitors to skin or snowshoe up the resort between the hours of 4:30 p.m. and 9:00 a.m. during the season, so your day never really has to end.
In a volatile and uncertain world, Targhee must adapt in order to survive. The resort currently has 96 lodging units and is regularly at capacity. The resort's master plan allows for a maximum of 45o lodging units. The contractor hired for the development, Jorgensen Associates, does not plan to necessarily build that many units.
"This plan allows us to build what the market determines,"- Brendan Schulte, Senior Planner Jorgensen Associates
While base development is one of Targhee's top priorities, they plan a long drawn out process for construction (over 30 years). This will allow the resort to grow and for development to occur at a more natural and sustainable rate. Targhee's vision for the future reflects a successful business model for family held ski resorts today.
The target market segment for these resorts is the die-hard, powder chasing snow humans of the world. Grand Targhee has managed to focus on creating an unmatched on mountain experience where any day could truly be the best day ever, and it has worked.
Since the great recession, Targhee has seen steady increases in Skier visits each year and that is with minimal lodging and base area infrastructure. The Gillett family realizes that a Vail or Whistler style village is not the best option for Grand Targhee; they know that they control a truly special mountain and their goal is to meet the lodging demand and keep their mountains culture.
People love Targhee because it captures the simplicity of skiing and meets the needs of even the most jaded powderhounds. Grand Targhee is a mountain that transports visitors into a world of no distractions, just skiing. Former owner Bill Robinson wanted Targhee to be a place of balance between people and the great outdoors, something that rings true many years later.