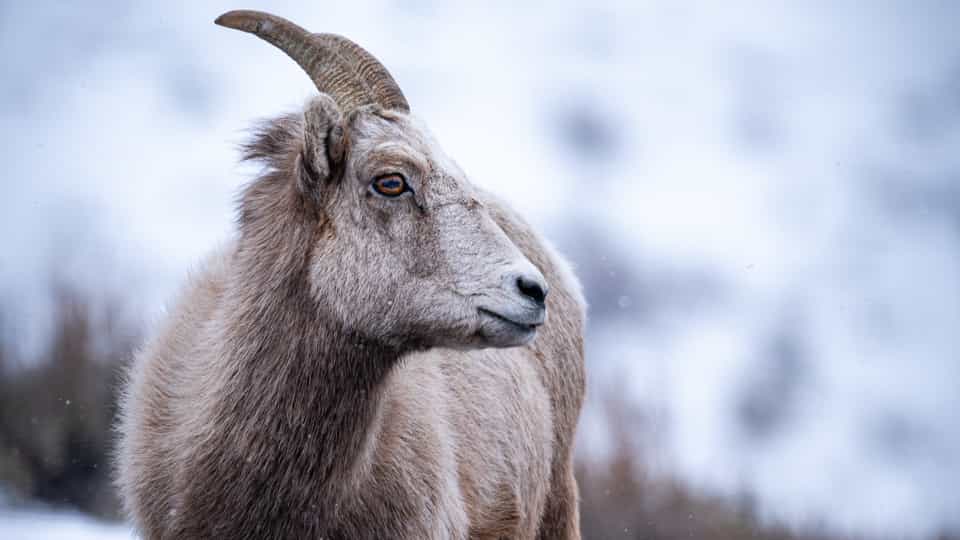 The public comment period for the bighorn sheep winter habitat protection environmental assessment has been extended an additional 30 days. The public is encouraged to comment on the proposed actions by June 20, 2022.
"We appreciate the public's interest in this process. We look forward to continuing these conversations together on how best to protect bighorn sheep in the Teton Range, while still providing for winter activities like backcountry skiing."

– Grand Teton National Park Superintendent Chip Jenkins
Comments must be submitted at https://parkplanning.nps.gov.bighorn_habitat. The public comment website is not equipped to accept attachments. Should commenters wish to provide an attachment to further demonstrate or support their comment, they should:
First, submit public comment via the website above and clarify that they will also be submitting an attachment to be included with their comment.
All attachments should be emailed to GRTE_Public_Affairs_Office@nps.gov.
Ensure they are using the same name and email address used for their online public comment so the attachment will be associated with the corresponding comment.
Note that emailed attachments without public comments submitted to the website above will not be accepted.
April 20, 2022
Public comments encouraged for bighorn sheep winter habitat protection environmental assessment
Grand Teton National Park is developing an environmental assessment to consider implementing additional management strategies to protect bighorn sheep's winter habitat within the park. The public is encouraged to comment on the proposed actions by May 20, 2022.
Bighorn sheep have occupied the Teton Mountain Range for thousands of years, but today this native population is small, isolated from other nearby populations, and at risk of local extinction. Since the 1990s, management of the herd and its habitat has been coordinated between Grand Teton National Park, Wyoming Game and Fish Department, Bridger-Teton National Forest, and Caribou-Targhee National Forest, as the Teton Range Bighorn Sheep Working Group. The Working Group identified bighorn sheep population threats from habitat loss, disease, non-native mountain goats, and disturbance from backcountry winter recreation.
In an ongoing effort to conserve and protect the bighorn sheep within Grand Teton National Park, the park is proposing additional actions beyond the current 2019 Mountain Goat Management Plan implementation. Based on emerging science, recommendations from the Teton Range Bighorn Sheep Working Group, and changing conditions on the ground, the National Park Service is considering other visitor and resource management actions to conserve this small, native population of bighorn sheep within the park, while providing backcountry winter recreation opportunities.
Alternatives will consider visitor management and education strategies for the protection of bighorn sheep as recommended by the Teton Range Bighorn Sheep Working Group, including increased public outreach and education, signage, enhanced monitoring of both bighorn sheep and recreational use, new or expanded winter closures in specific areas, and designated travel routes, among other actions. Action is needed at this time to address emerging issues related to increases in winter backcountry visitor use patterns in winter bighorn sheep habitat and the new and growing body of research that demonstrates that winter recreation can disturb and harm wintering ungulates, including bighorn sheep. The primary aim is to provide secure winter habitat for bighorn sheep so they can spend the winter in disturbance-free zones, while also providing backcountry winter recreation opportunities.
At this time, during the scoping period, the National Park Service seeks input from the public on the components of these strategies.
A scoping newsletter and other information is available at https://parkplanning.nps.gov/bighorn_habitat. A copy of the newsletter and additional information can be downloaded through this website and comments can be provided electronically online.
Background:
21,233-acres of the Teton, WY backcountry could soon be permanently off-limits to backcountry skiers to help a declining herd of bighorn sheep.
Biologists are recommending that the 'high-quality winter habitat' be protected from human activity to help the declining herd double in numbers, or else they become extinct.
"Overall, implementing the recommended high and moderate priority management actions would result in 21,233 acres of new bighorn sheep winter habitat protections in the Teton Range (47% of winter habitat). Forty-seven percent (16,952 acres) of the high-quality habitat in GRTE would be protected, 49% (3,478 acres) on CTNF, and 38% (803 acres) on BTNF. Of these areas, 2,833 acres overlap with areas that were identified as high-value ski terrain during the public collaborative process. Therefore, 5% of high-value ski terrain would have human access restricted."
Wildlife officials say that 95% of the 'high value' ski terrain would still be accessible. The suggested closure would protect much of the Teton Range sheep's winter habitat, an area they would abandon if humans were present, reports the Jackson Hole News & Guide. The area would be closed to humans during the winter months. Grand Teton National Park and the Bridger-Teton and Caribou-Targhee national forests will be responsible for enforcing the policy suggestions.
"It would protect half of the bighorn sheep habitat."

– Wyoming Game and Fish Department wildlife biologist Aly Courtemanch told the Jackson Hole Daily
As well as the closure, other measures are being discussed. These include designated skin tracks through sheep habitat, and using signage to educate backcountry recreators to their impacts on the bighorn sheep.
The plans have been met with some resistance from skiers though. In a post on Instagram, Fred Marmsater had this to say:
"Care about public access to public lands? About accessing mountains? Maybe even ski touring in the Tetons? GTNP is proposing large sweeping closures to the park and surrounding national forests that will end ski touring/access to the Tetons as we know it. This is to protect the Teton bighorn sheep herd. If there was robust, published data showing that small ski touring parties negatively impact the herd's habitat and survival and a well thought out and comprehensive plan, I could get behind this. But this data does not exist, nor does a solid plan. In fact, these same agencies are allowing continued ski area expansions into the sheep habitat, there is even a commercial airport inside the park… these closures have nothing to do with protecting the survival of these amazing animals. Make your voice heard; there is a zoom meeting this Wednesday night, and you can still send an e-mail to the park. Links in my story, and in @jeffdobronyi stories. #freethetetons"
And Jeff Dobronyi this:
"Backcountry ski terrain can't be measured by lines on a map. We don't think the same way a resort does when they calculate skiable acres. To us, the entire range is high-quality ski terrain, and the sense of freedom that we get when we can go anywhere we choose, if we just point our skis in that direction, is the very reason we go out of the resorts and into the backcountry in the first place. They're not limiting 5% of high-quality ski terrain, they're limiting an infinite amount of freedom and potential."
For the full details of all the proposed closures, check out the full report.