[Sponsored by Steamboat Resort]
You hear people say it all the time: skiing powder is hard work! 
Twenty years ago that was certainly the case. Skis were long, narrow, and rocker wasn't a thing yet. Leaning back all day to keep those tips from diving would do a number on just about anyone's legs.
Nowadays, skiing powder is easier than ever.
Skis are lightweight, fat, and designed to stay on top of the snow. Back seat powder skiing is a thing of the past. Still, you'll hear people say they don't like skiing powder. It's not fun, it's too hard. I immediately think they must be on old equipment or they've never experienced what powder skiing really is.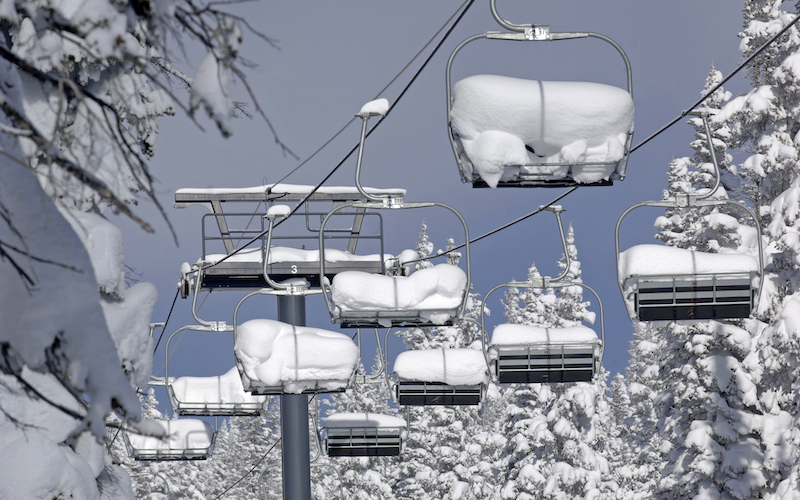 All snow is not created equal.
Temperature and humidity levels will cause snow to form in a wide variety of different crystal shapes and sizes. The type of crystal that grows has a large effect on the snow's density. Some crystal shapes are dense and compact, while others are light and airy. We've all experienced the difference first hand making snowballs. As skiers, we pray for stellar dendrites (commonly seen in holiday decorations) to fall from the sky. Those big, fluffy flakes are what produce the best powder skiing conditions.

If you want to experience what powder skiing is really about, who has the lightest snow out there?
Steamboat, Colorado averages 6% snow water content. In other words, their snow is 94% air. That's really light. It's so special that is has its own name: Champagne Powder® snow. Legend has it that a local rancher coined the term back in the 50's because the snow tickled his nose just like the bubbly drink.
"I am in heaven here." – Emily S, Facebook Reviewer
The magic is all due to Steamboat's special location in the Rocky Mountains.
Storms from the Pacific move east across the Mojave desert. When they eventually run into the western side of Colorado's Park Range, the home of Steamboat Resort, the clouds rise and cool rapidly due to a phenomenon known as orographic lift. Cold air has a lower ability to retain moisture, which sets up the perfect conditions for growing huge amounts of light, fluffy stellar dendrite snow crystals. Over 300" of them fall every year. That's over 26 feet.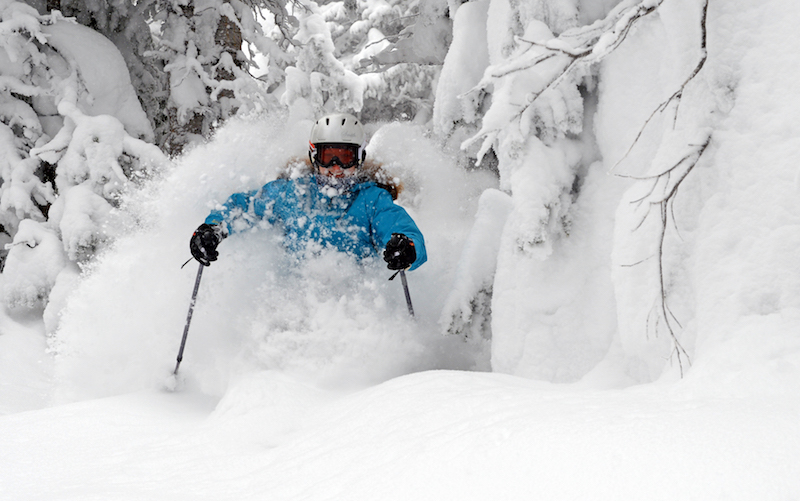 How do you ski Champagne Powder® Snow?
It's almost effortless. All you need to do is grab some fat, rockered skis and leave your old powder skiing technique at home. The snow is so light, you don't ski on it, you ski in it. Make sure your pockets and coat are zipped, or else you'll be taking some home with you.
"I had never seen that much snow in my life…" – Johnathan S, Facebook Reviewer
If you've never skied Champagne Powder® Snow before, you've just never skied powder.
Don't just take our word on it. Olympic Skier and Steamboat local Jaelin Kauf told SnowBrains:
"Steamboat Resort has amazing powder and tree skiing that I can't get enough of!" 
Champagne Powder® Snow, it's an experience you'll never forget.