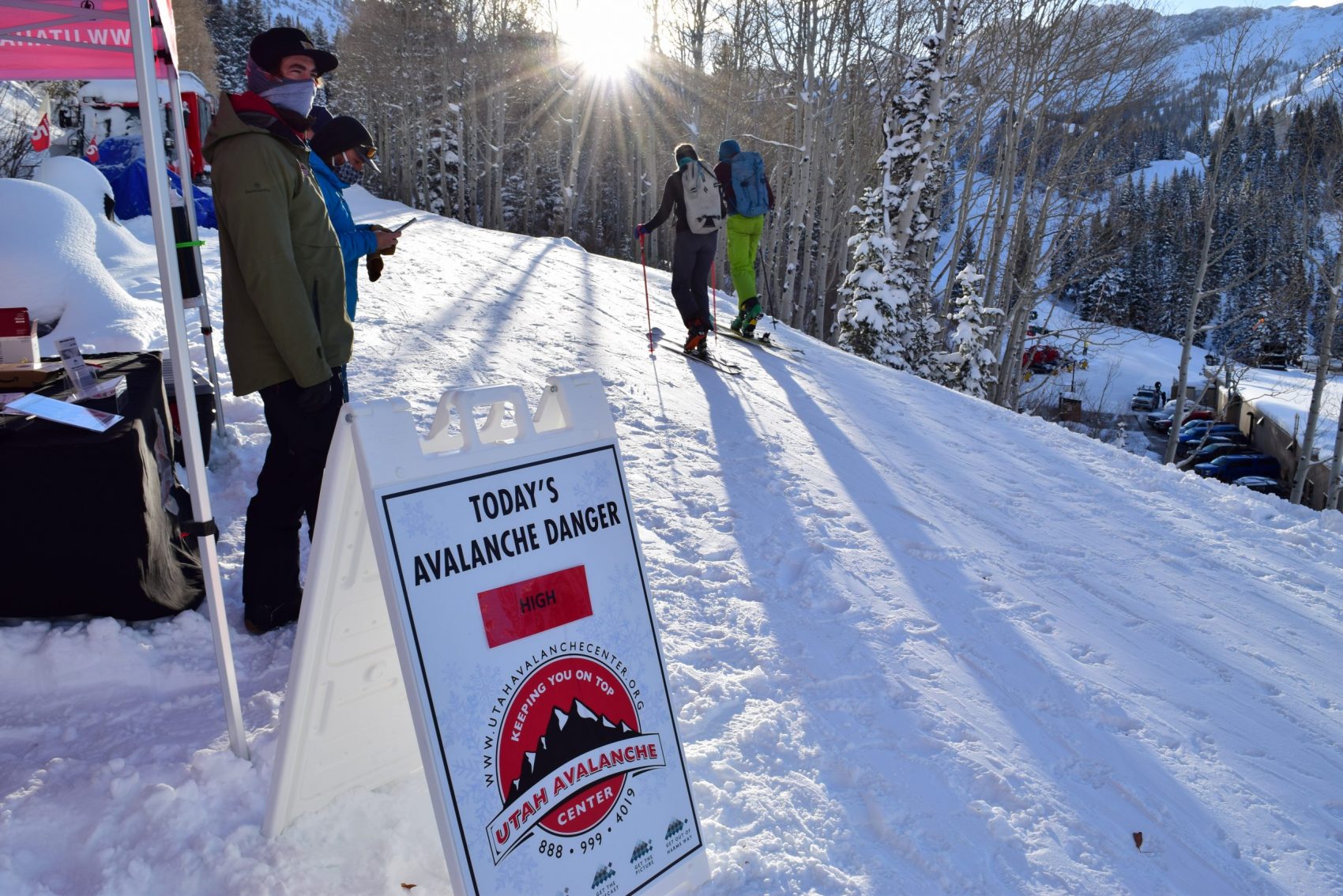 High avalanche danger should = low-angle terrain selection which should = keeping powder-hungry hubris in check. That's essentially what volunteers with the Utah Avalanche Center's new Trailhead Avalanche Awareness program were explaining to curious passers-by as they toured past the red UAC tent at the Grizzy Gultch trailhead in Little Cottonwood Canyon last Saturday when snow conditions were concerningly suspect.
And by concerningly suspect, I mean pretty damn scary on slopes steeper than 30º. There were natural avalanches failing on a persistent weak layer on nearly all aspects, large amounts of wind-loading, and an overdue eagerness for people to get into the mountains after two weeks of low-tide conditions in the Wasatch. These are all reasons why the UAC's new trailhead awareness program has come at the perfect time when conditions are sketchy and more people are getting into backcountry skiing and riding than ever before.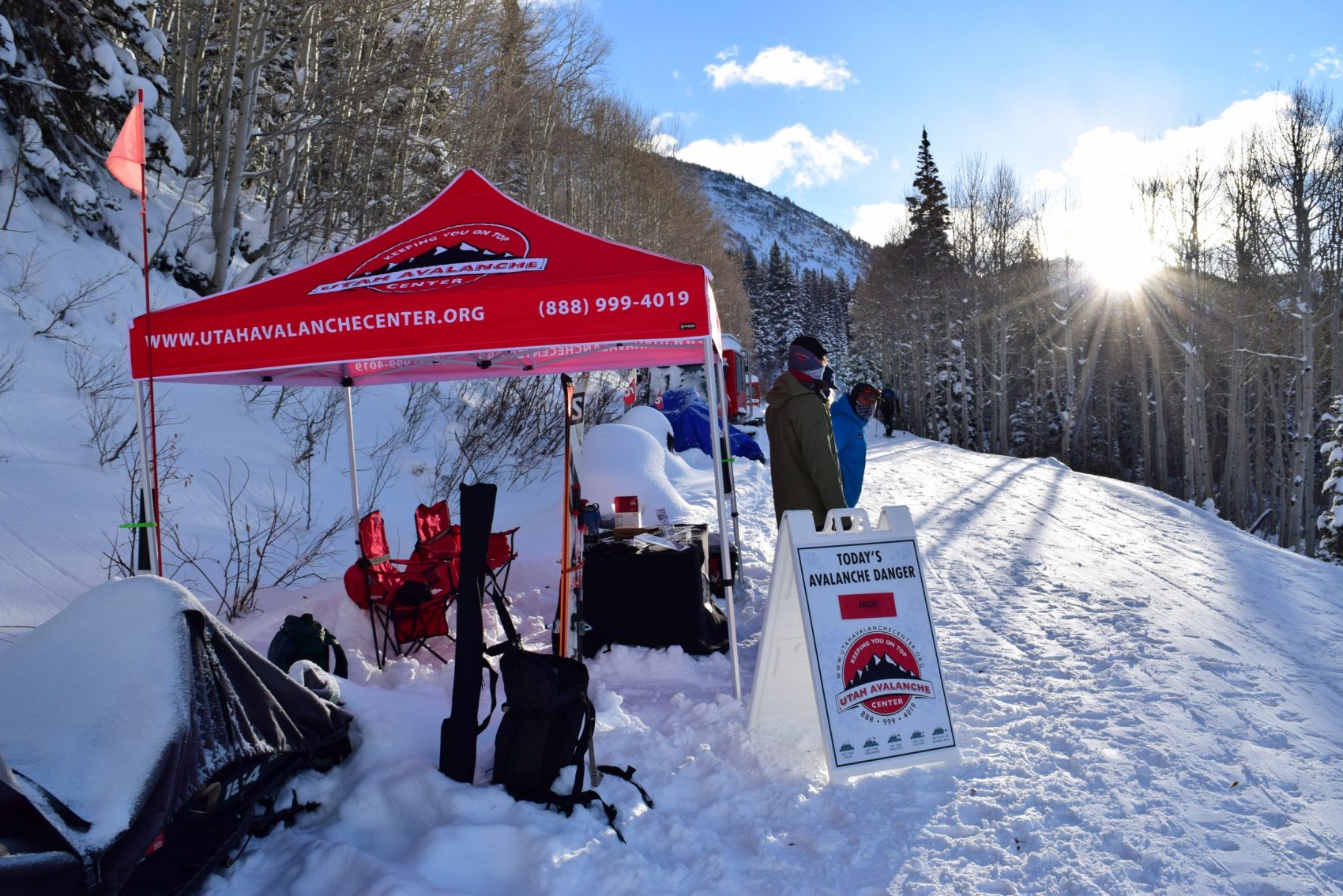 I had the opportunity of volunteering for the UAC's trailhead awareness last Saturday, Dec. 19 in Grizzy Gultch.
The UAC's new program offers free avalanche awareness information, basic rescue training, avalanche forecast interpretation, and resources available for further education at popular trailheads across Utah throughout the winter. UAC staff offer:
In-person updates about current avalanche conditions
An understanding of avalanche rescue equipment and how to use rescue equipment
Information about traveling safely in and around avalanche terrain
Information about opportunities to increase avalanche safety education
Free transceiver batteries and information handouts
View this post on Instagram
I showed up at Grizzly Gultch at 8 am to show a little community support and help the UAC raise awareness aimed towards keeping people safe in the backcountry.
A clean, bright-red tent with a big UAC logo was placed just past the transceiver checker at the base of the Grizzy Gultch trailhead and was accompanied by an avalanche forecast bulletin, snacks, stickers, a QR code for an avalanche awareness survey, and three other stoked backcountry enthusiasts/volunteers.
Our mission for the day? Hang out in the snow, say hi to people, answer questions, and raise awareness.
"We're up in Grizzy Gultch today, spreading some avalanche awareness to our community. We're here on a high danger day and folks have been pretty receptive and pretty excited to have us here. Seems like folks are recreating fairly responsbibly and we're able to give out some really nice information about terrain travel, slope steepness, and hazards for the day." – Dave Coyne, educator with the UAC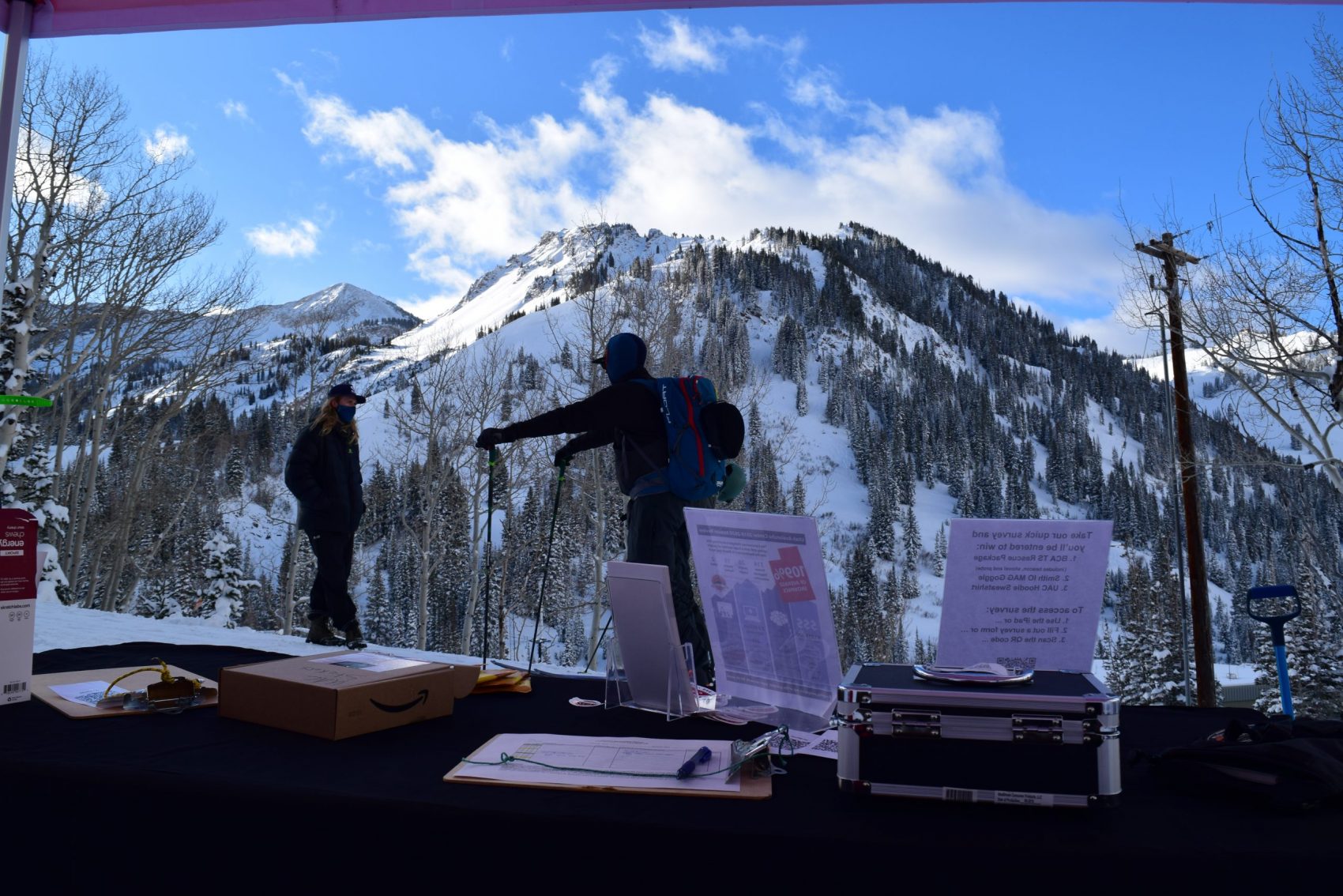 As people wandered up in touring skins and snowshoes, we answered questions about the avalanche forecast, terrain selection, and conditions in and around Grizzy Gultch. We also handed out snacks and asked them to fill out a survey.
A big topic that morning was the natural avalanches that broke the day before just around the corner from where we were standing. The non-human triggered avalanches broke in a terrain trap just a few hundred yards above where the UAC tent was placed.
If someone were caught in an avalanche in that terrain trap, it wouldn't be good news. It's happened before in that very same terrain trap, and it's ended badly.
Once trailhead traffic died down, ski patroller and UAC educator David Coyne and I skinned up an old mining road to get eyes on those natural avalanches so we could visualize what was going on and attempt to understand the day's troublesome conditions.
We saw dozens of naturally-triggered avalanches that broke along both sides of the gulch as we conversed, verbally dissecting the snowpack as we gained elevation. Although it was a sunny, bluebird, and friendly-feeling day, the snow wasn't messing around—it was unforgiving. We didn't have the ego to ski anything steeper than 30º.
So we skied down the mining road we toured up straight back to the tent. By noon, backcountry traffic had virtually subsided altogether.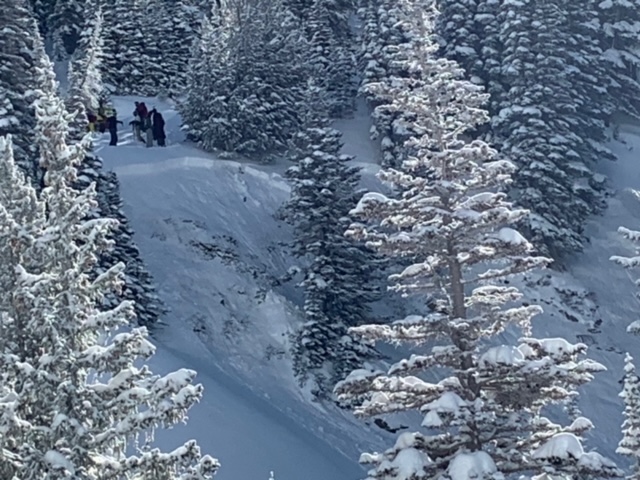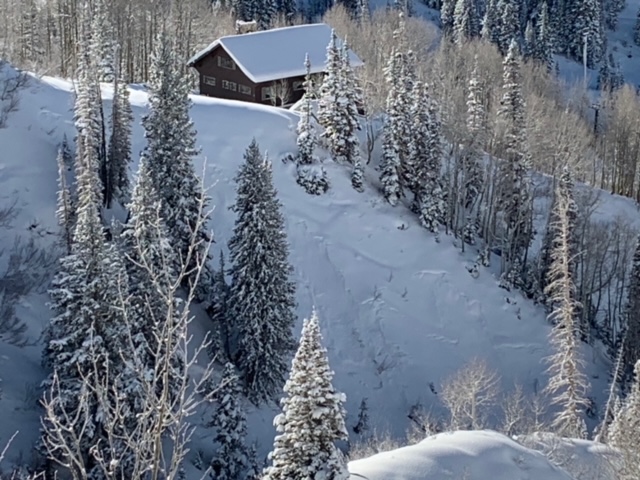 We were satisfied with the questions people were asking that day and had expected more people to venture into Grizzly than did.
It was a successful day spreading awareness, and I think that even the sight of a red UAC tent at the bottom of one of Utah's most bustling backcountry trailheads speaks for itself that conditions were tricky. 
Professional skier Drew Petersen volunteered at the tent, helping to raise avalanche awareness with us, and he said:
"I'm excited to be out here for this trailhead outreach day is because it's good to just get the avalanche center front of mind for all these people. It's really exciting to see how many people are getting out into the backcountry this year. We've certainly seen a big uptake and it's really encouraging to see how many people out here are taking it seriously and being so safety conscious. I think it's really great to be here and to get to interact with everybody."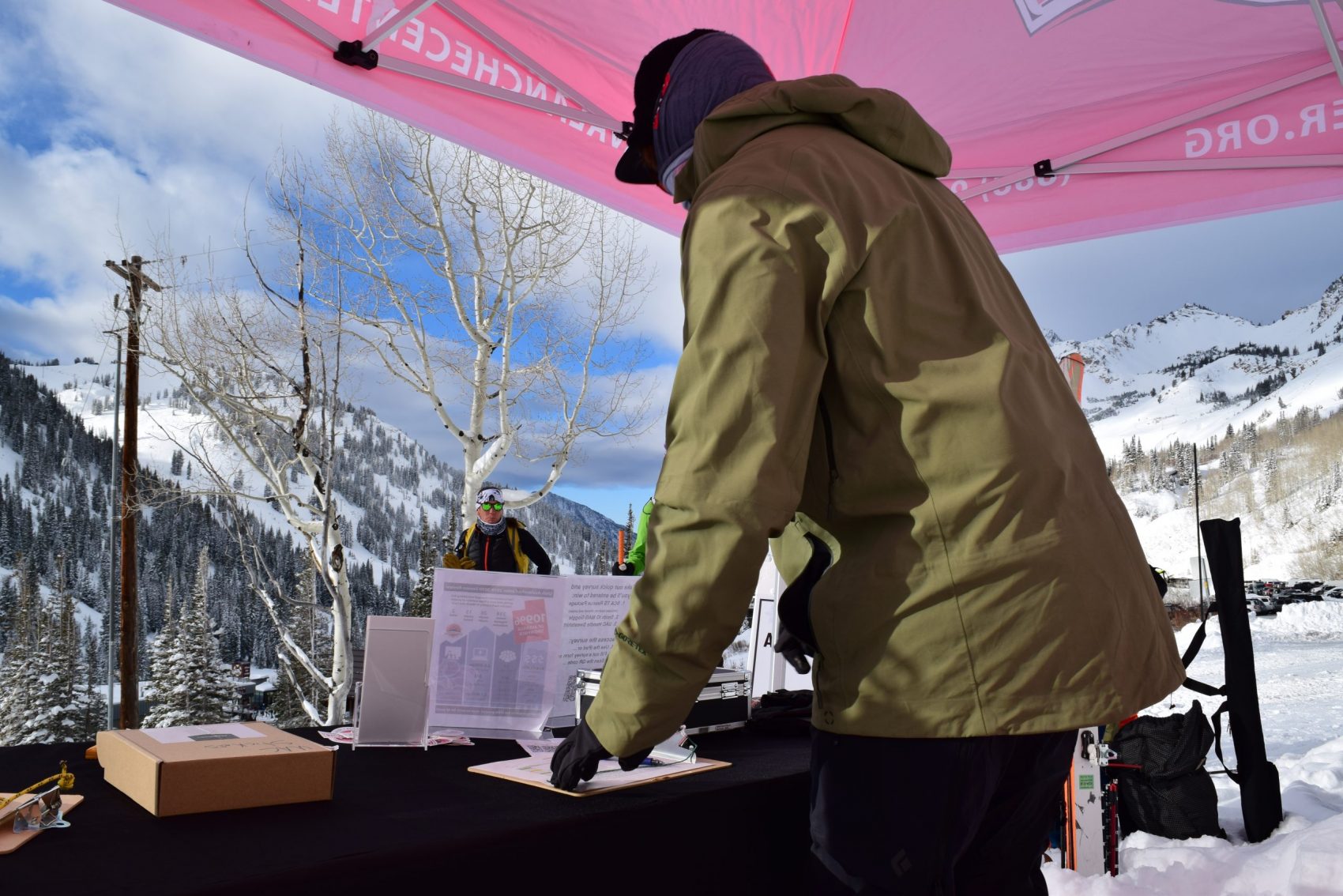 Petersen touched on why he thinks volunteer programs like these with the UAC are valuable and how they contribute to the overall safety and perception that the backcountry community at large shares.
"Like I said, I think more than anything it's keeping it front of mind—keeping the avalanche center front of mind, keeping the reminder to read the avalanche forecast every single day front of mind. And I think it's just good to be here to welcome the newer people into the backcountry because it can be a really intimidating process to get into it. It's just been cool to be able to chat about why people are excited for the day, and that's really encouraging to see. Paired with some safety outreach, I think that this is a good thing to getting the ski season started safe, consciously, and fun."

– Drew Petersen, professional skier
More often than not, backcountry recreation feels exclusive—it feels like it's something that shouldn't be shared with newcomers either out of greed or fear. No one wants their "secret" public lands spot to get blown up or a guy new to the backcountry to trigger an avalanche. But backcountry skiing should be the opposite—it should feel inclusive. More and more people are getting in the backcountry either way. So why not spread the love? Why not keep people aware of hazards and help them all come home safely from an environment that only makes you aware of itself when it's slidden on top of you?