I have been trying to get to Belleayre Mountain, located in New York, for a while, I have heard so many good things about it, and Belleayre did not disappoint! The ski resort is nestled in the beautiful Catskill Mountains and is about a 2 1/2 hours north of New York City. The day I arrived at Belleayre, they had received some fresh snow from the previous day and it was still dumping snow when I arrived early in the morning.
Quick Facts and History:
First Opened in 1949
Elevation: 3,429 Feet
Total Skiable Acres: 175
Longest Trail: 2 1/4 Miles
Largest Vertical Drop: 1,404 Feet
64 Trails
8 Lifts: Including a High-Speed Gondola and Quad
Cross Country Trails: 9.2 k
Beginner Slopes: 22%
Intermediate Slopes: 58%
Expert Slopes: 20%
2 Terrain Parks
3 Lodges
On my first trip up the mountain, I took the high-speed gondola and had the opportunity to talk to three other passengers riding up to the summit with me. The conversation began with all of us discussing how great the snow conditions were but quickly shifting to us genuinely laughing so hard because none of us have had the opportunity to ski fresh powder all season long! It was funny because in the last few seasons in parts of the Northeast, there have not been many fresh pow days, and we have all gotten used to skiing on the mix of real snow and artificial snow that none of us were prepared for it.
I could not see the mountain when I first arrived because of the snowstorm, making it difficult to decide which trail I would want to hit on my first run. One of the passengers in the gondola was a season pass holder, and he advised me to start my day off on an intermediate trail called "Deer Run." The trail started slow and dropped into a series of headwalls and long flat stretches of groomers topped with fresh snow. It was a nice long trail for the Northeast that took about ten minutes to get from the summit to the base.
Most of the runs at Belleayre allow you to get your bearings before you descend the trail and not just drop in, and the mountain is right in your face. Also, most of the trails gradually level off once you are about halfway down the mountain, which is geared toward beginner to intermediate skiers and riders.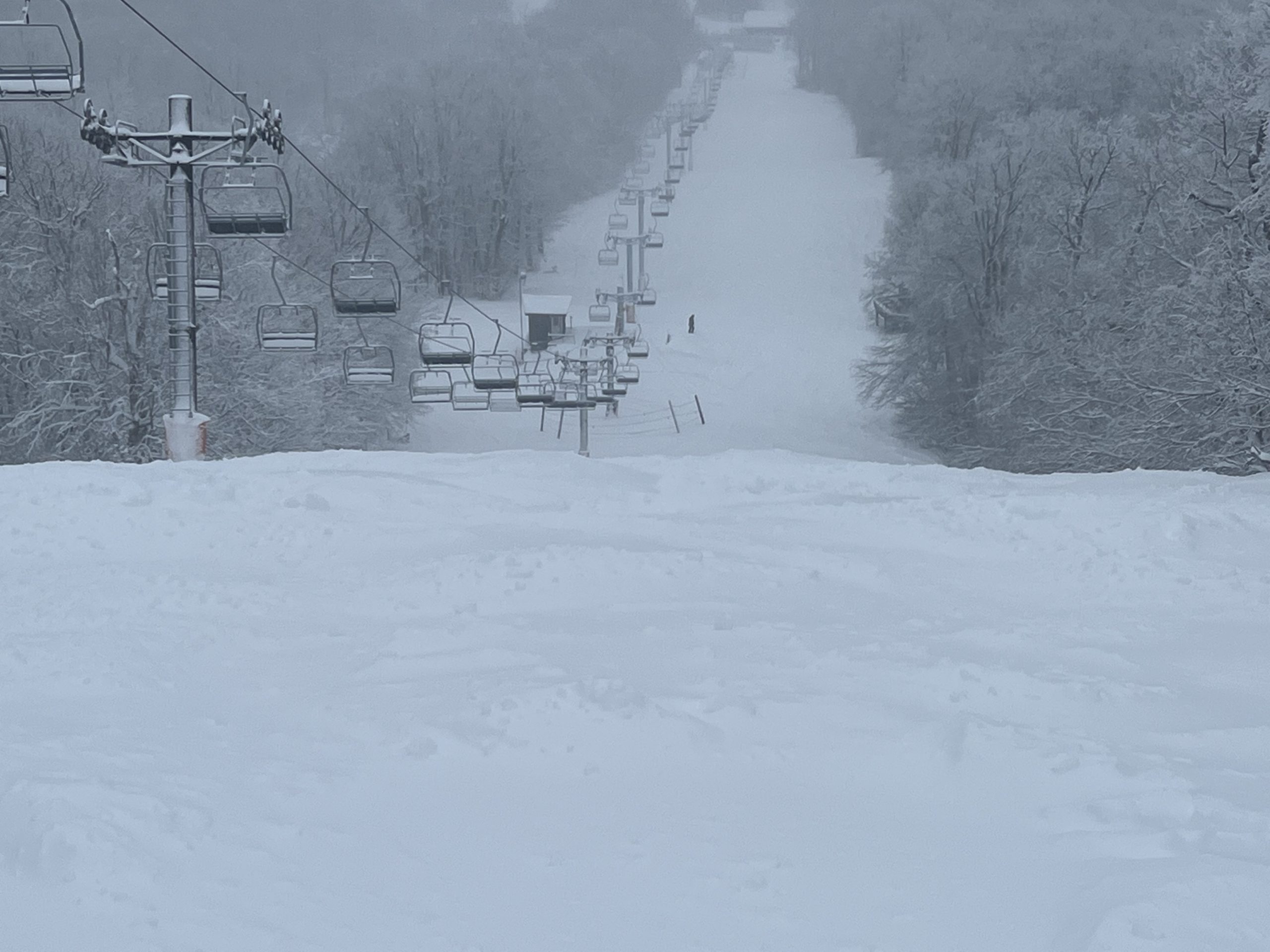 My favorite run on the mountain was called "Yahoo," a double diamond mogul run that I did not discover until later in the afternoon. It was a great run, and when I started down the slope, it looked like no one had been on it all day. It was a series of straight headwalls with moguls covered with fresh powder. I was unprepared for those moguls with 3 to 5 inches of fresh powder on them. It was the first time I had skied moguls with that much snow on top of them, and my legs were burning at the end of the run.
Belleayre Mountain has an excellent reputation throughout the Northeast as one of the better mountains to check out if you get the opportunity. It has challenging terrain for experts to hit while still having designated areas for beginners to learn in a safe environment. I would highly recommend that any skiers or riders who can check out Belleayre do it.
Travel Tip: If you plan to check out Belleayre Mountain and are driving from the Northeastern part of PA and your GPS gives you a route that is 30 mins shorter than the other routes, do not take it. The shorter route, by time, takes you through some country roads, and it took me an hour longer to arrive at the mountain than if I had just stayed on the interstate highways. The route that takes you through the country roads also has a dead zone where I drove for 23 miles straight, lost cellular service, my GPS, and even XM radio. It was a little nerve-racking because I had never been to Belleayre before, I had no idea where I was, and it was dumping snow on narrow country roads that were not plowed yet. A positive note on this is that it did take you through some stunning sections of the Catskill Mountains.
For more information on Belleayre, check out their website: https://www.belleayre.com.